Add a touch of class to a gaming night with these elegant and rich bites of chocolate, with the fruity finish of balsamic vinegar and cherries.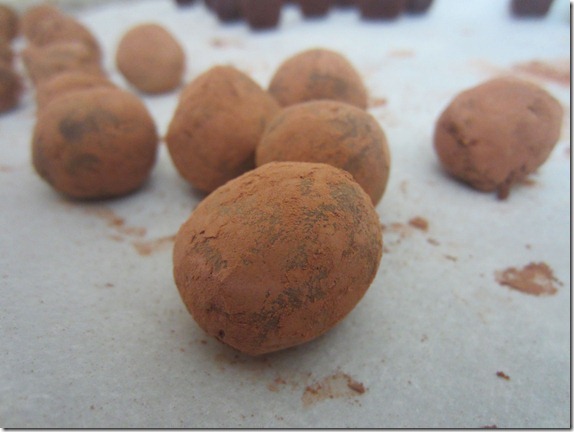 At the request from the splendid and wonderful Tiffany Simmons, writer of the soon to be published +5 Food of Eating, I have boldly completed a quest on her behalf, testing a new recipe for some chocolate truffles!
These chocolate truffles are great for both geeky and nongeeky affairs. Why? Well it's chocolate! And most people like chocolate. Unless you're a supertaster perhaps, in which case other options need to be explored.
As for the straight gaming applications there are at least a few ways they could add immersion to a game.  Given their origin they fit in quite well with settings placed in the late 19th or 20th century, or perhaps in a French inspired setting as well. Their rich sweetness lend themselves to the image of high society balls and intrigues. And the small but generous portions of chocolate truffles make fantastic dessert finger food.
Now for the recipe itself; you will need balsamic vinegar, unsweetened cocoa, a bit of cream, and 8 oz. of bittersweet chocolate. Semisweet might work as well.
If you want to up the fruitiness of the end result, soak some finely chopped dried cherries in your vinegar before using them in this recipe.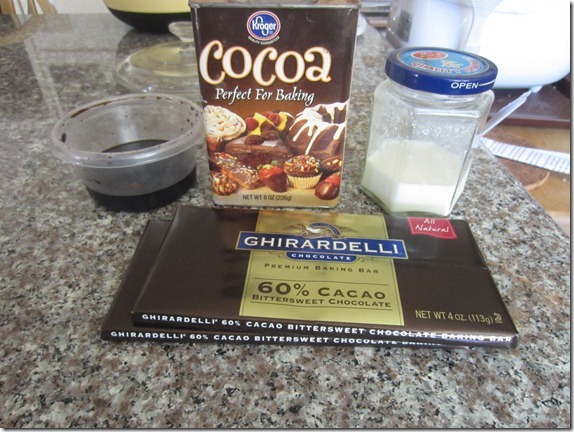 Chop up your chocolate finely.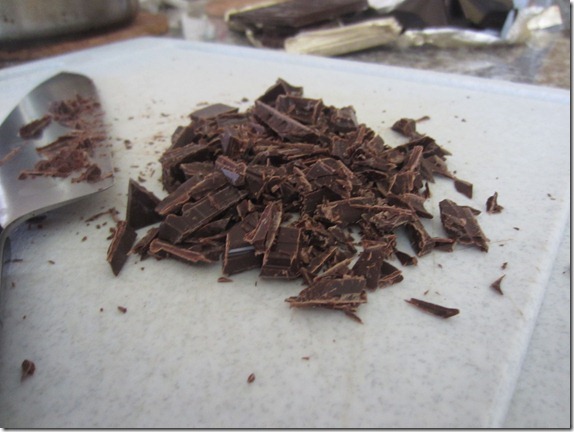 And melt in a double boiler, or just place a metal mixing bowl that will fit snugly on a saucepan.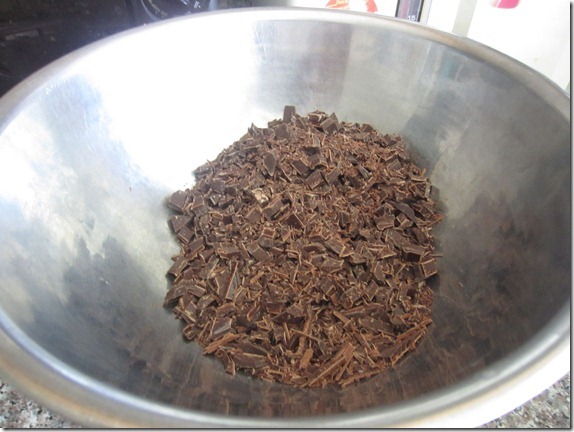 Then add a quarter cup of cream.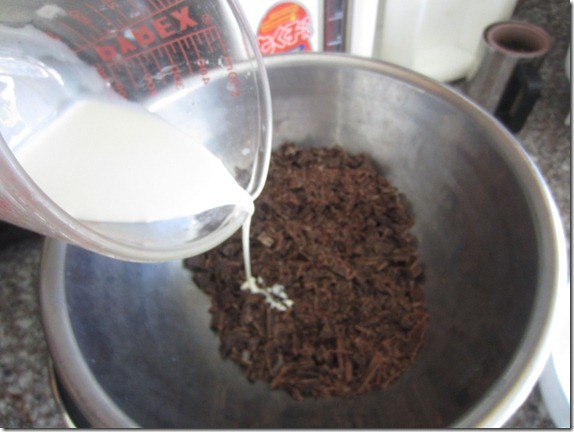 Place over steaming water, but not simmering water! What a tricky temperature to get!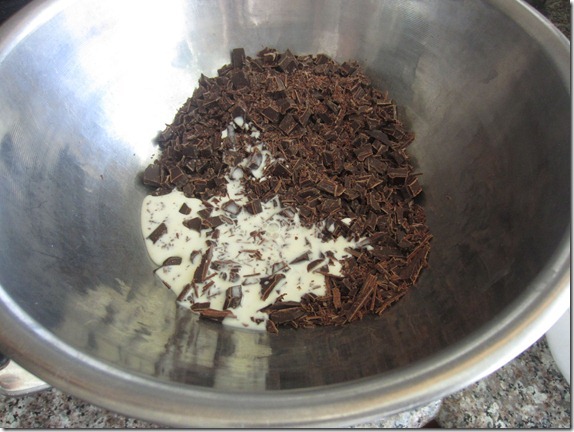 If you're lucky to have one of these, steaming water will be provided easily. If my mixing bowl were the perfect size, I'd be tempted to just put it on top of this thing open.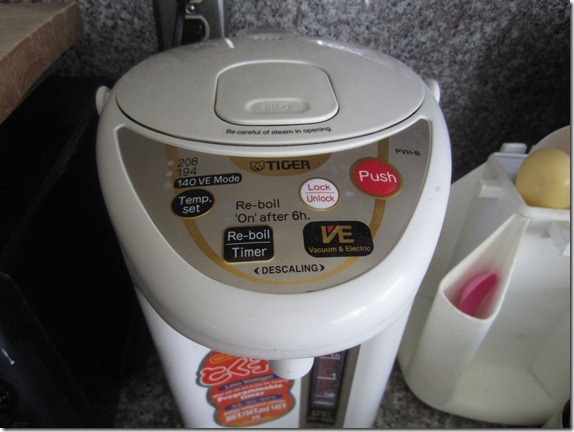 I poured a generous amount of this very hot but not simmering water into a very clean saucepan for the application, kept it over the smallest burner at the lowest temperature. then poured it back into the doohicky when I was done. Another way to do this would to be to actually bring the water to a simmer, let it cool off a bit then put it back onto some very low heat to keep it from dropping further.
Once you've got that sorted, it is chocolate melting time.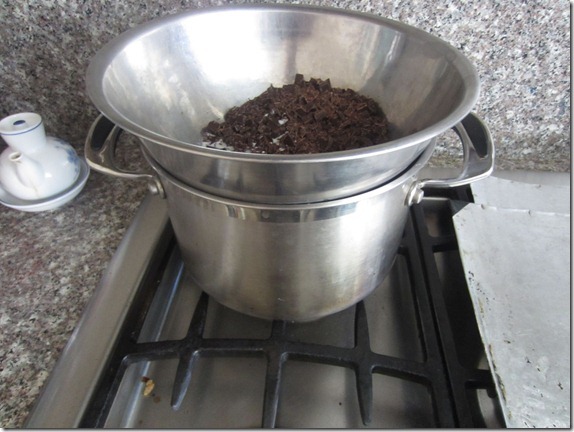 A metal bowl is key because it really helps conduct the heat straight to the chocolate, rather than having to wait for something more insulating like glass to come to temperature.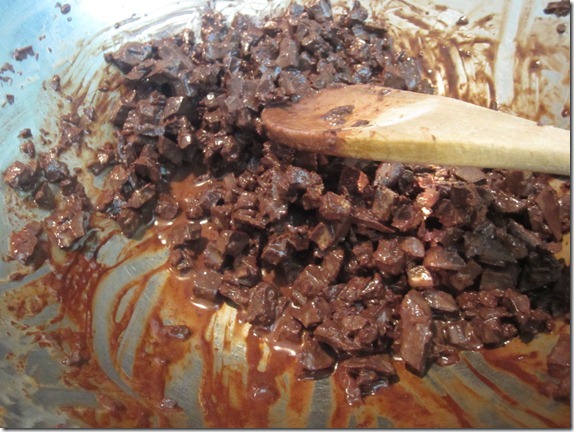 Ah so fast and melty…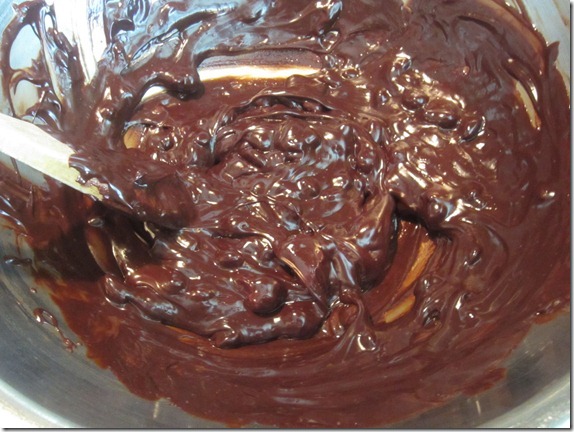 There's the good stuff! Now take it off of the double boiler or steaming water.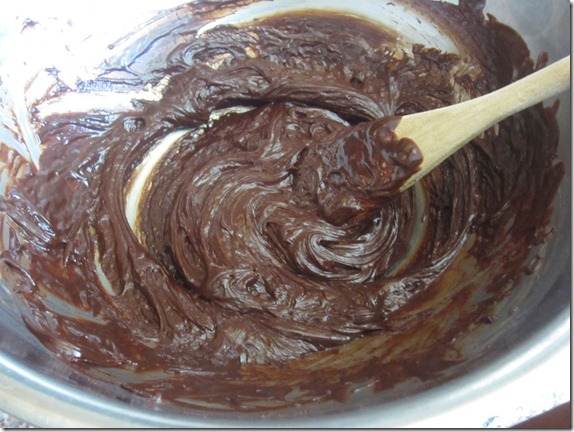 Time for that (blurred) balsamic vinegar! In my case laden with chopped dried cherries.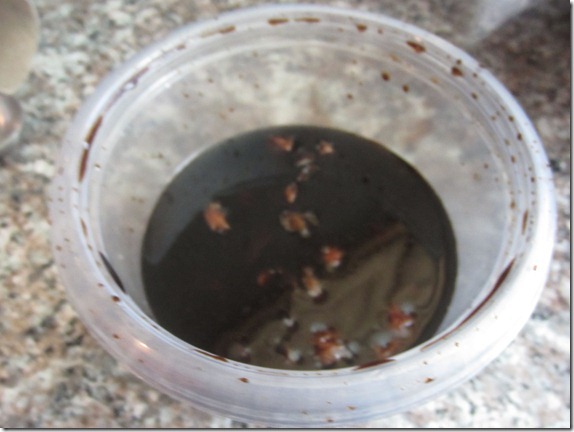 Two teaspoons goes straight into the melted chocolate and given a good stir to incorporate.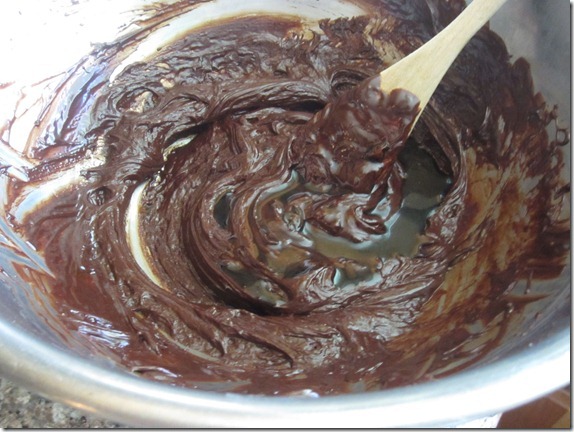 It is then scraped out into a bowl, covered in plastic wrap and kept in the fridge for an hour.
Then "clean" out your mixing bowl. It's delicious.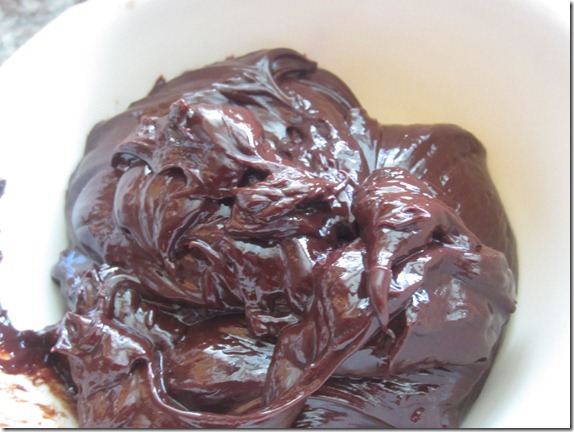 After an hour has passed, pull out the chocolate and keep it at room temperature for two hours. Now for the fun part, making it into truffles.
It's a good time to set up your work area. I don't recommend a plate, and switched to a bowl later on for rolling the truffles in cocoa powder. If you want to maintain some cleanliness and avoid melting the chocolate, another handy tip is to keep a glass of ice water nearby to keep your fingers cold and somewhat clean.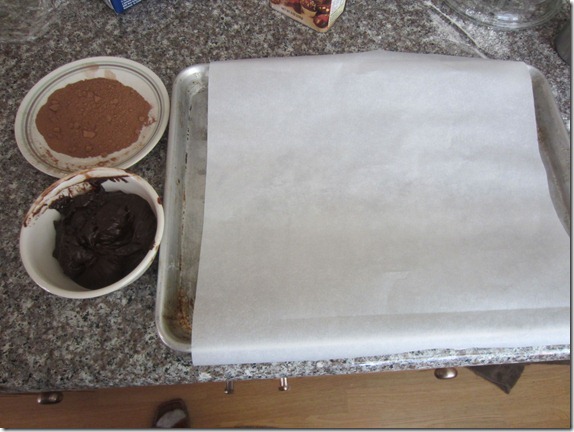 That beautiful gloss has faded a bit.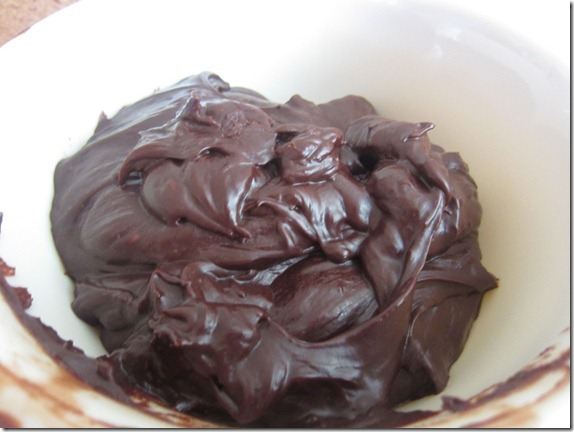 So I feel less bad about wrecking it with a teaspoon! Scoop out a teaspoon (more or less.)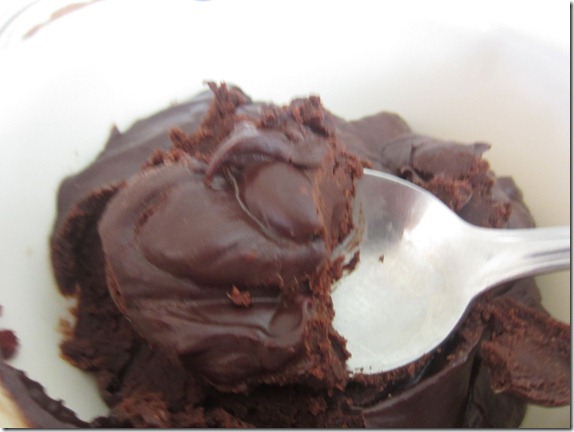 Then with your fingers roll it into a ball, and place it on the parchment.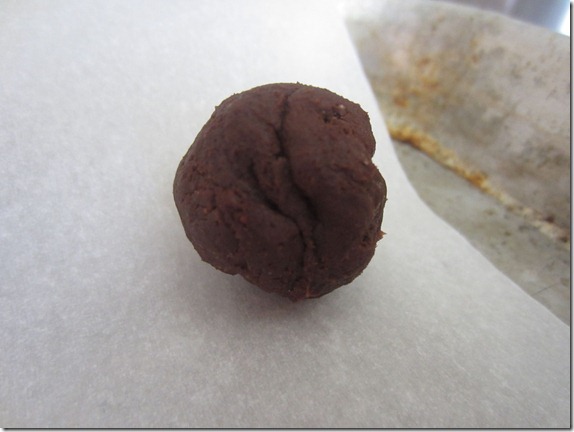 Repeat until you've turned everything into chocolate balls.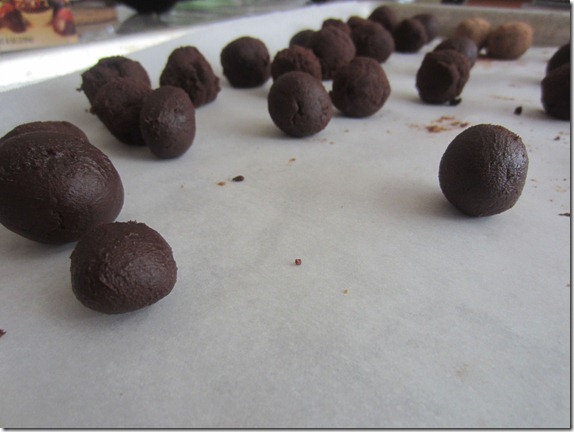 Yes. Glorious balls of chocolate.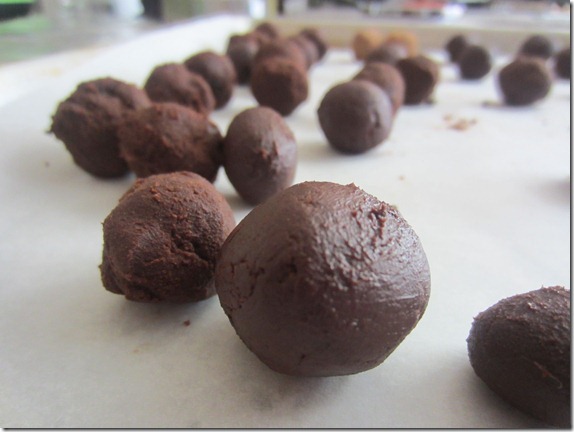 Roll them a few at a time into the cocoa powder and place back onto the parchment.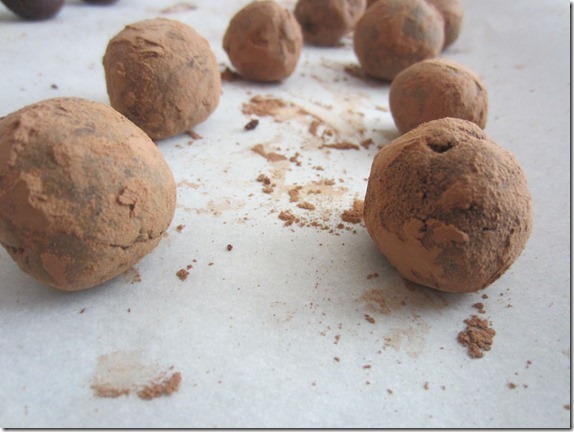 Keep going. It's hard work but someone has to do it.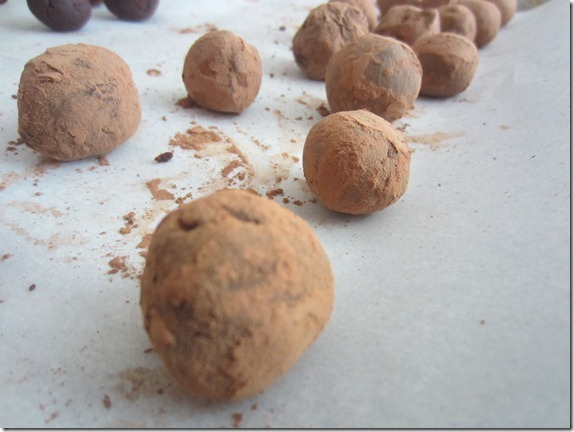 After doing half, I thought I'd try something else.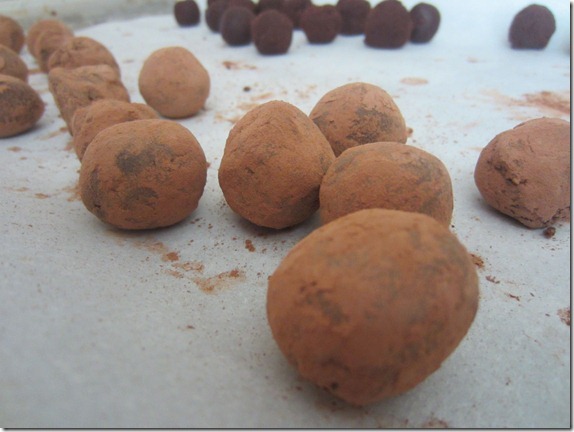 I sifted the cocoa powder with some powdered sugar to see how the result would differ.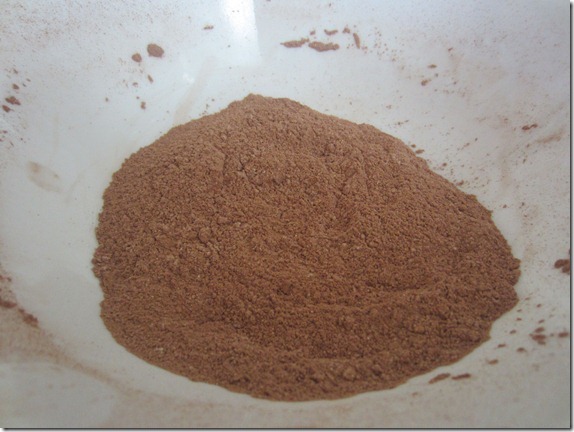 Definitely a different look! And a different taste too. I can't say I prefer one to the other, they're both great!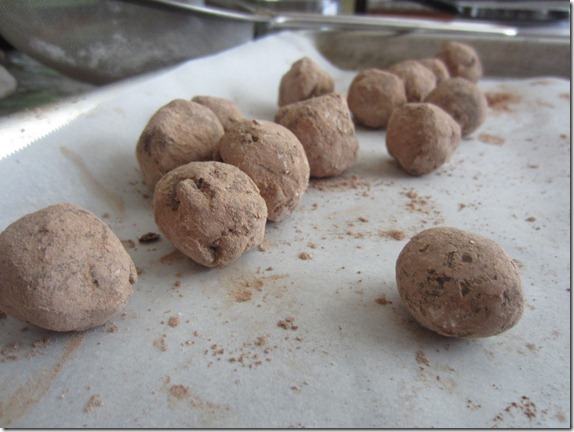 The ones using powdered sugar have a slightly less of that cocoa oomph and a bit more initial sweetness.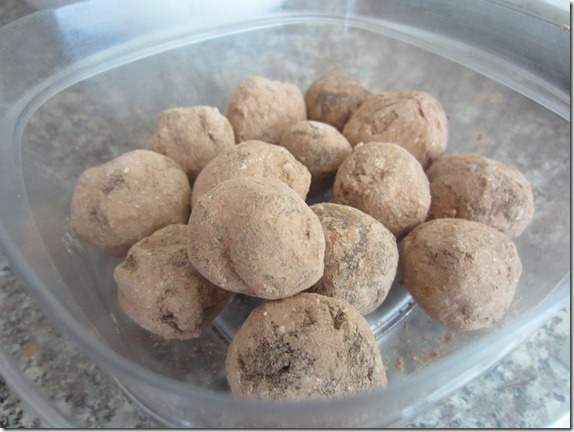 But the 100% cocoa powder coated ones are delectably divine. Maybe try one of each, and see which you like more! I highly recommend these if you want to impress someone special, up the caliber of your gaming event, or feel like spoiling yourself rotten for a week… or gratuitously for a weekend.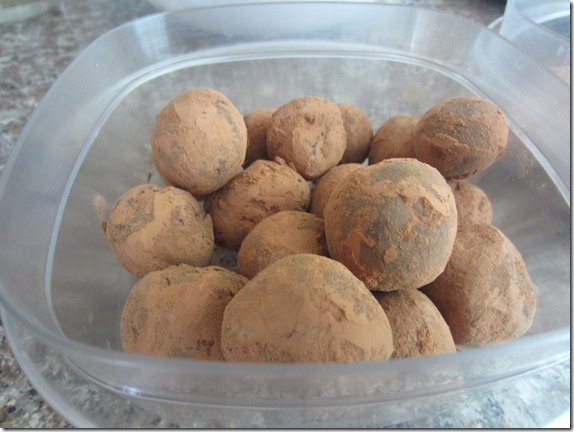 Chocolate Balsamic Truffles (original recipe via Tiffany Simmons)

Ingredients:
8 1/2 ounces dark chocolate, chopped (recommended: Valrhona)
1/4 cup cream or half and half
2 teaspoons balsamic vinegar
1/2 cup cocoa powder (or 1/4 cup cocoa powder and 1/4 cup powdered sugar)
4-6 dried cherries, finely chopped (optional, see note*)
Directions:
Melt the chocolate and cream in a double boiler over hot but not simmering water.
Place melted chocolate in a small bowl and stir in the balsamic vinegar.
Cool the chocolate in the refrigerator for 1 hour.
Remove from the refrigerator and let sit at room temperature for 2 hours, until firm but moldable.
Set up your work area with a parchment lined tray or baking sheet, a shallow bowl with the cocoa powder or cocoa powder and powdered sugar.
Use a teaspoon to scoop out chocolate. Use your fingertips to shape into balls about the size of a cherry.
Set the chocolate balls on a parchment-lined tray.Place the cocoa powder in a small shallow dish.
Place a few truffles into the cocoa powder and roll the truffles around to coat, then return the coated truffles to the baking sheet. Continue with the remaining truffles until complete.
Place the truffles on a serving dish or keep in airtight package until ready to serve. I'm not sure how long they will keep, but definitely for a few days, and I doubt they'll last much after that!
*Pour the balsamic vinegar into a shot glass or other narrow container, and add