Cooking for a Cause, Charity, Food Truck reviews, and oh yes GAMING!
What a weekend I just had! I'm still coming down from the high that was Big Bad Con, and it just gets better and better every time I ago. Run by Sean Nittner (possibly more known for his work at Evil Hat Productions) and supported by a host of support staff, it is the event I look forward to most in the year.
First and foremost, while the focus is quite a bit on RPGs and related activities, it is important to note that Big Bad Con gives back. Proceeds go to Doctors Without Borders, there are bins for donating food to the Alameda County Community Food Bank, and Endgame donates 10% of all profits made at the con to Child's Play.
So if you haven't been, I recommend you go, and know that not only will you have a great time and meet great people, you will also be giving to great causes.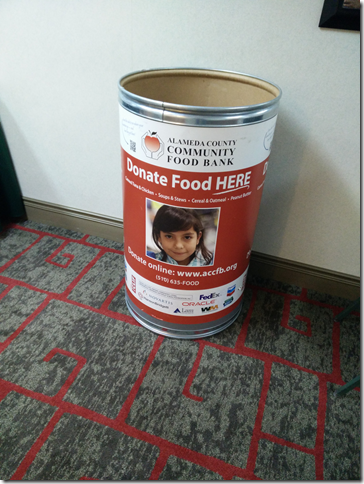 Now for what my Friday through Sunday looked like. Actually my Thursday night through Sunday, as Sean had asked me to join the crew filling the Little Red Basket's for some Kickstarter backers. I was thrilled to participate, due to the good causes mentioned above. My only complaints is my own lack of planning which led to a marathon night of cooking, which started at 10pm on account of an unexpected work emergency. Enough complaining though!
I made maple syrup roasted almonds, seasoned with cayenne pepper, Himalayan pink salt, and smoked paprika. These were a smash hit at the con.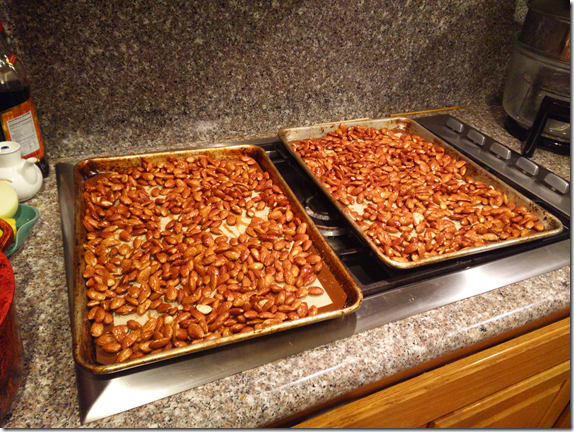 I also made a heap ton of bread that I slashed a "B" into (for either Big or Bad, depending on your likes).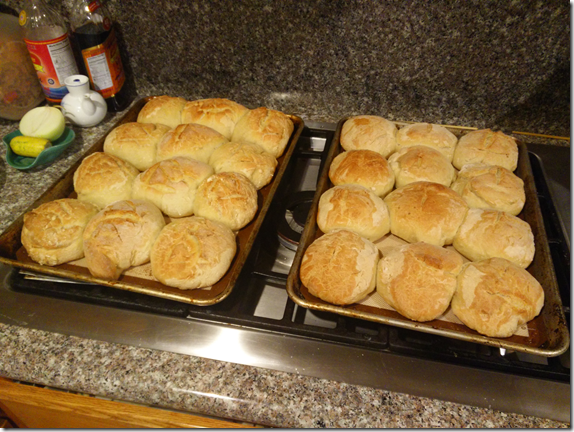 And a big batch of Jalapeno hummus, which I didn't take a picture of due to it being around 5 am when I finished.
I'll share recipes in the future!
Brian sleep count: 3 hours, and heading to Big Bad Con.
Once settled in at Big Bad Con I compiled my stuff along with the packing supplies bought by Sean, and got to work packing things up. Special thanks to Nate for helping me pack the bread and bag the nuts.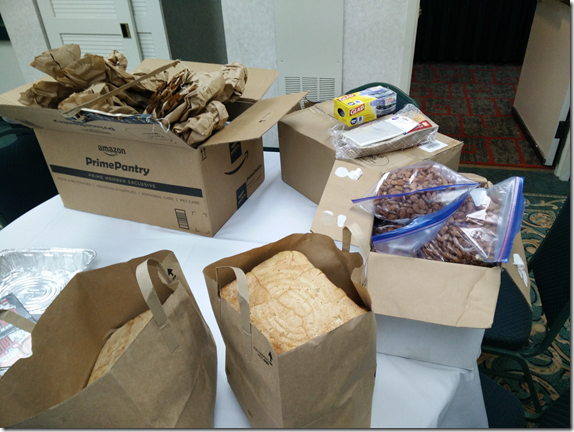 Tess Aquarium and Kristin Haworth showed up a bit later and after a good hour and change of work, we had nearly 50 of these baskets.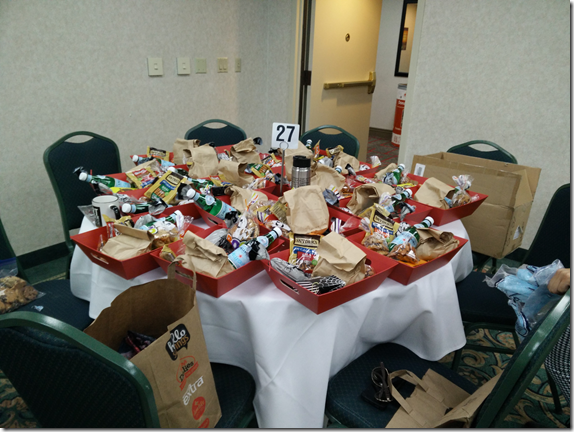 Worth noting, Kristin brought some really great Whiskey Chips (cookies), and Tess made the most amazing gluten free cupcakes I've had to date.
With packing out of the way, it was time to game practically end to end for me.
First up was Sophie Lagace's War of Ashes: Fate of Agaptus game, a "grimsical" minis friendly game, with quite a lot of inspiration from the Muppets at la Labyrinth. We got a big dose of the varied history of the world, and then delved into smashing faces.
It's such a gorgeous book, and such a fun setting, that I might just have to treat myself.
Notable Brian pun delivered while my character was tripping some mooks with a halberd: "I want to axe you a question!" Received expectant groans from everyone at the table. I think I was given a Fate point for troubling everyone else.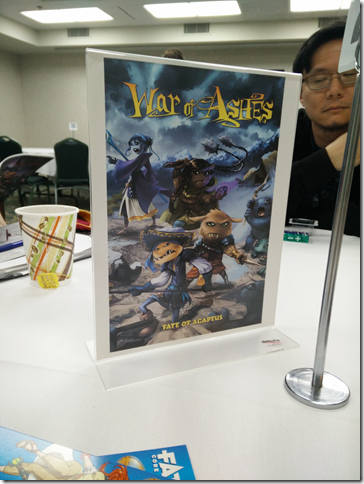 During the break I picked up a Benedict Burger from Benedict Arnold's Brunch Truck.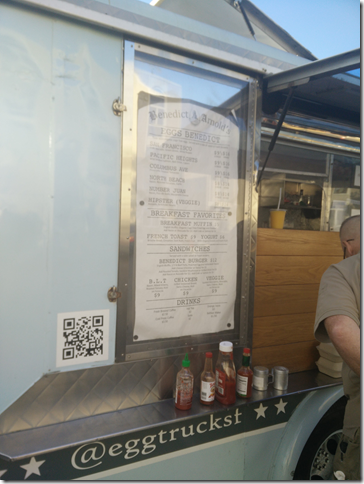 Nice logo!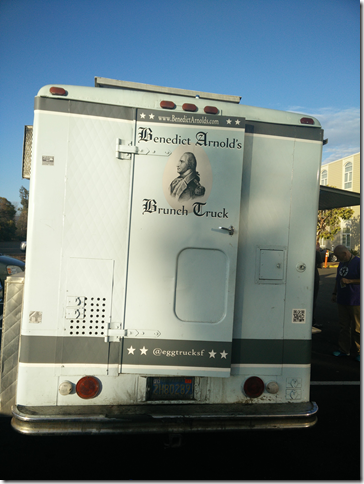 Great poached egg, solid burger and bacon. The hashbrown was perhaps a bit flat, but the burger totally made up for it.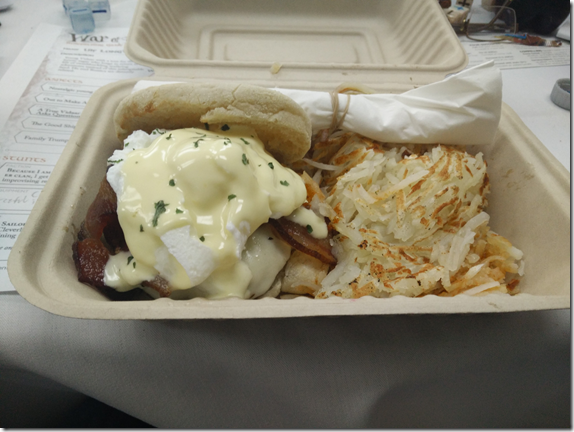 Then it was the night session, with The Unofficial Matrix RPG run by Tre' Grisby, who I've known through G+ but never met in person until this game.
Coincidentally this is the night that my Little Red's basket was delivered. Having tasted most everything already I shared with my table.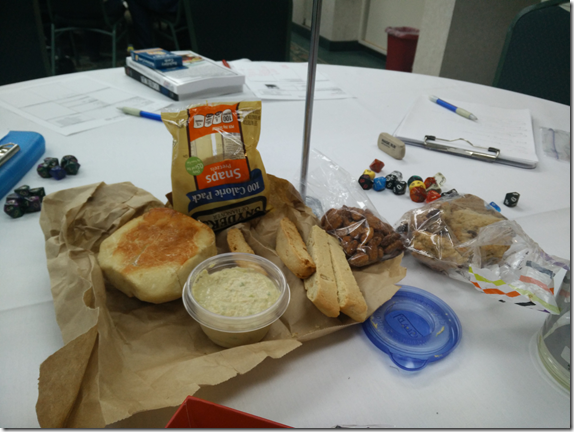 Look at how happy they are! (That's Tre' on the right)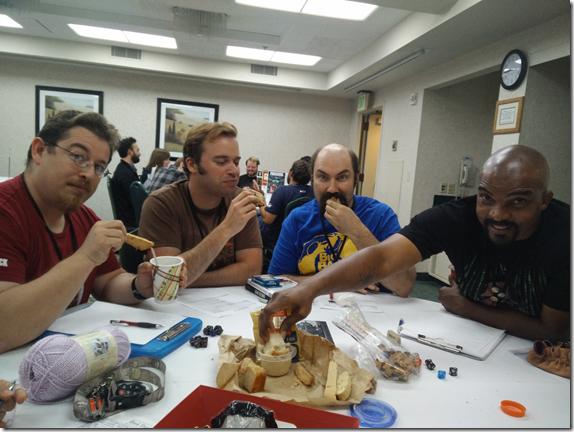 Well lubricated with snacks, the system was a blast to play, with all of the high flying shoot em up, drive nuts badassery you'd expect from The Matrix (but maybe not its sequels).
Then I went home, slept for… maybe 6 hours, then back to con.
Saturday morning was kicked off to a great start with Kingdom, run by Bay Chang. I loved this narrative game where everyone played townsfolk basically with varying goals, that melded and collided with one another.
We had a bit of discussion about which scenario to play, and then chose one and rolled with it. Beer was drunk, orc shamans were negotiated with, and a gnome pack animal leader was elevated to figurehead king, whose power became a bit more material and tax oriented than planned, and somehow our tiny hamlet challenged the empire that threatened to annex it.
In short, Orc Western is BEST Western. (I only just realized now that could be a weird commercial for Best Western).
Lunch was Siam Loco Wraps, and I got a pair of duck tacos, beef tacos, and a thai ice tea. The duck tacos were great, if perhaps a bit pricy. And that spicy sweet chili sauce is no joke.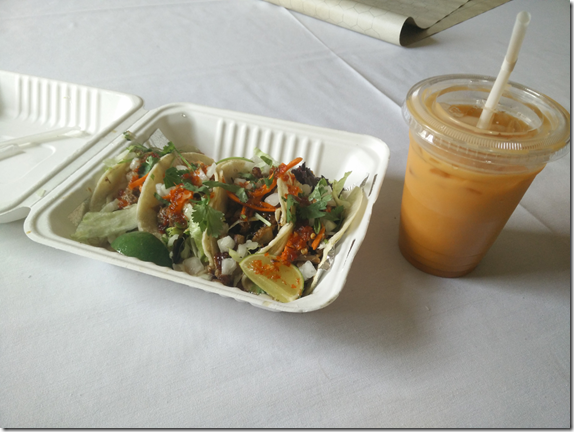 After lunch was my first exposure to 5th Edition Dungeons and Dragons, a custom campaign by Beth Taggart titled The Festival of Arlax Blacktongue. She really went all out with props around the room and for the players too.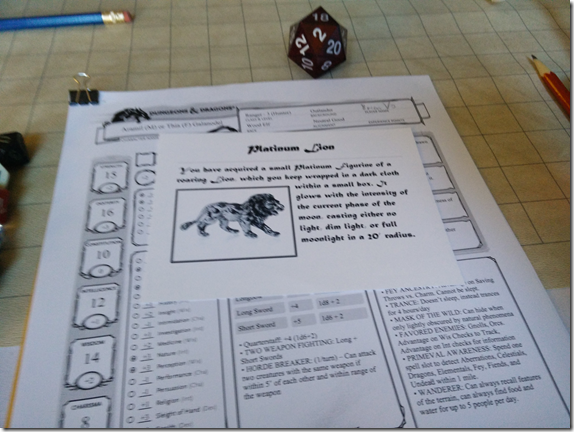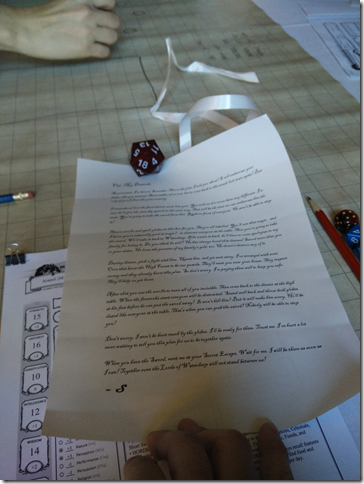 It was a good time with seasoned players and many a trope savvy comment was made. Good time, and I can see the appeal of this edition.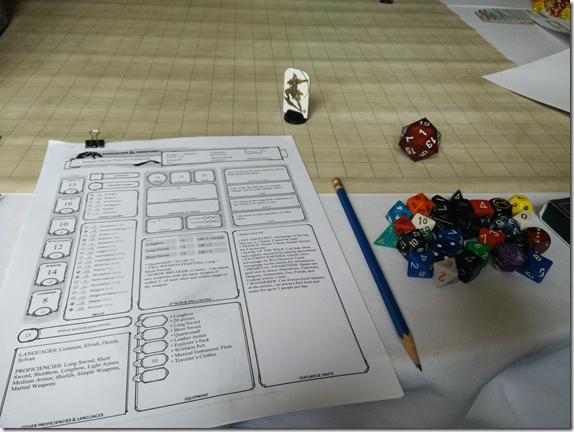 Dinner was a cheeseburger from Opie Burger. I was feeling a bit too full to go for something more exciting and stacked than that.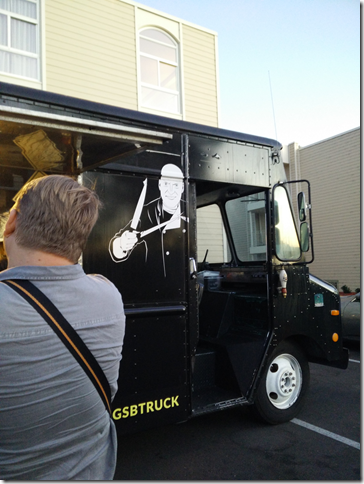 Loved the cleverness here: "VOTED BEST BURGERS IN THE WORLD BY MY MOM!"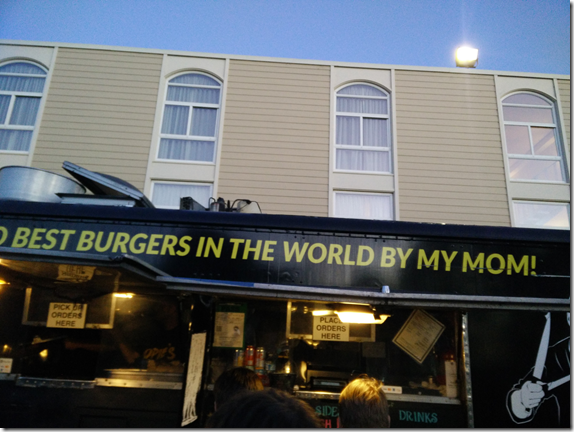 And after trying it, I can see why his mom said they were the best burgers in the world. It's a damn good burger, especially with the garlic bun. Maybe a bit too much going on with the parmesan fries, if it were just herbs and garlic I think it'd be a bit less fiddly.
Don't get me wrong, I polished off the entire thing.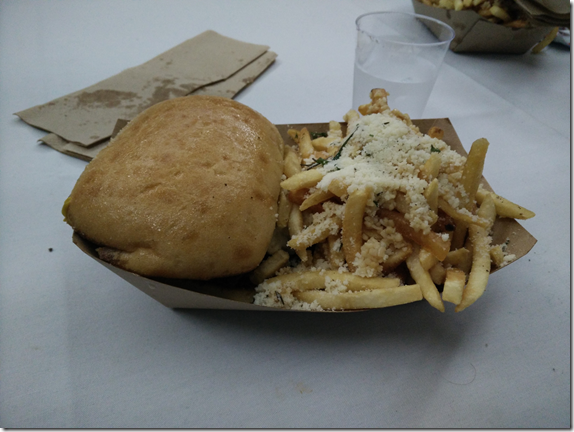 For my final game, I played a game of  Les miseres et les mal-heurs (Part I) (translates to Misery and Misfortunes) run by Adam Koebel of Dungeon World fame.
I have to point out that one of the players, Aaron, took map making seriously and did it like A BOSS.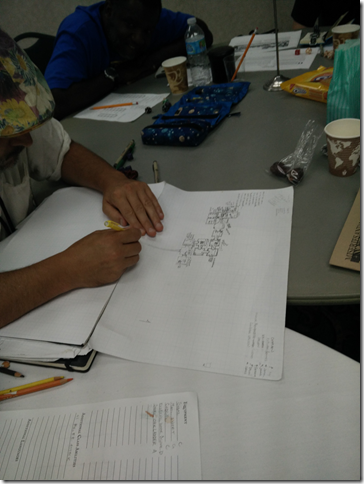 The game itself was true to Basic D&D, a morass of enjoyably complex nuances for how to generate characters, make stats, and buy equipment, with the bonus of even MORE fragile characters that would make a first level 2nd edition mage look pretty beefy.
My second character had 2 hit points, lets put it that way. I forget how my first character died already. Two other players also made second characters on the first excursion into the dungeon.
It was also incredibly specific on a character's nationality, political outlook and religion as well, which led to some great roleplaying in the dungeon. My second character was a German Soldier of Fortune, who was also an atheist and a Bourbon.
It was a good game, made all the better by Adam's lighthearted approach and charisma, as well as the vibrant energy of the players.
Went home, slept maybe…. another 6 hours, perhaps 5.
Morning session was Teens Against Tyranny, an in progress game by Orion Cooper. With elements of both Fate and Cortex, it was a really fun game. I played a tree hugging track star, partnered up with a computer geek who practiced talking in the mirror, and a hot foreign student (a guy, I feel that is important to state for some reason). We tackled the evil of Dick Cheney's attempt to replace the Pacific Valley homeless shelter by having a Kickstarter to replace it with a parking lot.
I had a great time, as did the others, but the real takeaway is that we collectively broke Orion with our comments.
Highlights:
"We should have a counter fashion show protest!"
"Look at how hot and foreign his is!"
"YOU'VE BEEN EXPOSED" (said by the computer guy after my character pantsed a Dick Cheney crony)
"So hot, so foreign, but so mean!"
"Shut up Bo." (to my character by the hot foreign student after… most things I said.)
No lunch was had on needing to run an errand back home, then it was back to Oakland for my final game, Part 2 of Les miseres et les mal-heurs with Adam Koebel again. It was just the map maker and I from the original group and a whole new host of characters, many of whom were amazed at our generosity in bankrolling them in equipment.
It was a great time, as it was the first time, replete with terrible french accents and nihilism from me.
The highlight was when the (surviving) Urchin of the party SACRE BLEU up three cutlass wielding Huguenots with a musketoon.
The table erupted in cheers.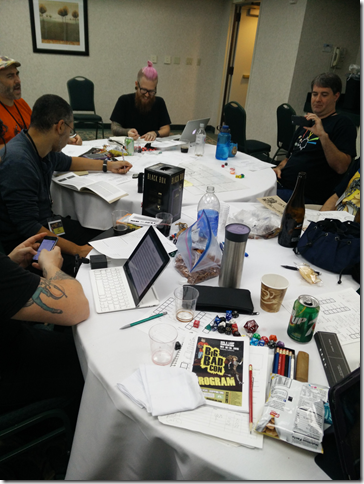 Definitely worth noting the A+ effort of the Gogo Gyro taking orders around the con and delivering them, a realistic approach given how locked into games everyone was.
While not the best picture, I absolutely loved (and needed) this lamb gyro. Spectacular timing good sirs.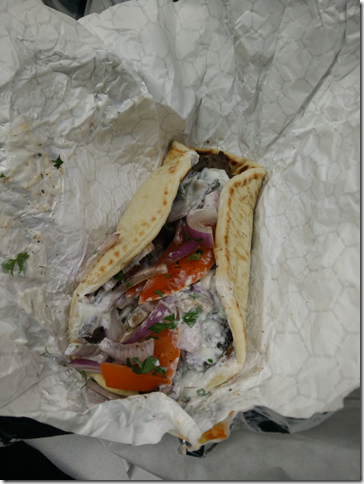 And that's my Big Bad Recap. I got home (by the way I was wearing a suit on Sunday at Kira's encouragement from the night prior, and I was glad to do it).
The blurriness of this picture reflects how exhausted I was at that point, but it was 110% worth it.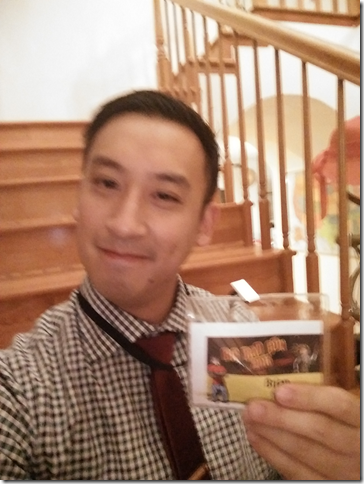 I'm so excited already for Big Bad Con 2016, and I already have plans, which I'll list in no particular order.
Play a lumberjack
Prepare food WAY earlier in advance if I'll be helping with Little Red's Basket again
Volunteer beyond just making food
Run a game
Let me know if you want me to make a particular recipe for my next post!
You may also like: