Large fluffy cardamom spiced popovers topped with honey syrup would be at home on any dining table, elegant or rustic
For the third installment of recipes for Daniel Swensen's Etheric (upcoming sequel to Orison), I wanted to go with something a bit sweeter after the recipe for a warming drink and some satisfying street food. Daniel requested some recipes as part of an opulent meal, so I took the opportunity to turn to a recipe which I really thing deserves a lot more attention in the kitchen, the popover.
A loose egg batter that is closely related to a Yorkshire pudding, the recipe uses intense direct heat and the explosive power of steam to give an impressive amount of lift to the final product. While the popover is perhaps from somewhat humble origins in the kitchen, I think that with the right approach , the billowy and crispy foundation of the popover would look wonderful on a well-appointed dining table.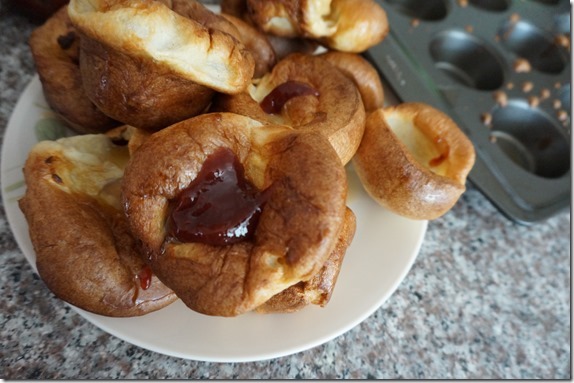 I hope that this picture is convincing!
Again, if you want to skip to the base recipe, just click here. For those that want to see more process, read on!
First things first, preheat the oven to 450 degrees F. That would be 230 C and Gas Mark 8 for other locales.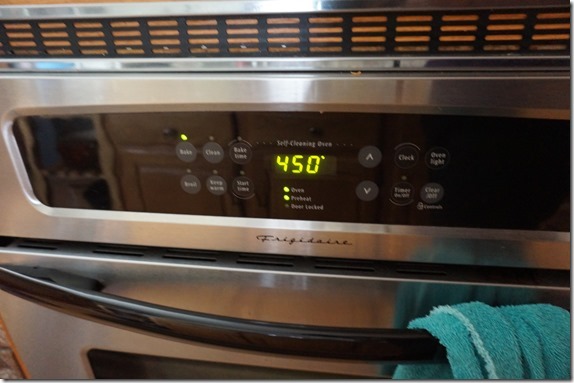 And put your muffin tin/popover pan in the oven while it is preheating.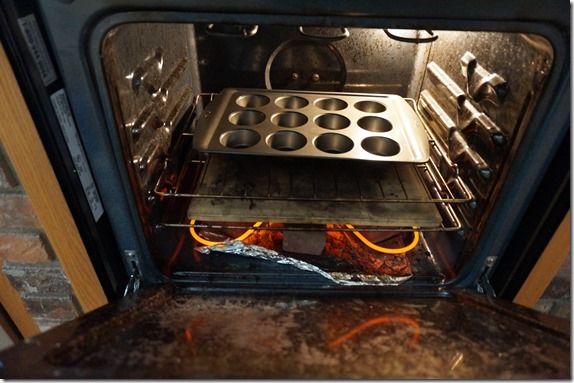 For a basic popover, you will need milk, all purpose flour, some eggs, and a bit of salt for seasoning. Popovers, according to Michael Ruhlman follow a 2-1-1 ratio of liquid, flour, and egg, in that order.
Thankfully grocery store eggs are almost always 2 oz each, so that simplifies things a bit.
For a basic recipe for around 12 "cupcake" sized popovers, you'll need:  8 oz of milk, 4 oz of flour, and 2 eggs (4 oz total). (I do want to note that unlike a lot of baking, the ratio for a popover is important, but not law. You can fudge a tad bit and still yield a great result).
You will also need butter to grease the muffin tins later.
Conveniently, 8 oz of milk is a cup.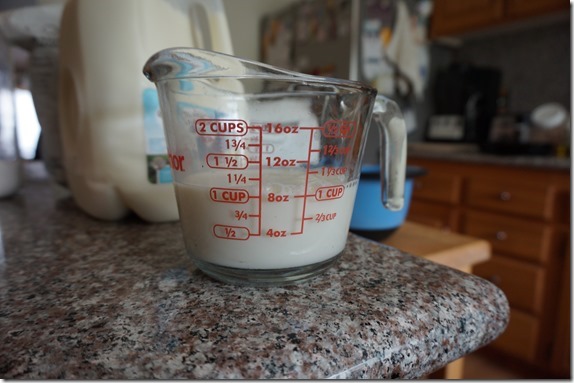 And again, two eggs is four oz.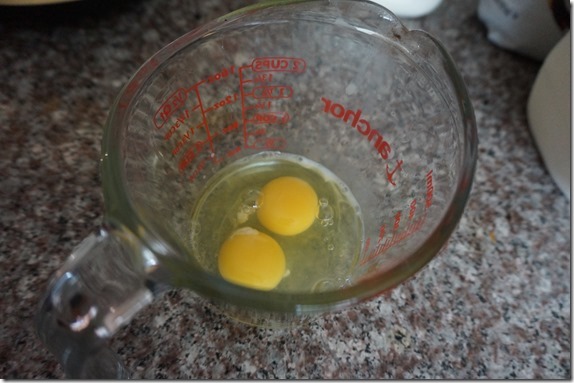 Add the milk and eggs together (and ignore bad lighting.)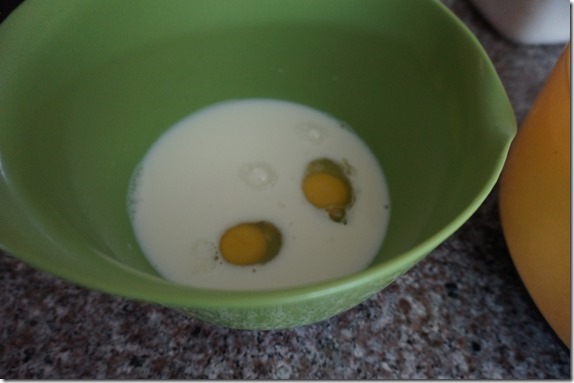 Now for a bit of something extra, ground cardamom. If you have whole cardamom, I'd crack it with the side of a knife and toast it briefly and let it infuse in the milk.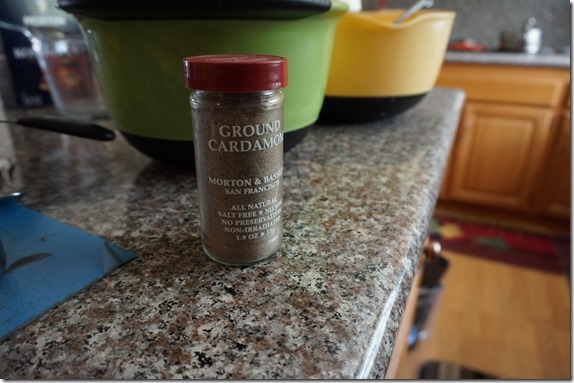 For a good noticeable but not overpowering amount of cardamom, I went with two teaspoons for this batch. Feel free to adjust after trying once.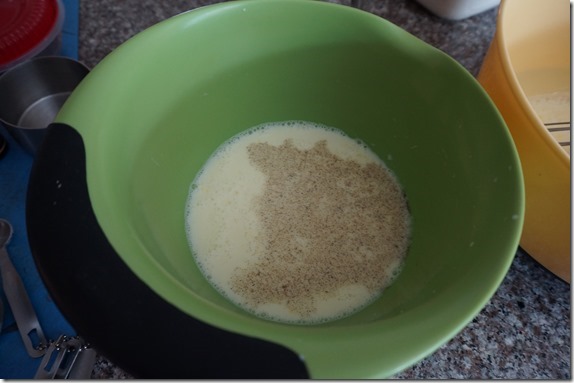 [See this? This is coconut flour and as of this writing a bad idea. Don't do it. Or do it at your own peril you have been warned. I even reduced the amount a lot because it said it absorbs a lot of moisture. Goodness, it absorbs a LOT.]
Ok, add the flour. If you don't have a scale, 4 oz of flour is a very loose, not quite 1 cup of flour.
Whisk it all together until it comes together loosely and cover with plastic or a towel and let rest for half an hour or more. Unless your oven is super charged, it will probably take approximately this long to come to temperature.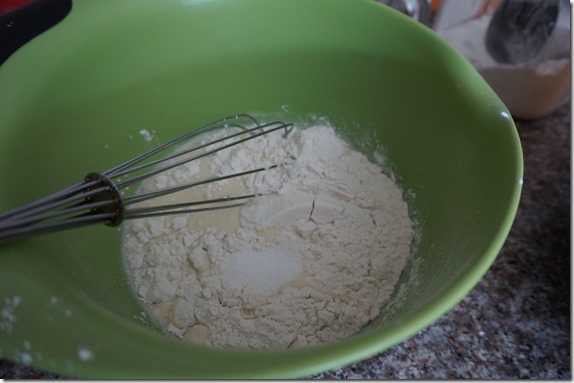 Meanwhile, make some honey syrup, a one part honey to one part water, brought to a simmer and cooled, then kept in the refrigerator for a couple weeks.
In this case I was just emptying out the remains of a nearly empty container of honey, so with such a small amount of ingredients I was able to do this quickly in the microwave. If you want to have a good amount on hand, you'll be better off doing this on the stove top.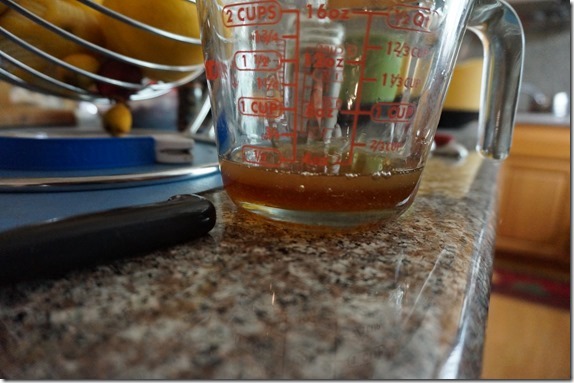 Ok, once the oven is preheated and the batter has rested enough, get ready to move quickly.
Pull out the tin and put a thin slice of butter in each cup and maneuver the tin, carefully, to get a good bit of coverage across the surface.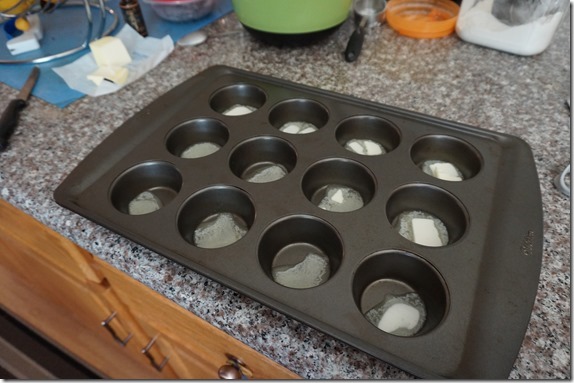 Then distribute the batter across each cup. A ladle does the trick here.
Slide the tin back in. Keep the temperature at 450 F for ten minutes, then decrease the temperature to 375 degrees F, and continue to bake for 20-30 minutes, depending on desired color.
This is a good color.
Another angle, for emphasis.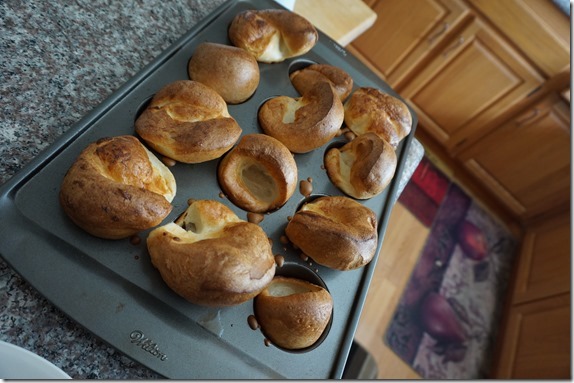 Remove from the pan, and drizzle with honey syrup (or serve with jam even).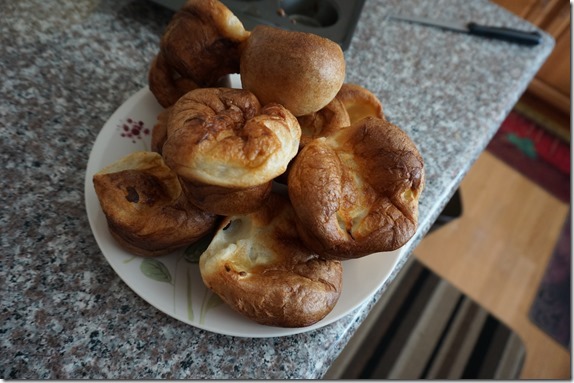 Recipes
Cardamom Popovers
8 oz milk
2 large eggs
4 oz all purpose flour (scant cup)
1/2 tsp salt
2 tsp cardamom
Butter for greasing muffin tins
Preheat oven to 450 degrees F with the muffin tin (or popover tin) in the oven.
Combine eggs, salt, cardamom, and milk and whisk well to combine.
Mix in flour gradually, and whisk to a smooth consistency. Let this batter rest for half an hour.
Once oven is preheated and batter is rested, pull out the tin and put a pat of butter in each cup, and shake the tin gently to coat the bottom of each cup with butter (or use a brush).
Ladle an equal amount of batter into each cup and quickly return the tin to the oven.
Bake at 450 degrees F for 10 minutes, then reduce heat to 375 F. Continue baking for 20-30 minutes
Remove from oven, let cool slightly then remove from tin and serve with honey syrup or jam.
Honey Syrup
One part honey
One part water
Combine honey and water in a pot (or microwave safe container)
Heat in appropriate way (over the stove with a pot or in the microwave) gently until the mixture starts to bubble
Remove from heat.
(optional) Swirl in more water if you want a more pourable consistency.
Let cool and pour into an airtight container, and chill until ready to use.