A classic drink with a maple twist
As Autumn has comfortably settled in for those of us in the Northern hemisphere, I think it's the proper time to share a recipe that I devised at work, because of one of the more unique ingredients I've used personally, maple syrup. Long story short, at Prosperworks we name releases after foods, and when possible, we make cocktails to celebrate them.
This was my contribution, the Kentucky Moose. So named for its roots in the Kentucky Mule, and well, I know there are a lot of moose in Canada.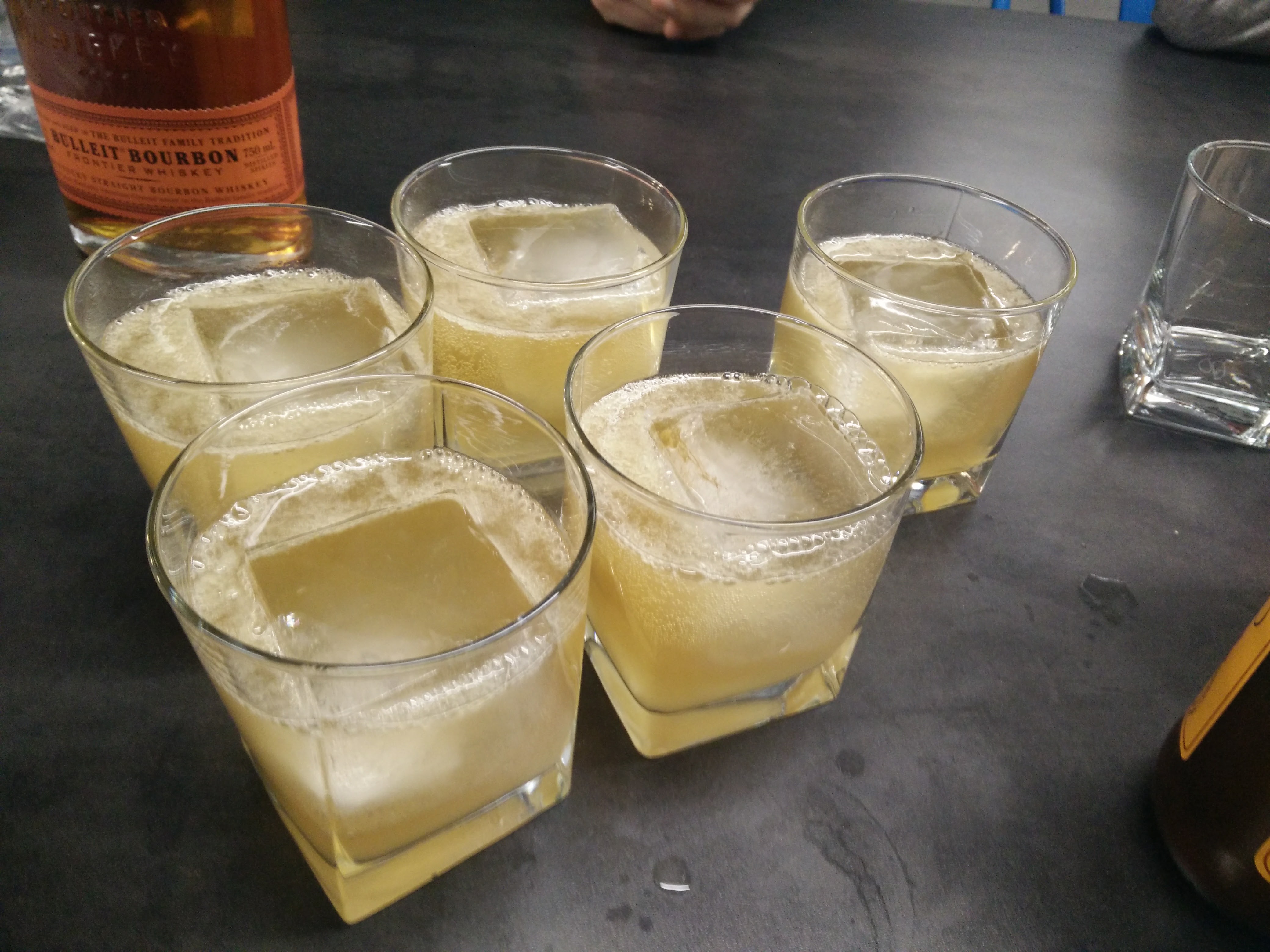 Sidenote: I feel the need to say that while maple syrup can be appreciated year round, there's something about cooling weather (or at least the idea of cooling weather here in California) that makes reaching for that opaque plastic jug of maple syrup that much more appealing.
You'll note that the glassware appears different from here on, that's because I was too busy cranking out the cocktails at work that I didn't have time to take all the pictures. So, some of my friends at a weekend event benefited from this, as I needed to make more.
What you'll need: Good quality ginger beer, rye whiskey or bourbon, maple syrup (preferably Canadian), and a few lemons or limes. In spite of the pictured ginger beer here, I will say that Bundaberg might actually be preferable. Now if you care more about meeting the spirit of the Canadian influence on my drink, Canada Dry ginger ale will work in a pinch, but my recommendation is to go with ginger beer.
Ok, very simple drink here, and you can play with the proportions as you like, but here's where to start for two drinks. 1.5 oz maple syrup, again, ideally Canadian maple syrup, and I highly recommend the dark stuff if you can get it. This is Grade A Dark (formerly known as Grade B).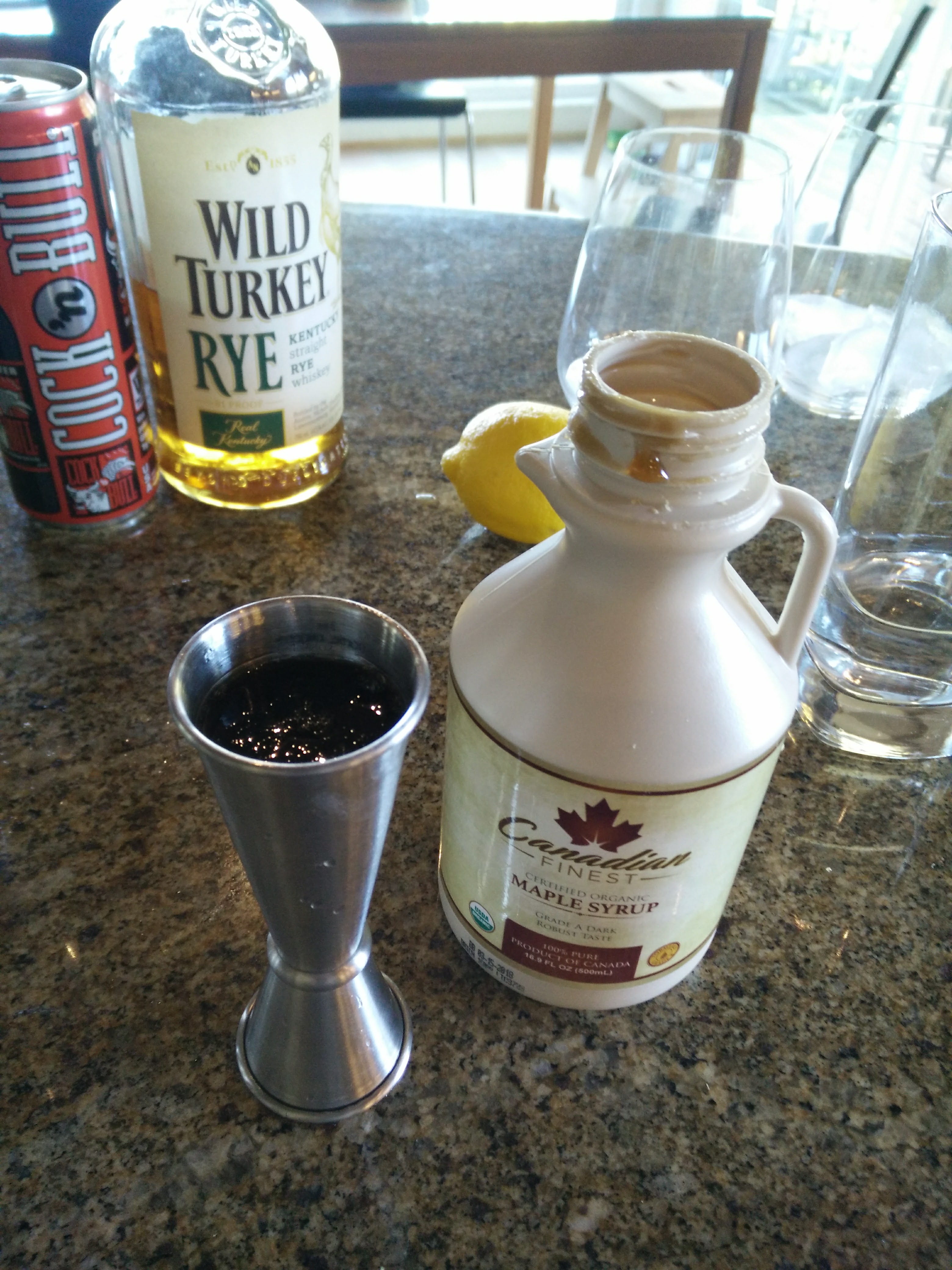 The juice of half a lemon or lime.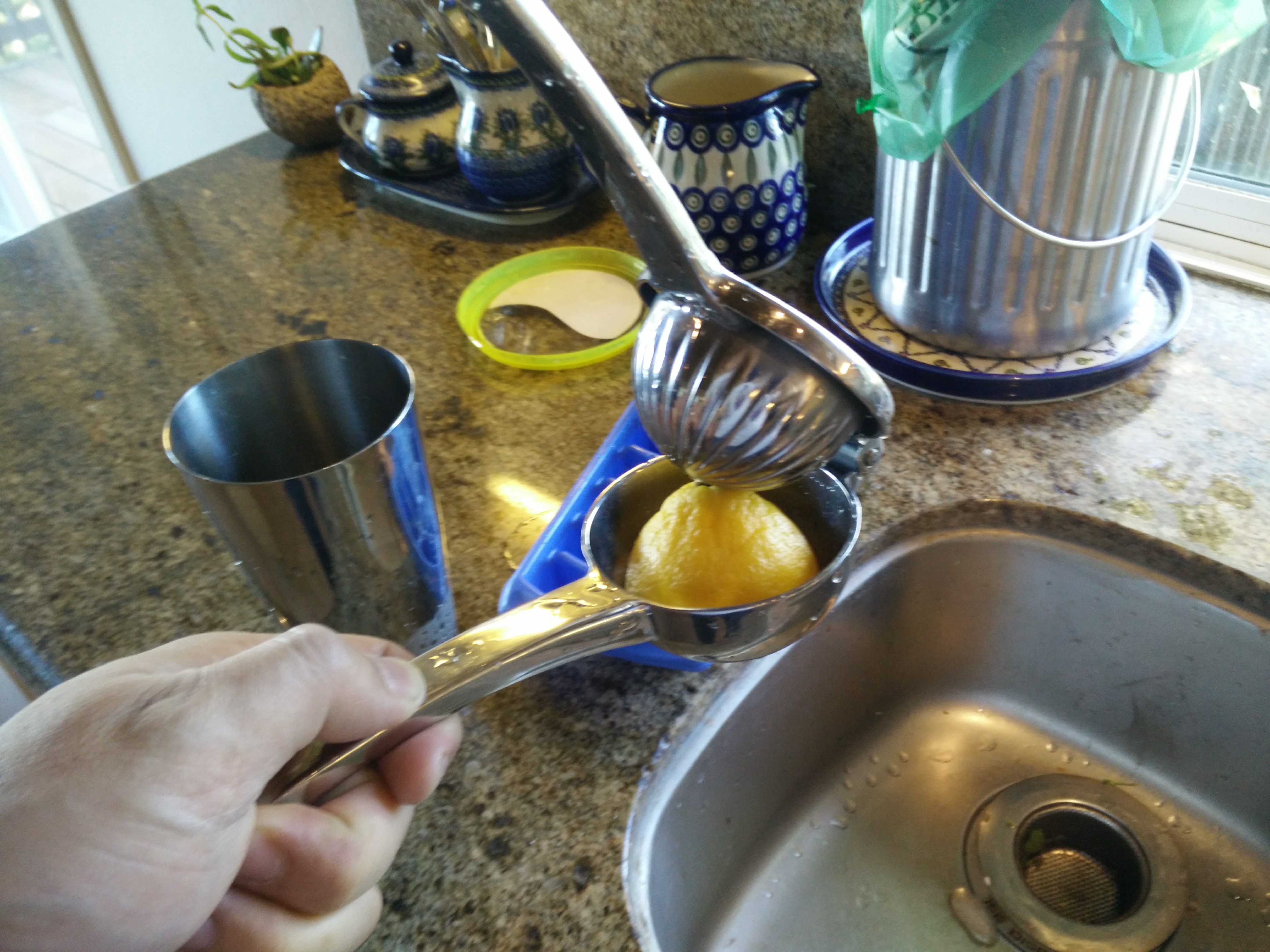 3 oz of bourbon or rye.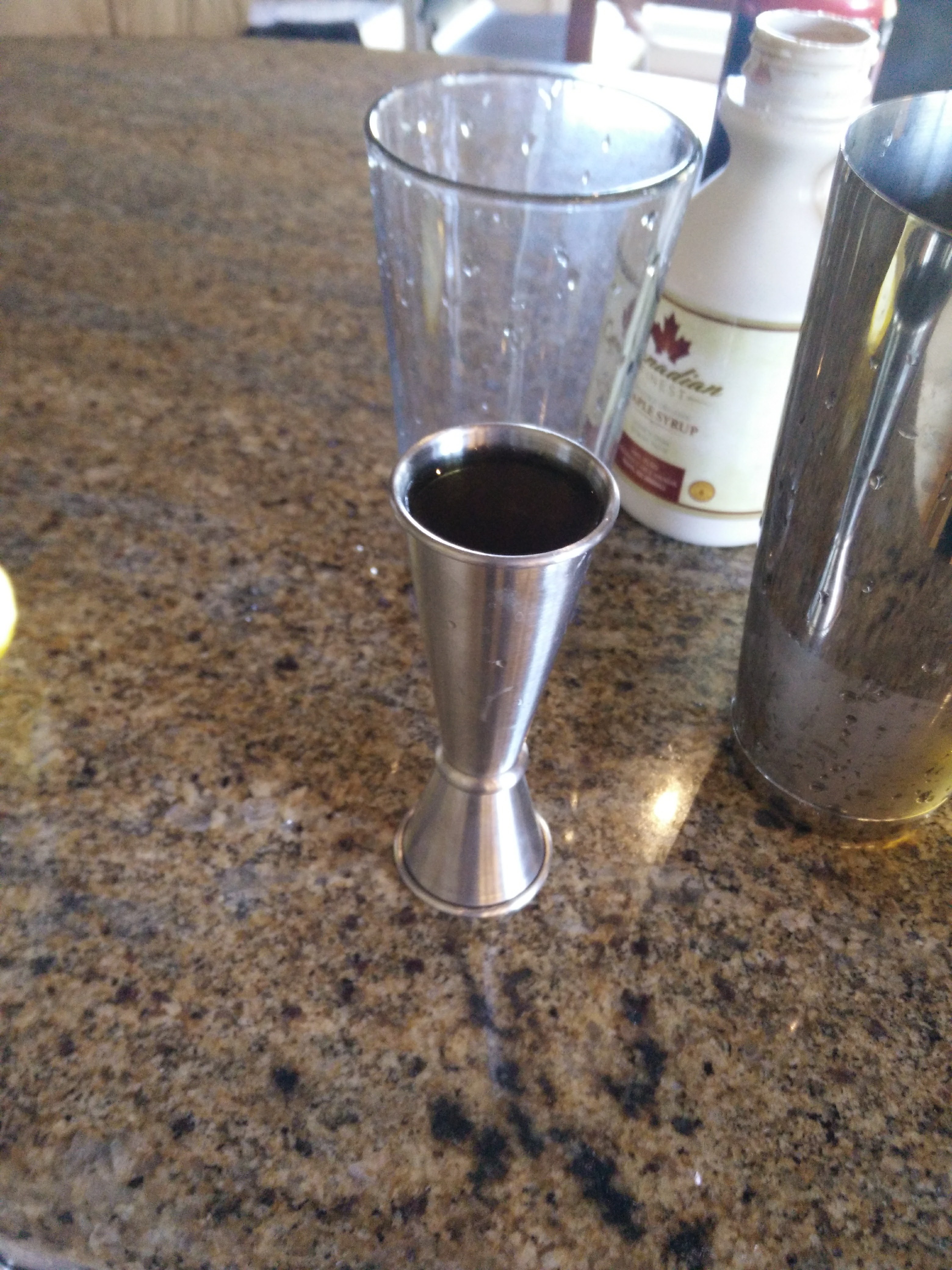 Pour into a shaker full of ice, and give it a good shake until your hands are too cold. Strain into two cocktail glasses of ice (ideally an old fashioned glass with a huge cube of ice as shown at the top).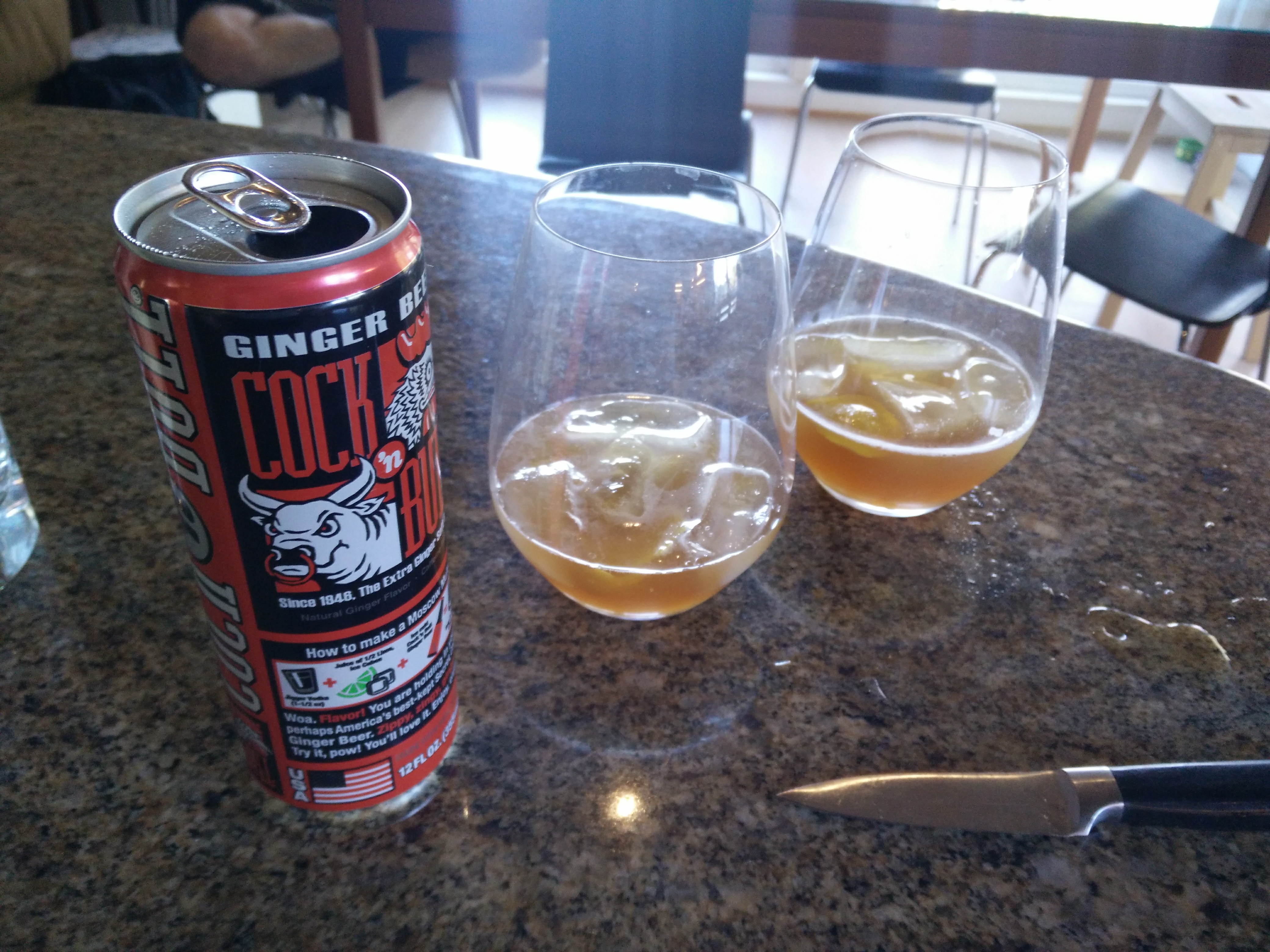 Then, top with ginger beer.
Garnish with a long piece of citrus peel if you like. Forget to wipe the table before taking pictures.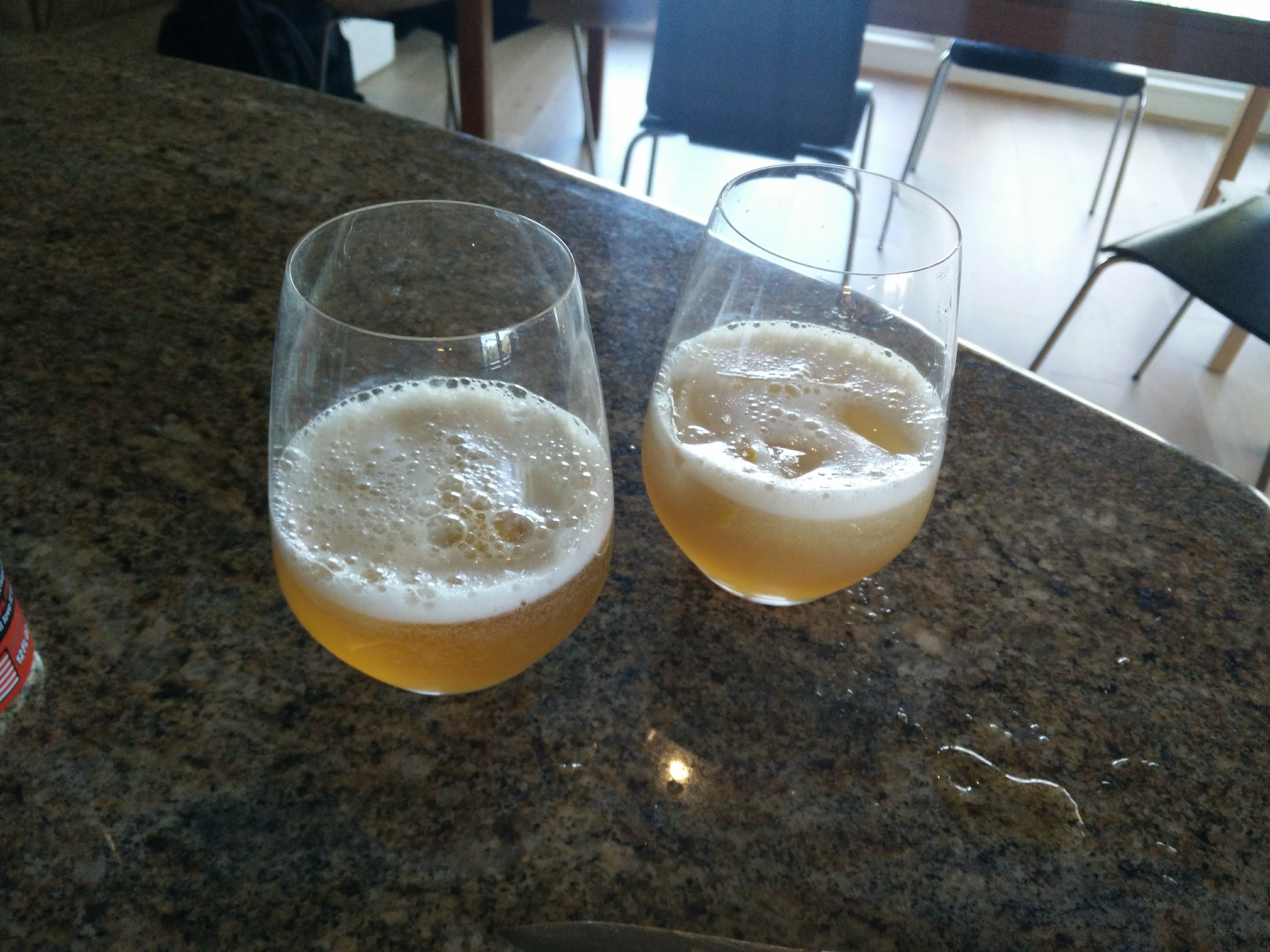 And there you have it, the Kentucky Moose. Enjoy responsibly!
The Kentucky Moose for Two
1.5 oz of maple syrup (Canadian, Dark)
juice of 1/2 a lemon or lime (sweetened lemon juice will do in a pinch)
3 oz of bourbon or rye (Bulleit works a treat)
Ginger beer for topping off (Bundaberg highly recommended)
ice, for shaking and serving
Combine the maple syrup, citrus juice, and bourbon in a shaker full of ice
Shake well and pour into old-fashioned glasses with a several cubes (or one enormous cube) of ice
Top with ginger beer.