Tasty beverages and Eccentric Alien Art at F8: December 9th-10th, 1192 Folsom St, San Francisco, CA 94103
(Warning, some somewhat adult language and themes below. Primarily swearing and an illustrated penis)
I had originally interviewed Nemo of Unstoppable Creative Forces back in September for an installation at the Skylark, and was greatly impressed by his work there, so when he asked if I would like to have a few drinks with him and preview his latest collection Bad Words and Worse Feelings at F8, I jumped at the chance. Full disclosure, he offered me some drinks for my time, so I may have jumped a bit faster.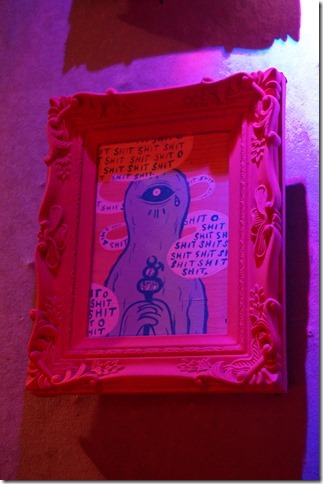 I arrived at F8 before Nemo and hung out for a bit, enjoying the sights and taking the time to look around the club. The bartender was very nice, and gave me a water without any of my prompting when I said I was waiting for Nemo. Once he arrived, I ordered a F8 Paloma, which was quite nice, and we got to talking a bit before diving into the conversation in earnest.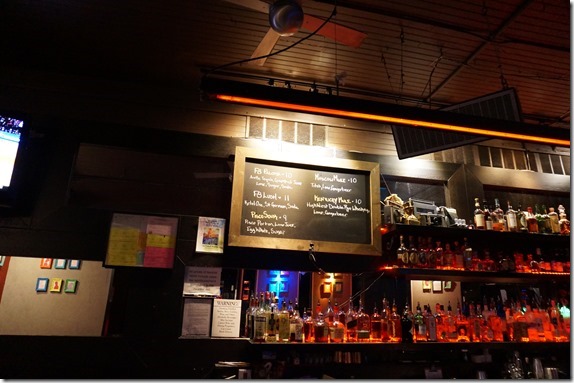 We talked about his many jobs: a handyman for a building, party organizer, and of course art. In spite of this rigorous schedule he still defends his time to pursue art, working a regular 6-8 hours a day, and adding in 4 hours on art on top of that. As he so elegantly put it, "that's how I'll get ahead. Or die."
I told him I hoped it would be the former.
He went on to describe his bigger goal after that, "I really believe in really pushing myself so right now I'm saving up about $30,000 so I can take a year and a half a year to work on art to work on a strong series I really believe in that takes it to the next level."
I asked him how this opportunity came about.
"Well because of the events I throw, I'm familiar with a lot of the people who work here. One of the bartenders here actually works for me from time to time, he's become someone I'm closer to, and this opportunity popped up. There was an opening and they asked me if I wanted to do a show.
I actually had four day's notice so… yeah, and one of those days was Thanksgiving, so I did the show in three days. It was definitely a push but I really like doing stuff like that. I think there were 31 paintings, done in three days, so it's not too bad. I'm not too upset with myself. So they gave me an opportunity and I hope that they appreciate it."
He summed up the collection quite succinctly. "Basically a small collection of affordable and offensive paintings." $40 a painting to be precise. I remarked that was pretty affordable artwork.
"It's what I consider the 'get drunk and buy a painting only slight regret it in the morning and give it to a friend for Christmas and tell them you were thinking about them the whole time' price level." It's hard to argue with that kind of sales pitch.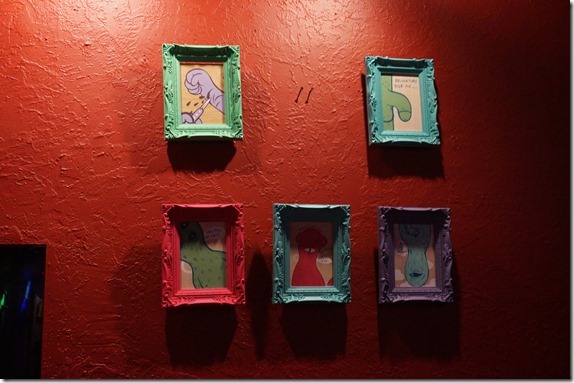 There were 30 on the walls when we were speaking, apparently he had 32, but two sold immediately as he was hanging them on the walls to set up, and their happy new owners took them home right away.. There had to be some art on the walls however, so the rest of the paintings will be purchased on a reservation basis instead, with bartenders collecting and tagging ones that customers are interested in. Basically if you want one, the bartenders will take money, and they'll write your name on the back of the painting and it's yours. Quite a few had been claimed in this way, but I didn't catch how many that was in total.
Based on this initial response, Nemo assured me that this series will probably continue.
I mentioned to him the slightly image macro/meme quality I felt when looking at the paintings. Kind of like a picture of a cat or perhaps a skeptical Gene Wilder, but with aliens instead. Sometimes not even the alien's face.
He agreed with the impression. "The concept of a meme is LCD, or least common denominator enough, to be understood by everyone at some basic level, and that's what makes memes funny.  And I think everyone has had these emotions for the most part, I mean, you know (he proceeded to imitate an annoyed and sarcastic person) 'I'm sure you're soooo fucking cool' I mean we've all been there. (Nemo took time to point at some of the paintings). All of these have some kind of emotion you can connect to. Or at least something somewhere in the collection."
I mentioned that I noticed there's a bit of a negative theme that kind of trends through these paintings.
"Yeah… there's a lot of exploration of negative emotion or surprise for sure, but I think the goal of the series…. As you can see, they're very cartoony, they're very brightly colored, they bring this jovialness to the emotions themselves. So maybe they're saying 'Well fuck you Frank!' but at the same time it's a fucking bright green alien…. It's bizarre, it's just funny at that point. Even the darkest paintings… even though they're dark, they don't go too far down that road. It's really kind of exploring the divine comedy of life."
I wondered to him how these images came about, in form and in feature. It wasn't at all what he thought he would go for, but he knew a few things. He said that the style of painting was required, because he could crank out paintings a lot faster than the physically manipulated art he thought of first (or "manual Photoshop" as he called it) and that he wasn't sure how much wall space was available, hence the small size. Additionally, he didn't think someone would buy a huge painting at F8 either, so that informed the smaller framing.
As for the theme, apparently family inspired it, but not in the way you might suspect. He described his parents a bit and the gist of it was that it was interesting, and his stepmother had attempted to take him to task for swearing on Facebook. He was slightly understanding of her views, but at the same time he also had this in his head:
"Goddammit, I'm 31 years old mother fucker, I get to say whatever the fuck I want!
"So this was kind of like a cathartic thing for me, just kind of… you know what? All these paintings were about curse words, about being crude,  nothing cut, just like fucking go for the jugular, have fun with it, make it fun for people, but just like…. I don't really want to restrain myself. And people have really responded well to it, they fucking love it! That's a direct quote, they fucking love it."
I have to marvel at how inspiring family can be at times.
He also added "Hi Mom" after this.
I asked if he had any favorites.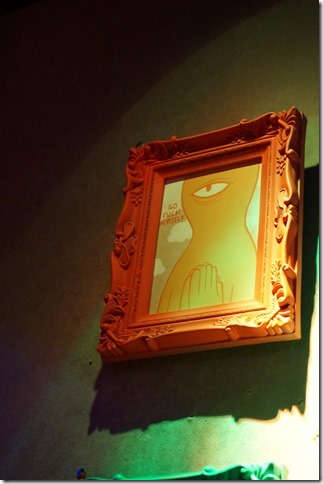 "Well sure, I think, 'Go fuck yerself' is one of my all time favorites. There's something about fluffy clouds, there's this guy with his hands folded together, in a business meeting the lets pause for a second, and like, go fuck yerself."
I told him that it seemed "very un-Namaste."
He replied, "Oh that's actually the title. Namaste. It's one of the few that is titled something different than the phrase itself on the painting."
"Oh shit oh shit oh shit," was another well loved piece in the collection.
We talked at length a bit more, how he dislikes holidays in general but was very grateful to spend Thanksgiving with friends ("I really thank you guys for having me out there.") He complained about the materialism of holidays, and we got into a conversation about materialism, minimalism, and how that differed from utilitarianism.
Finally, I asked him if he was looking forward to anything in the new year.
"A lot to look forward to for 2016, I'll have most of everything saved up for my year long hiatus, and be able to come onto the scene in a big way, and I've been trying to do the art thing and the work thing at the same time, but I really know that I do best focusing on one task. I'm very simple minded so it will be nice to build up the resources to focus on the task that I really love. Saving ideas for the last five years for these amazing pieces that I just haven't had the time to invest in, so it will be good to get them all out, create an amazing body of work that people look at and don't even understand how I made it. That's my end goal for the year. It's going to be a lot of work."
"Aiming for the hiatus," I quipped, trying to sum it up neatly. I was foiled.
"Yeah, aiming for the hiatus. Sounds kind of dirty."
Once he hits his benchmark for savings, he'll take that year off and try taking over a few cities at a time, starting with San Francisco, Seattle, and New York, and then who knows.
I for one hope he saves that money as planned, because if this collection is anything to go by, he'll have a lot to show us if he can give art his undivided attention.
And if he makes it big and forgets all about me, well, at least I'll have this picture.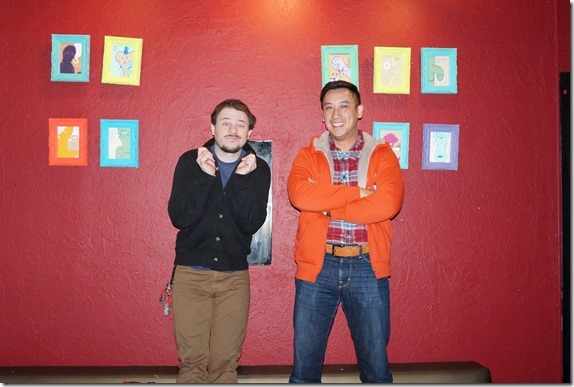 Again, the official showing of Nemo's Bad Words and Worse Feelings is December 9th through 10th at F8, 1192 Folsom St, San Francisco, CA 94103