Want a different way to get your pumpkin spice fill? Try this bread pudding recipe.
Tis the season to pumpkin spice just about everything. And you know what? I'm ok with that. I'm not too extreme about it, but I'm definitely more on the side of "pumpkin spice all sorts of things" side compared to that raging "I hate pumpkin spice" movement that seems to surface at the same time.
In case you want to move beyond the Pumpkin Spice Latte options at the coffee shops, I present a more "solid" dessert option, Pumpkin Spice Bread Pudding.
This recipe is a great way to deal with leftover ends or partial loaves of homemade bread after the holidays.
Anything left over from those meals are probably well on the way to being stale anyway if you're not on top of putting them into storage right after that dinner. This bread was allowed to go stale for a few days, then cut up into roughly 1 or 2 inch chunks.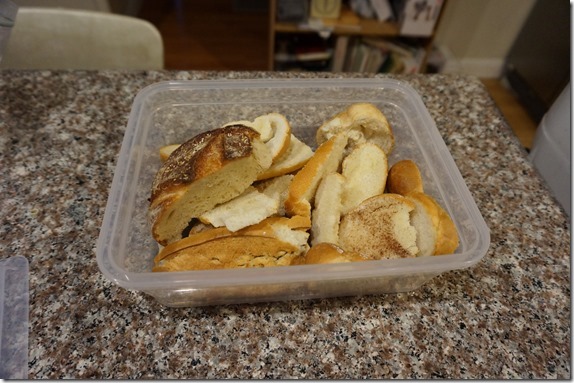 A lot of recipes call for a water bath, but I figured that a cast iron pan would work just as well, and lead to a good result as well, so preheat your oven to 350 F and put the pan in while it preheats.
And to assemble the custard, you'll need milk (or maybe cream if you're feeling really bad), sugar, eggs, vanilla, and salt. Leave the bread aside for now.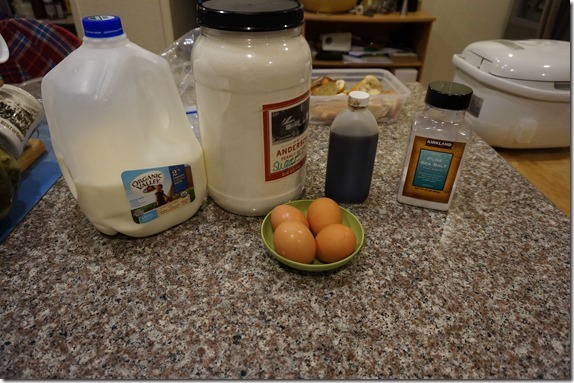 And of course Pumpkin Pie Spice. I've used this allrecipes version to good result over the years.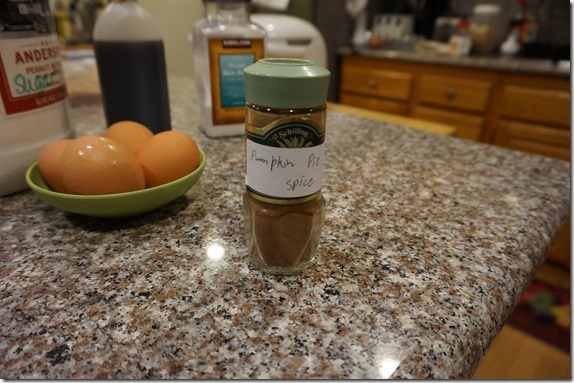 So, two cups of milk.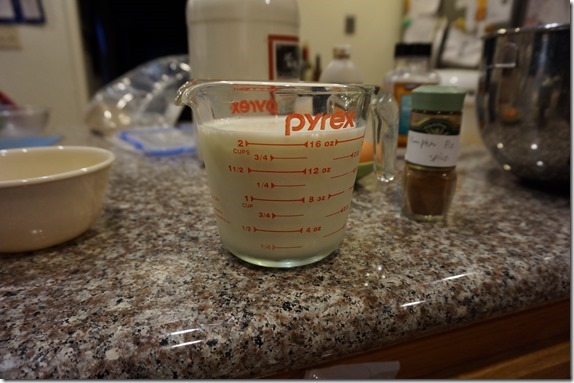 Four eggs.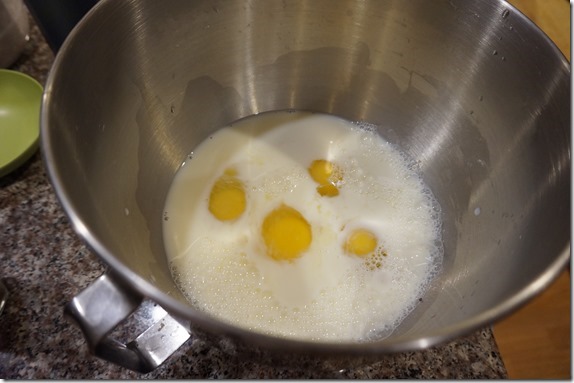 And 1.5 tsp of pumpkin pie spice, then whisk it up really good to evenly distribute the flavor.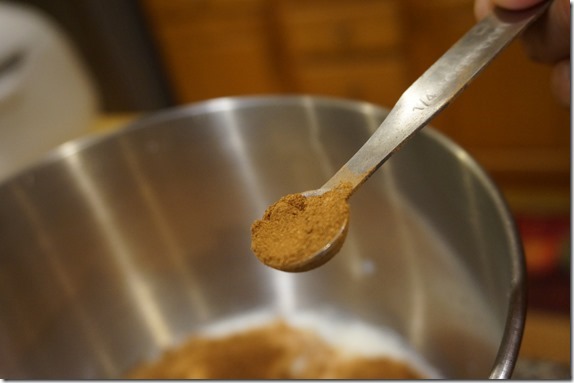 Before whisking.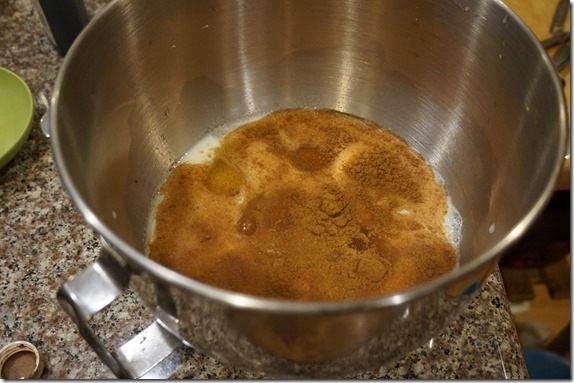 After whisking.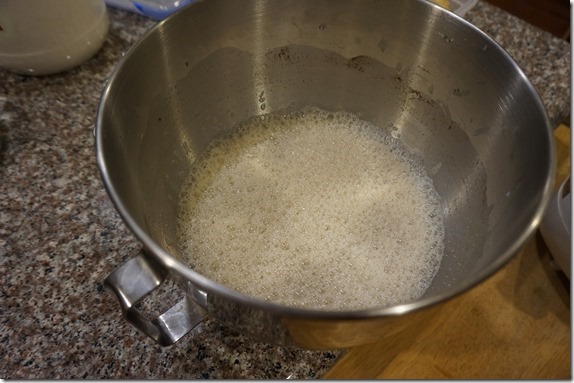 Pour that all over the bread and let it soak for at least 15 minutes.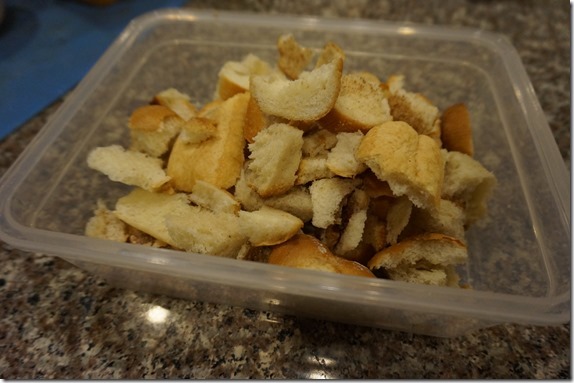 Then take out the pan, and put in a path of butter, enough to swirl around.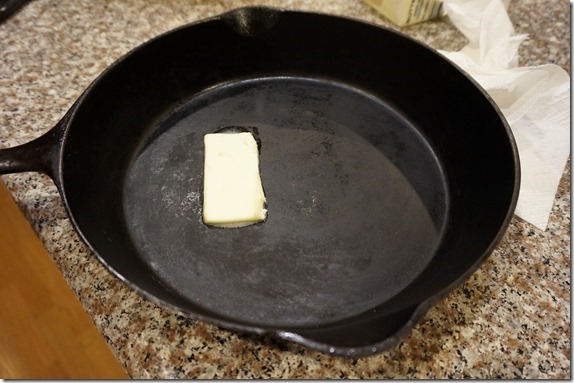 Like so. Use a brush or towel to get the butter up on the edges too.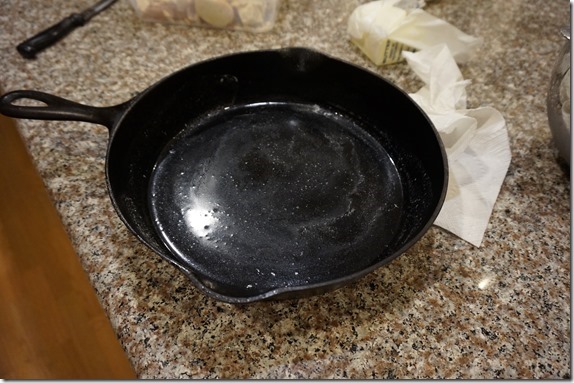 Pour or slide the soaking bread mixture into the pan, then put it back into the oven.
Bake for 30-45 minutes, until crisped on top and nicely golden brown to your liking.
Basically, don't burn it.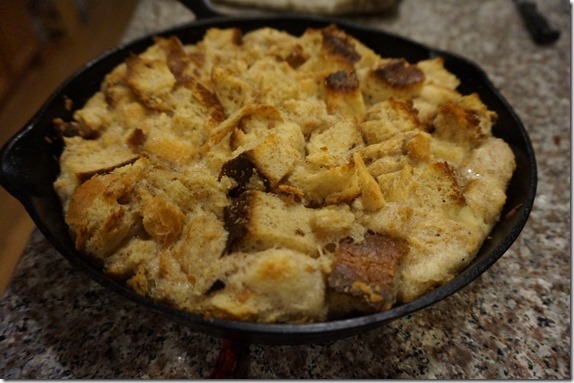 Then scoop out, and maybe serve with a drizzle of caramel, or even better, bourbon syrup.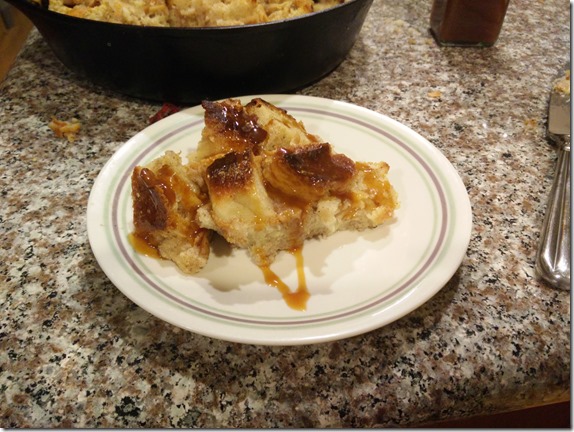 Cast Iron Pumpkin Spice Bread pudding 
Custard ingredients
2 cups milk
4 large eggs
1/2 cup of sugar
1 tsp vanilla extract
1/4 tsp salt
1.5 tsp pumpkin spice mix (see below)
Other ingredients
Stale Bread, broken or cut into roughly 1 inch pieces
butter
Preheat oven to 325 degrees F. Put a 8-10″ diameter cast iron pan into the oven while it is preheating
Combine all ingredients except bread
Pour over bread, let soak for 15 minutes
Pull out cast iron pan, put in a tablespoon or so of butter and swirl around
Pour bread/custard mixture into the pan
Bake for 30-45 minutes until golden brown on top.
Pumpkin pie spice mix (via allrecipes)
1/4 cup cinnamon
4 tsp ground nutmeg
4 tsp ground ginger
1 tbsp allspice
Combine all ingredients, and keep in airtight jar until ready to use.