A margarita with a couple twists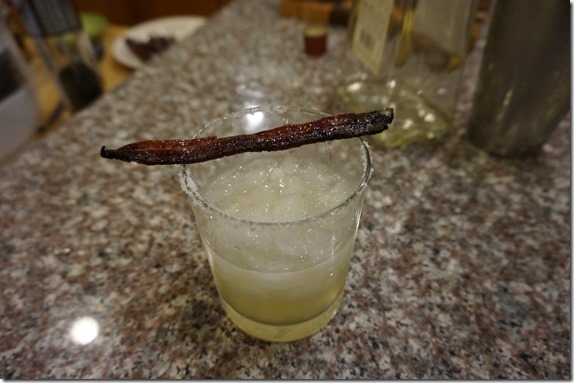 One night, I was browsing Facebook and noticed my friend Meagan Van Schmidt was celebrating the extremely adult decision to have margaritas and eat bacon for her dinner that evening. Inspiration struck almost immediately to develop a new cocktail, with a standard cocktail to base it on, a novel ingredient, and a name that rhymed with that ingredient.
I know that cocktails with bacon is not an entirely original thing, but still, the idea grasped me so firmly that I had to make it a reality. That and I'm not one to crush a friend's dreams once I've uttered it aloud.
The first twist, is, you got it, bacon. To create something a bit more solid and useful as a stir stick or as a durable garnish, I opted to candy the bacon. There are a lot of recipes online for this but I went with Chef John's version.
I went with a half recipe because some of my bacon disappeared prior to getting to this point…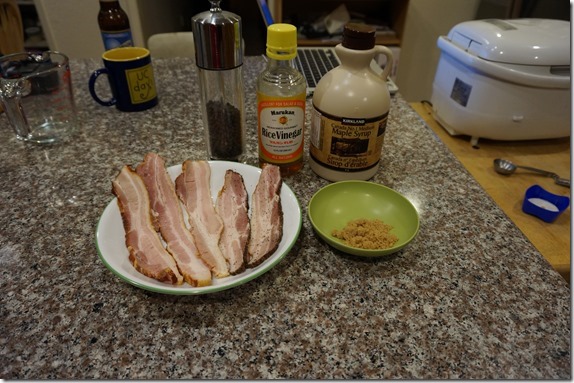 I would be considerably more generous with non bacon ingredients to the amount of bacon, I had to mix up some of the syrup/sugar/salt/vinegar paste to get the bacon to the level of gloss I wanted.
Plate, cover and chill to firm up until ready to use..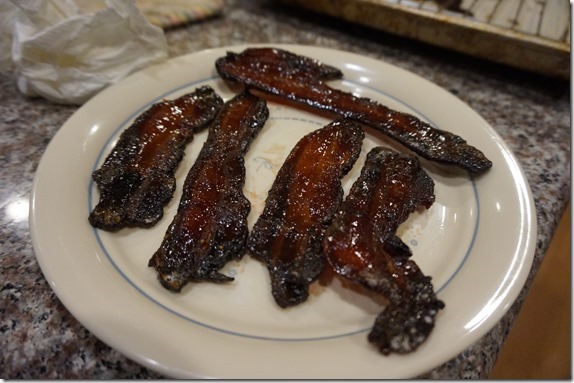 Optionally, cut into strips if you want it to be more "stick like"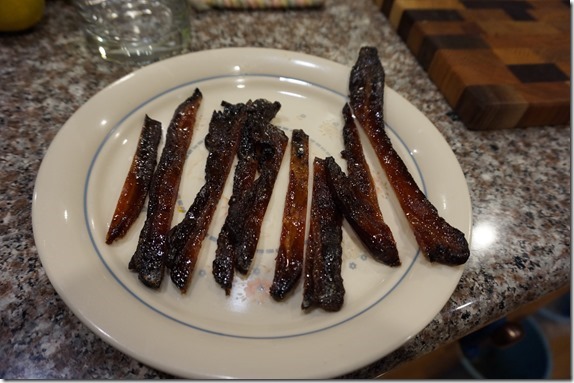 My second twist is optional, but adds a nice touch of smokiness, but I can understand why you might not want to do this if you have sensitive lungs or question how carcinogenic this is. Consult a doctor if you are unsure.
Disclaimers out of the way, if you are ready for this, get your hands on some lemon grass and have a lit candle ready.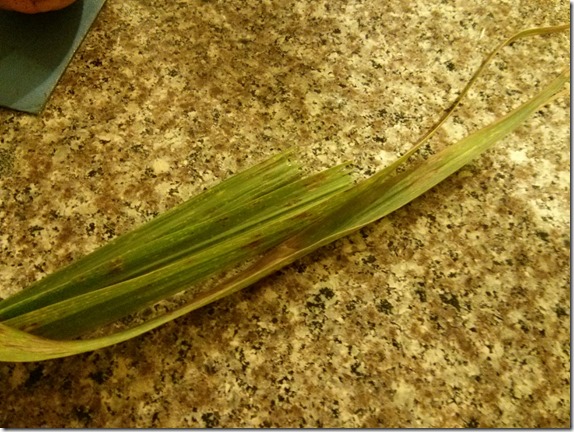 Invert a cocktail glass over the candle and then put the lemongrass leaves into the flame to smolder, so that the smoke wafts upwards into the cup.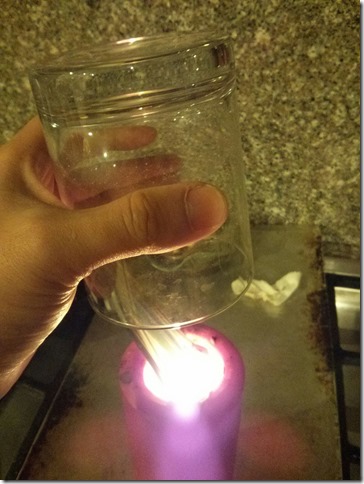 The end result will be a somewhat hazy film.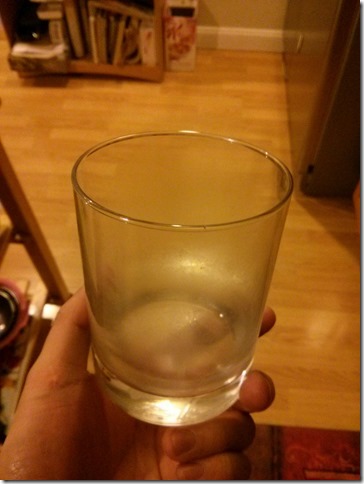 Then rub the glass' rim with citrus juice and press into a saucer full of salt. Kosher salt, bacon salt, and Himalayan pink salt are all acceptable.
Bacon and glass prep done, and you're ready to get to making the drink.
In addition to the bacon, you will need pretty much the standard stuff for a margarita, but don't worry about being too picky. Meagan isn't when it comes to margaritas.
Gold or silver tequila of some kind (but ideally 100% agave), triple sec or Cointreau, lemons or limes. And salt for rimming.
Unfortunately, I lost a bunch of pictures from my camera in the middle of the process due to technical issues, so some pictures will be missing from this post.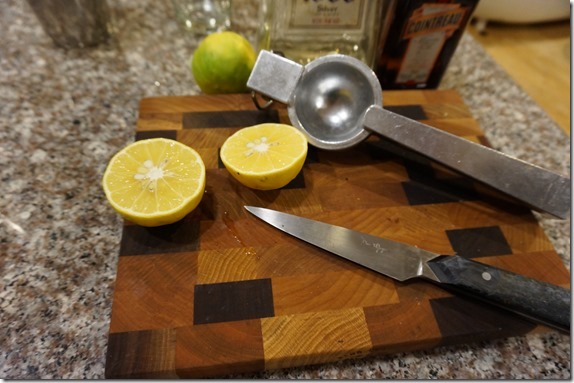 Meagan likes her margaritas shaken, but if you insist on stirred, you can do that too. Again, this recipe isn't picky. Unlike some recipes that say they are the one true past and future recipe of margaritas. (Full disclosure, I did use this recipe to get the proportions right)
But I digress. Pour 1.5 oz. of tequila, 1 oz. of citrus juice, and .5 oz. of Cointreau or triple sec into a shaker filled with ice. Shake well until the shaker is cold, struggle to open it and then strain into your prepared glass (with or without ice).
Consider doubling recipe for lush friends. Not naming names.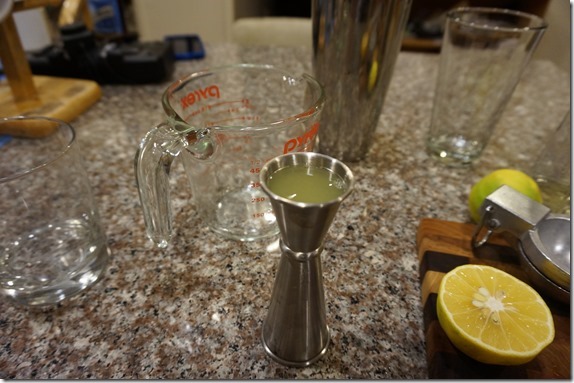 Garnish with a generous piece of candied bacon and enjoy.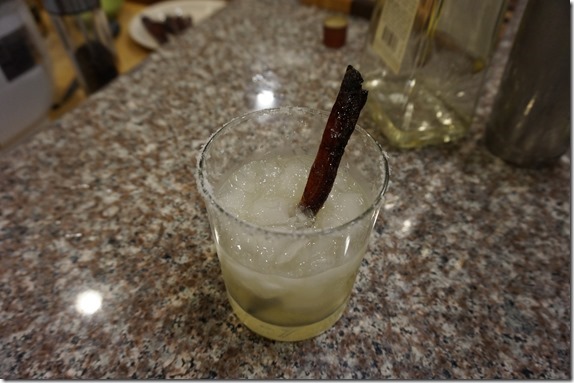 I will also assure you that this Bacon Van Schmidt is 100% Meagan Van Schmidt approved.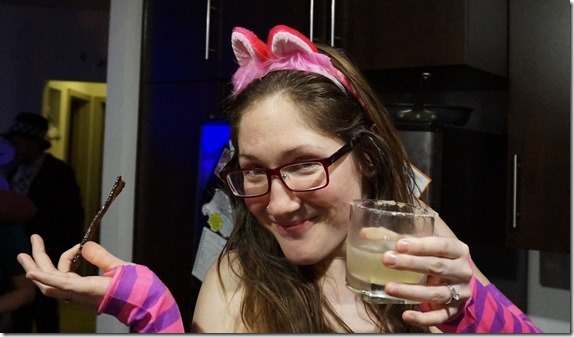 Ah, a satisfied customer. Might be hard to tell, but note this glass is rimmed with that Himalayan pink salt I mentioned.
Note that this one was rimmed with freshly ground Himalayan pink salt, because parties deserve fancy.
The Bacon Van Schmidt
1.5 oz. tequila (100% agave preferred)
1 oz. lemon or lime juice
.5 oz. Cointreau or triple sec
Ice for shaking
Candied bacon, cut into sticks (per your preferred recipe)
Salt for rimming (kosher, sea salt, Himalayan, bacon salt)
Lemongrass (optional)
Special equipment
Shaker
Strainer (optional)
Candle (optional)
Optional glass prep:
Light candle.
Invert glass over candle and smolder lemongrass leaves so that the smoke rises into the glass until a smoky haze lightly coats the inside of it.
Cocktail assembly:
Rub a wedge of citrus along rib of glass.
Press wetted rim into salt of your choice. Add ice to glass if desired.
Pour the tequila, citrus juice, and Cointreau or triple sec into a shaker filled with ice.
Shake well, and strain into your prepared glass.
Garnish with candied bacon, and enjoy immediately.