A review of vintage take on modern music, and terrible phone quality photos
In spite of the ever increasing cost of living, I'm thankful to live and work in the SF Bay Area due to the fact that so many cool people come here to have awesome events.
One of these events that is very near the top of that list, and definitely the top of the list for, at the very least, this latter half of 2014 at least is the Scott Bradlee & Postmodern Jukebox Eviction Tour, and I was absolutely stoked to be there on hand for their San Francisco stop (@ Slim's), ready to listen to their awesome covers of mostly modern pop music in a truly inspired vintage style. If you haven't heard of them yet, I highly recommend you hop over to Scott's YouTube channel and get ready to get hooked, because that channel is made of magic and amazingness.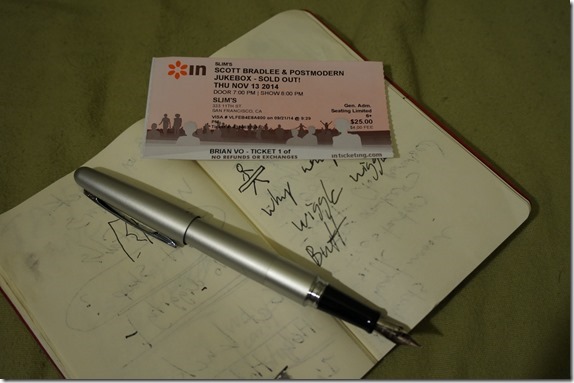 On to the show itself. In a nutshell, it was everything I wanted in a live show:
The show was true enough to the original material that I never thought "What the heck are they doing?"
Yet enough added material that made attending in person worthwhile.
Fantastic style, great looking cuts on the handsome men and the ladies
A stylish and engaging MC to boot
Audience participation encouraged at the right times
A nice bit of storyline and great sense of immersion
Pointed recognition of the often forgotten instrumentalists (Adam Kubota on Bass, Chip Thomas on Drums for the west coast tour portion, and I could not hear the names of the sax player or trombones, if someone wants to chime in I'll amend this)
And not in the least, a phenomenal opening act.
That opening act was Kate Davis, a brilliant bass player with a gentle, otherworldly voice. Possessed of fast, precisely placed fingers, and a keen insight of how to work a crowd by musical choice and personality, she won over the crowd in less than a song and thirty seconds, and she continued to win, harder and faster to the point that I almost didn't want her to leave. Which she didn't so yay! Really good job with sharing her original songs with us. I'm definitely going to be following her work in the future.
The killer finisher was her cover of Blister in the Sun. I'm not sure why it is on some other guy's soundcloud, so if you're reading this Kate, if you want me to take it down, I definitely will!
I will take this point to apologize for phone quality pictures not exactly close to the stage as well.