Basically my first taste of Fate Core Accelerated, Tokyo Brain Pop, and a whole lot of Dungeon World
Last weekend I had the good fortune to attend Big Bad Con 2014, and it was a blast. A whole weekend of hanging out with gamers, trying out a few new things, and really getting a feel for Dungeon World, one of my favorite systems that I've had some reasonable success in running but felt I was missing out on.
It was especially nice to be back since I missed the 2013 con, which I hear was similarly awesome. No joke, I have not taken the 2012 badge from my trunk since I attended that year.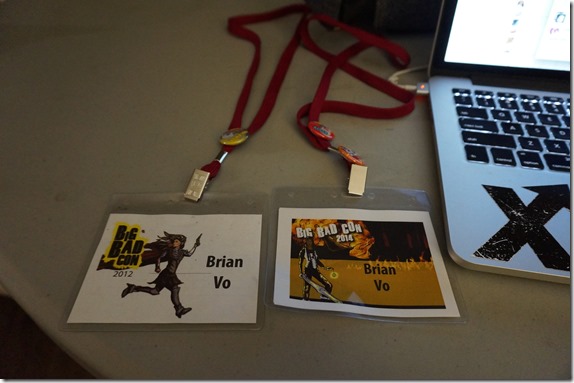 It is also definitely worth mentioning that not only is it fun, it's for a good cause as a combination RPG Convention as well as a charity drive, this year collecting 485 pounds of food for the Alameda CC Food Bank.
Now for some reviews and summarizing!
Day 1 – The Fifth Spear (Dungeon World) & Bad is Good (Fate Accelerated)
Big Bad Con was kicked off to a solid start with a rousing Dungeon World session run by a most gracious Kevan. He admitted that things seemed to go his way since we as players collectively picked almost exactly the same classes as his playtest group.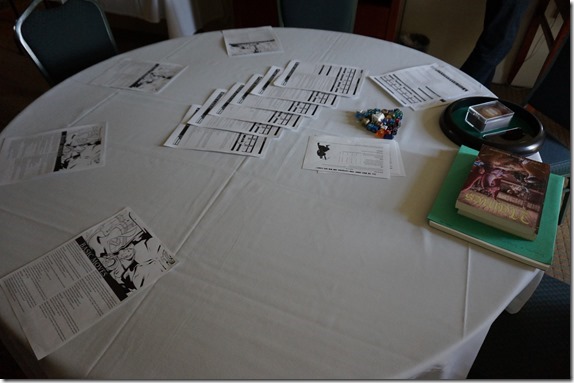 I really want to point out his awesome die rolling cup, and note the very sweet stone die in that collection.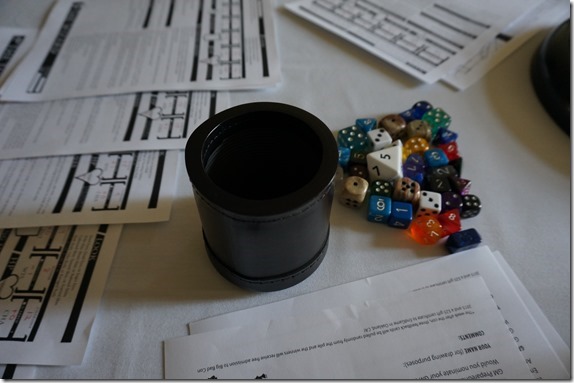 I opted for the Barbarian, GORM FOESMASHER!!! Apparently Foesmasher is an extremely popular name.
In summary: good session, good group chemistry, we got the job done. Solid marks all around.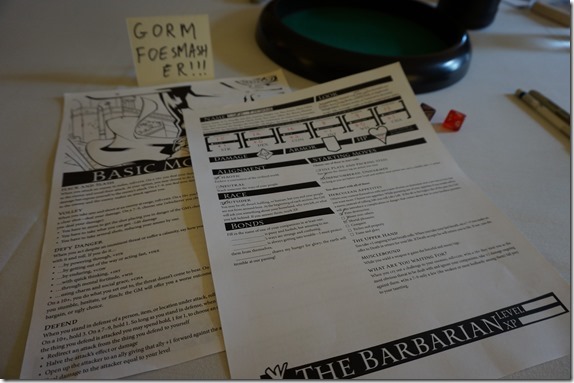 No Worries Filipino cuisine was the food for Friday night.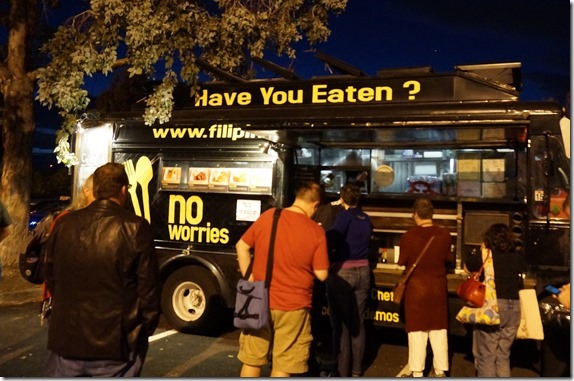 A terrible picture of the menu. Sorry.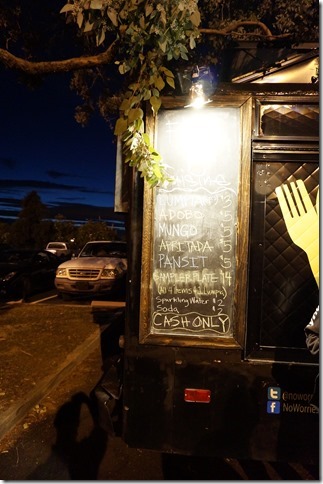 I got the sampler plate. I really liked the Lumpia but all the items were pretty solid. I should have grabbed more paper towels.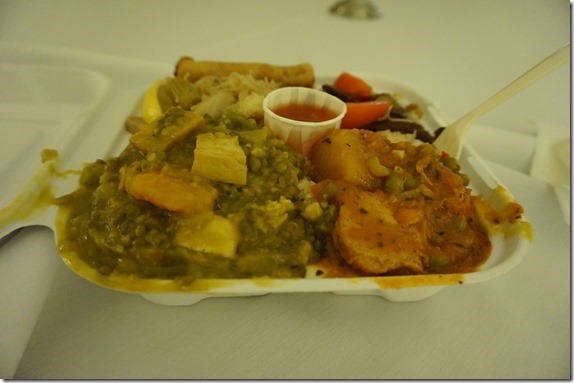 While chowing down I scared the living crap out of my next GM by inadvertently being a ninja while sitting at the table and saying hello. It's a tribute to him that he did not seem to hold it against me.
He handed me a bookmark which conveniently detailed how to play Fate Accelerated. Handy!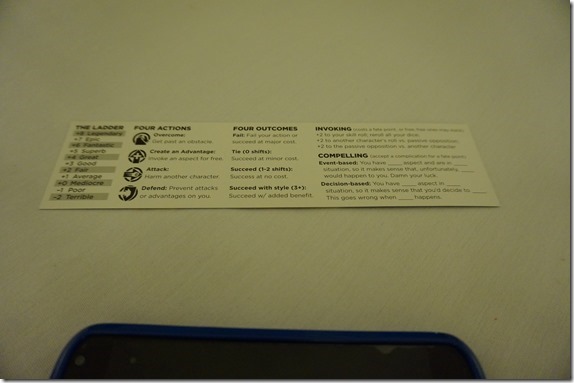 Ezra mixed things up by providing cards that gave us tops and bottoms for our characters, so that we'd not be plagued by having too much choice, but still gave us options. While Ezra seemed extremely taken by the idea of my playing 1,000 year old ninja, I opted for Macho Ninja. Who was named "Macho Ninja."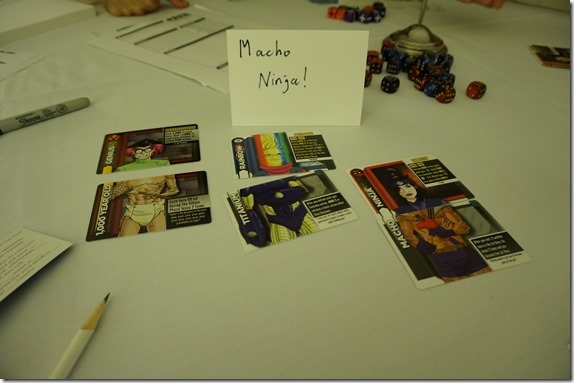 I do think I ameliorated his desire for that by having Macho Ninja's trouble be "haunted by 1,000 year old Ninja who happens to sound like Christopher Walken" (but in practice sounded a lot more like Joe Pesci.)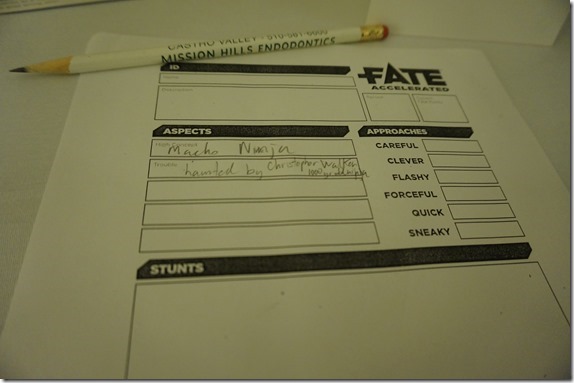 My attempt at drawing Macho Ninja.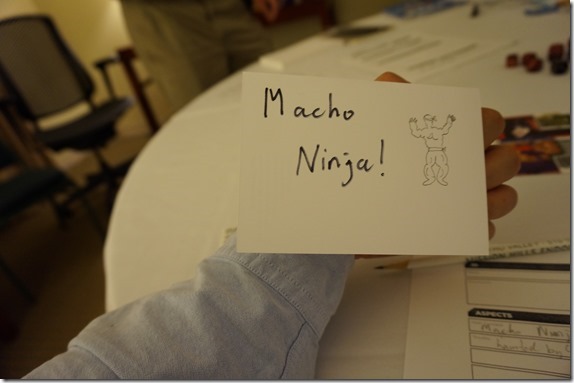 I have to say my first experience with Fate Accelerated was amazing. Partnering up with (Ultimately) Vicious Millionaire and Pink Star, wielder of the cosmic power of pink to take down superheroes and a surprise third party was increditastic.
Bonus cat picture, apropos of nothing. This is Buffy by the way.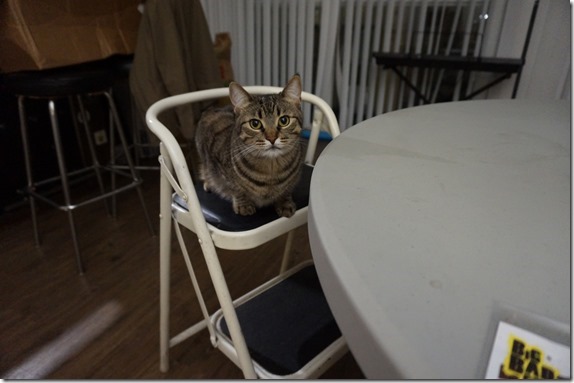 Day 2 – Psychic Schoolgirl Showdown (Tokyo Brain Pop / Panty Explosion Perfect)
Day two I have to say I missed the most of on account of double booking with the San Francisco Craft Beer Festival. That's another post though.
I did manage to squeeze in one late evening session, and had my first exposure to Tokyo Brain Pop / Panty Explosion Perfect. A fun system with a great "best friend/rival" system for storytelling success and failure, oft to hilarious results.
This session was titled Psychic Schoolgirl Showdown and was GMed by Ryan, and as a group our story followed girls who may or may not be Psychic at school.
I played Akihime, a Western Sweets lover who had a desire to take over the school's gray market for snacks, and I actually managed to avoid going Psychic throughout the entire game. Many selfies were taken, and much Clueless style portrayals filled the narrative.
Would play again!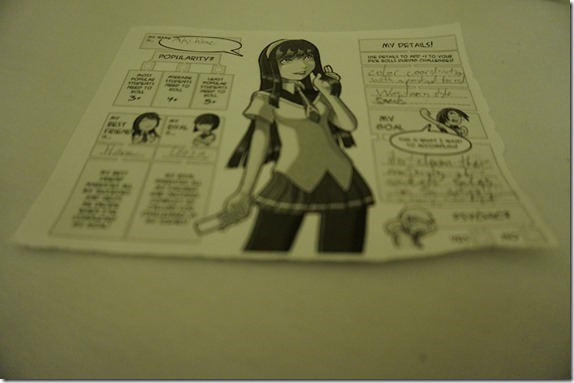 Day 3 – [ADVENTURE SITE] of the [OMINOUS ADVERSARY] (Dungeon World) & Murder in the Lower Ward (Dungeon World)
Finally, day three, marked by two sessions of Dungeon World.
I opted to play a Fighter, Rudger, this time instead of a Barbarian, wielding an immense spear with a penchant for getting in the way of big hits and strategizing with the Paladin. We came face to face with a dragon and lived to tell the tale, snuck into some dwarven ruins and even tackled a molten metal golem.
I managed to nab a magical item too! One of the benefits was "Sweet hat, bro."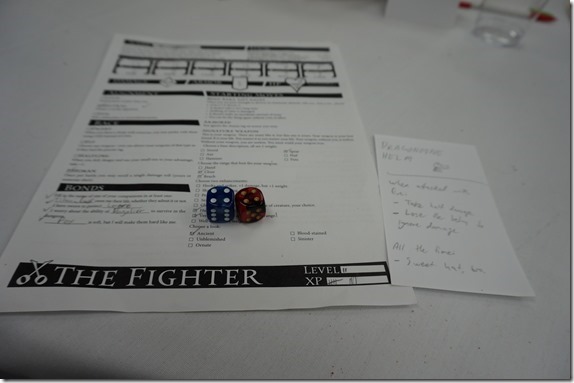 Lunch was provided by the Sajj Street Eats food truck.
The fries were actually really good.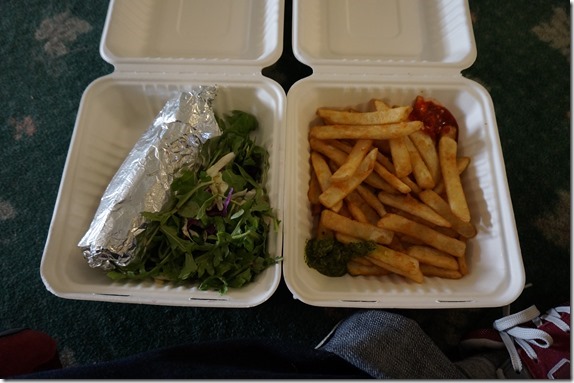 I ordered a Chicken Shawarma in a wrap. It worked. A bit dry honestly, but I think they were overwhelmed. I'd try them again to see for sure.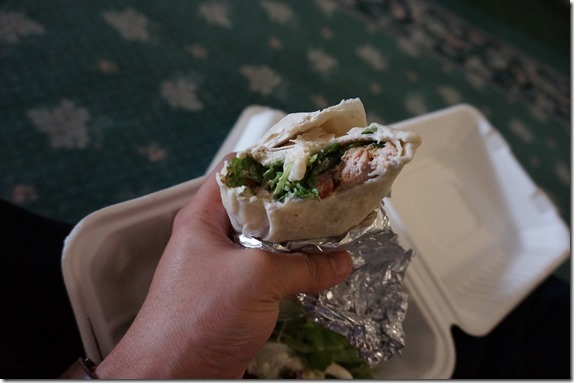 Finally the last session, early afternoon through evening, was Murder in the Lower Ward, run by Monte Lin.
Yet another Dungeon World game, it took a hard twisting turn to the Planescape setting, which the cult classic Torment is set in.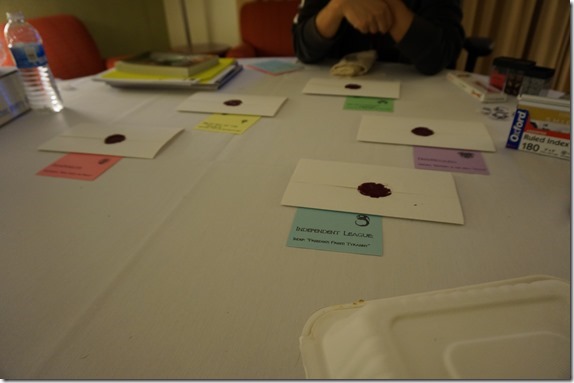 I have to say, the amount of prep work he did was amazing. Wax sealed envelopes! Complete with faction specific moves, bonuses and motivations.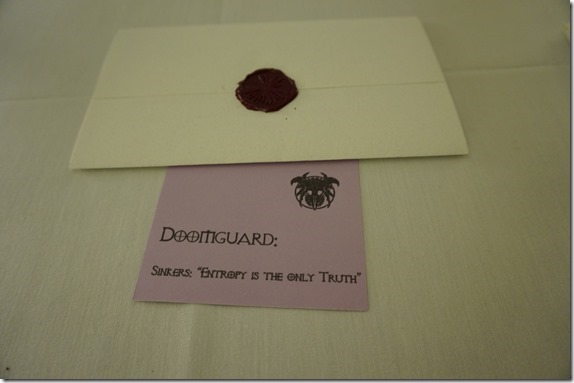 It was tough deciding between all the choices, but I opted to go very different from my usual…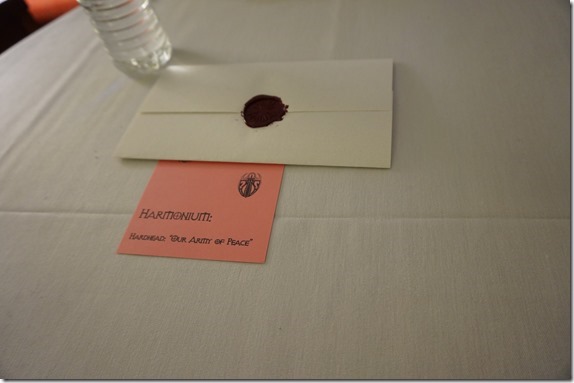 And created an elven bard who was affiliated with the Godsmen.
Monte took us through an interesting tour of Sigil, where we faced off against all sorts of hostiles, met with intriguing NPCs, and went against the primal force of language itself.
And my character died…. maybe? No regrets. To be continued perhaps!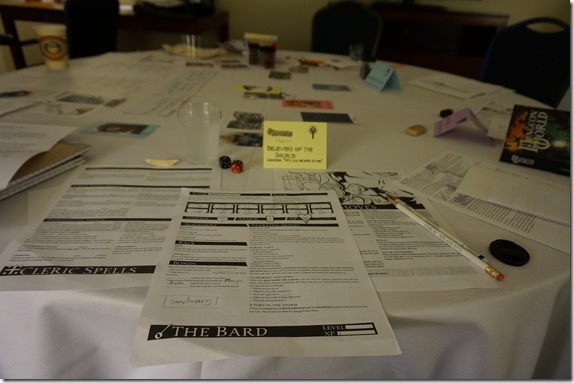 Well, that's my review of Big Bad Con 2014. It was rich, full, went by way too fast yet ultimately fulfilling. I can't wait for October 2015!