Basically my first taste of Fate Core Accelerated, Tokyo Brain Pop, and a whole lot of Dungeon World
Last weekend I had the good fortune to attend Big Bad Con 2014, and it was a blast. A whole weekend of hanging out with gamers, trying out a few new things, and really getting a feel for Dungeon World, one of my favorite systems that I've had some reasonable success in running but felt I was missing out on.
It was especially nice to be back since I missed the 2013 con, which I hear was similarly awesome. No joke, I have not taken the 2012 badge from my trunk since I attended that year.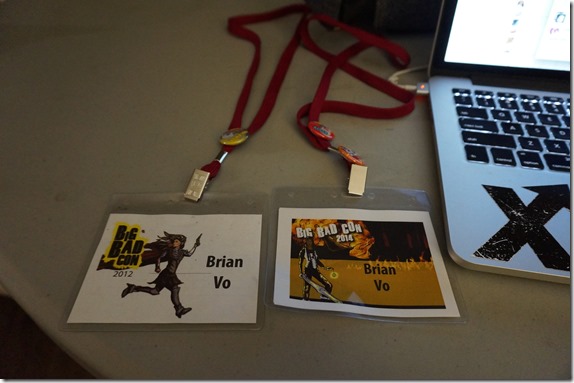 It is also definitely worth mentioning that not only is it fun, it's for a good cause as a combination RPG Convention as well as a charity drive, this year collecting 485 pounds of food for the Alameda CC Food Bank.
Now for some reviews and summarizing!