I love being given a challenge in the kitchen, especially when it comes to inclusive eating. I'm an omnivore, but I definitely feel the conflict of The Omnivore's Dilemma as I want to be a more responsible, ethical, and sustainable eater.
Jacques Nyemb of Not So Super Comics gave me a great challenge when he requested I devise a "Grannies Tofu Stew" recipe to accompany his comic, This Bites, the tale of the conundrums of Jasper, the vegan protagonist who has an unfortunate run in with a glam rock vampire, which leads to further problems… And of course, the first step to tackling these issues is to get a grip, and down a bowl of Nana's Tofu Stew.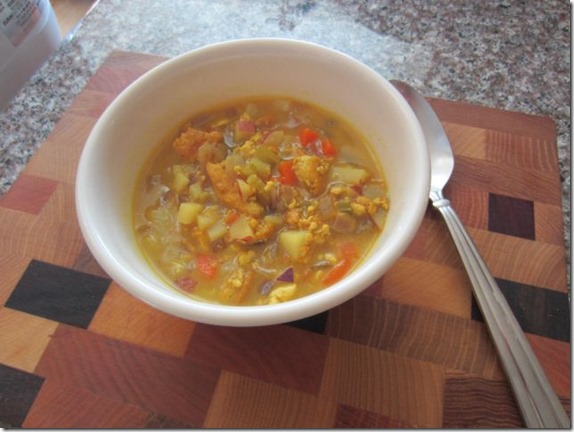 When I think of a stew that a vegan grandma would make for one's dearly loved grandchild, I approached this task with making a dish that was warm, comforting, and of course, featured tofu front and center. In addition to the tofu, here were two things that immediately came to mind as I started visualizing how to approach this dish.
One, I would use miso to increase the depth and savory character of the stew. Two, I would use tofu cubes, some of it fried into cubes, some of it simply uncooked, and both briefly processed to give the soup some good texture before frying it up again to give it some good flavor.
The tried and true mirepoix was given a bit of a twist by using spicy pickled carrots, and provided the aromatics of the dish.
And finally, to increase the warmth of the dish, turmeric was the main spice component, and as a bonus, added a lovely yellow hue to the final product.
Here are some of the ingredients, two and a half packages of tofu (1.5 packages fried, half a package not fried), one huge onion, three small red potatoes (one regular sized russet would do just as well), homemade spicy pickled carrots and peppers, celery stalks, garlic, and two tablespoons of red miso.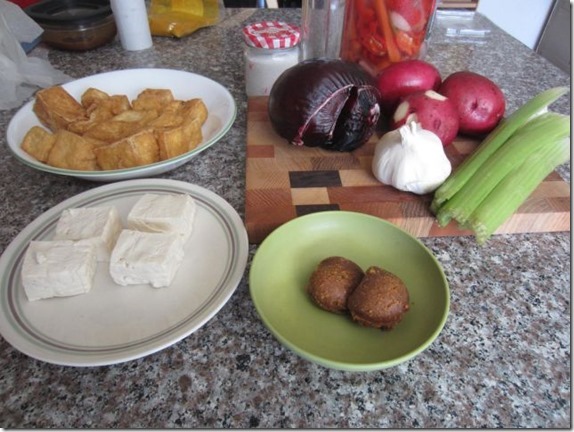 Not pictured, but will make an appearance later: Maggi Seasoning Sauce, turmeric powder, and vegetable oil for frying.
And if you don't pickle your own carrots, simply use two medium carrots, and add a half teaspoon of cayenne pepper in the middle of cooking (see recipe card later for guidance).
Get started by doing the tasks that don't require you to rush. I started by making the mirepoix.
Dice the onions.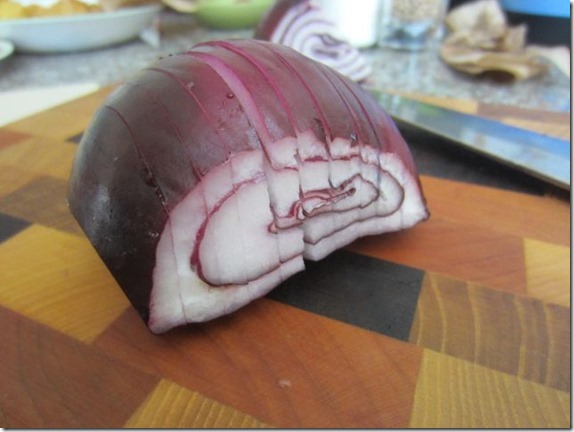 Then two carrots, or the equivalent in pickled carrots. Or some combination. Nana needs to be flexible in times of need!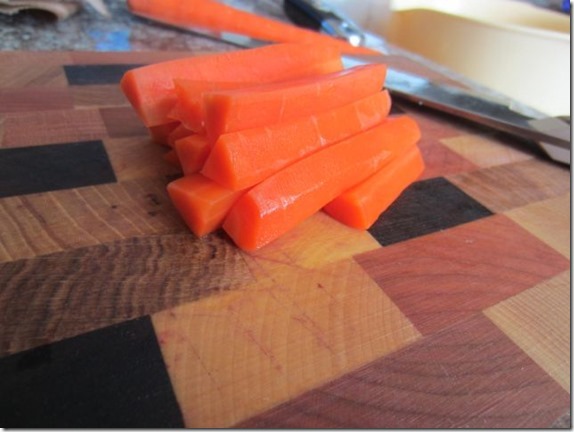 And finally the celery. Toss it all into a big bowl for later.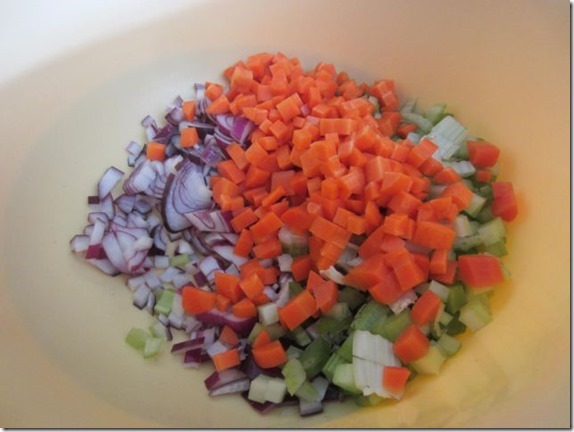 If you have some other pickled veggies laying around feel free to chop that up and add it as well. Here are some bishop's hat pepper, onion, and garlic. If you don't have it, don't sweat it.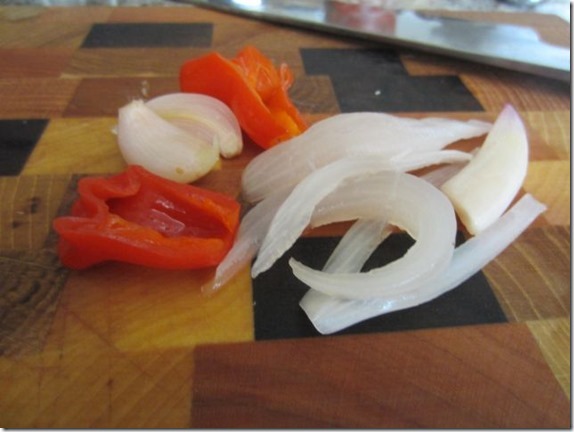 Mince at least 3 cloves of garlic (I prefer 5). That's right, take that vampires. Or maybe omit just this once in case you don't want to accidentally kill your grandson. Vampirism, how does it work? I guess it depends on which vampire populated universe you live in.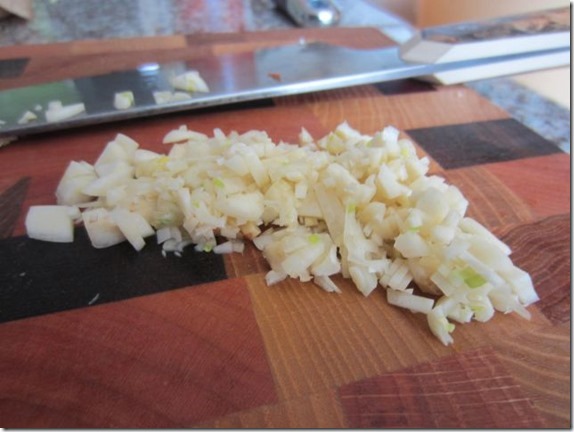 The other step before time becomes and issue is prepping the tofu. If you've got a trusty food processor, A few pulses with each kind of tofu will work wonderfully. If all you have is a knife, just dice the tofu as well.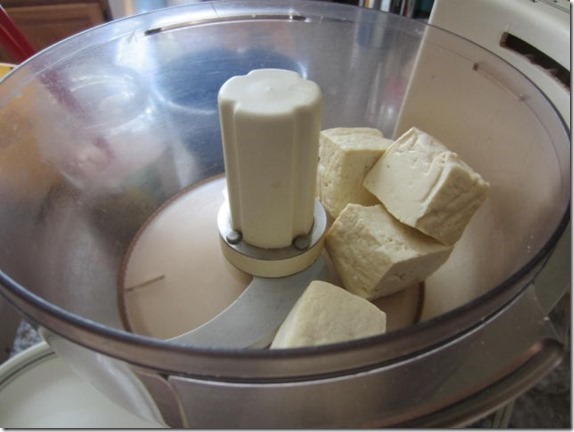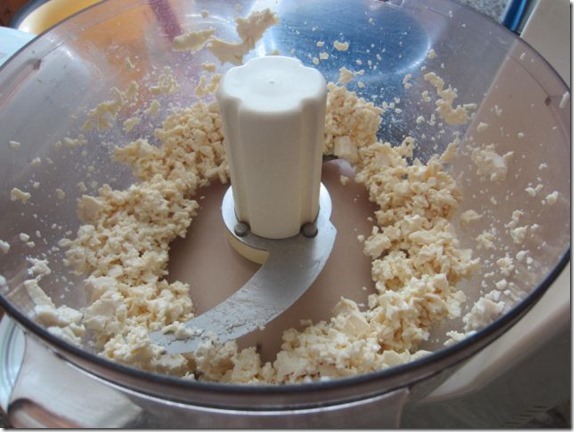 Ah, some nicely fried tofu.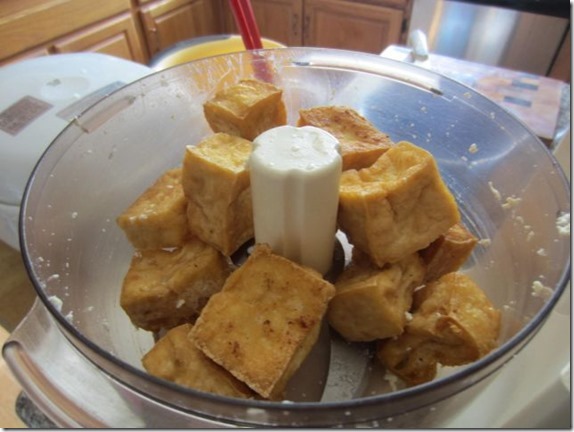 Transformed into something else entirely.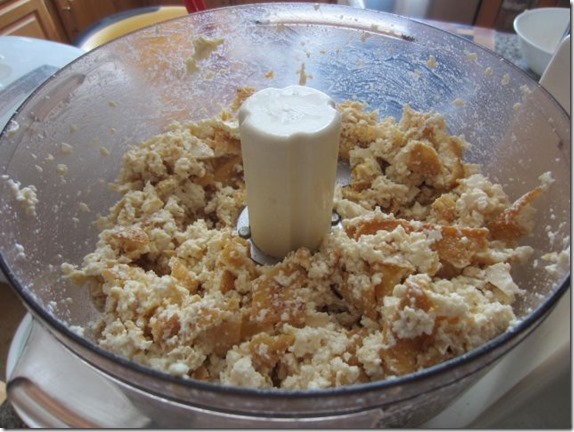 Now that the veggies have been cut and the tofu processed, it's time to get started with the cooking.
First, the tofu. Also ready the Maggi seasoning (or soy sauce or Bragg's Liquid Aminos), and vegetable oil.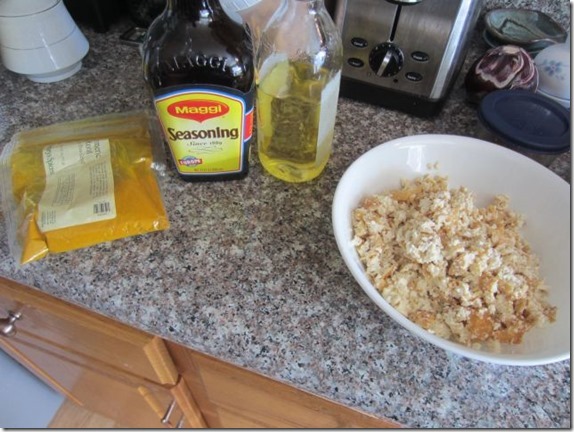 Place a pot onto your range and put over high heat (the heavier the pot, the better). When the pot is heated well (it's uncomfortable putting your hand a few inches over the bottom of the pot for more than a few seconds) splash in a generous two tablespoons of vegetable oil to coat the bottom of the pot, then add in a piece of tofu. If it sizzles, you're good to add the rest of the tofu. If not, wait a minute and try again.
Add a teaspoon of turmeric, and two teaspoons of Maggi Seasoning (or what have you).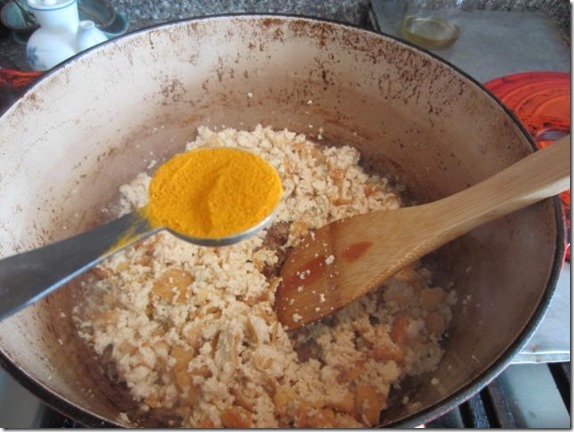 Keep stirring gently to evenly cook the tofu for a few minutes, then carefully remove tofu into a large bowl for later. Lower the heat for now if you're slow, otherwise rush on to the next step.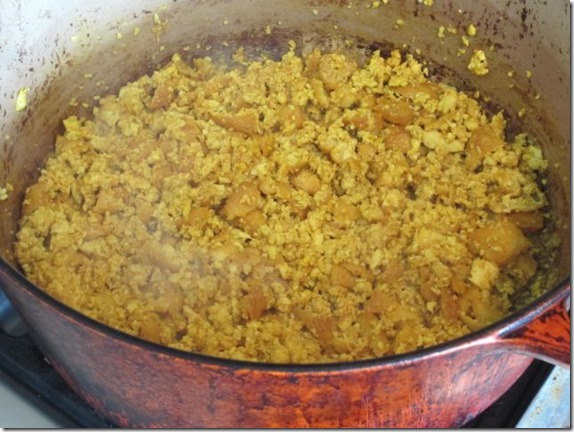 You may have some tofu still stuck to the bottom of your pot, but that's totally fine. Time still is of the essence however. Bring the heat back up if necessary and splash in another tablespoon or two of vegetable oil to coat the bottom of the pot.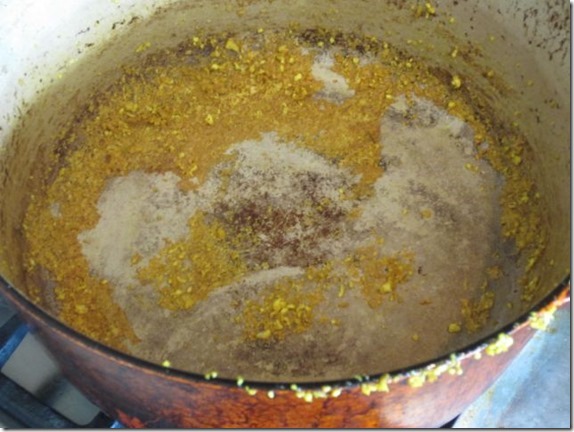 Add your mirepoix and sautee for a minute or two, scraping up any tofu clinging to the bottom of the pot as you go.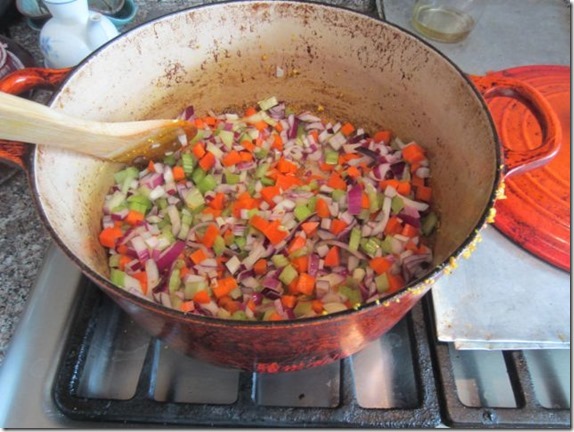 Then add the garlic, as well as any pickled chili peppers or onions you may be using.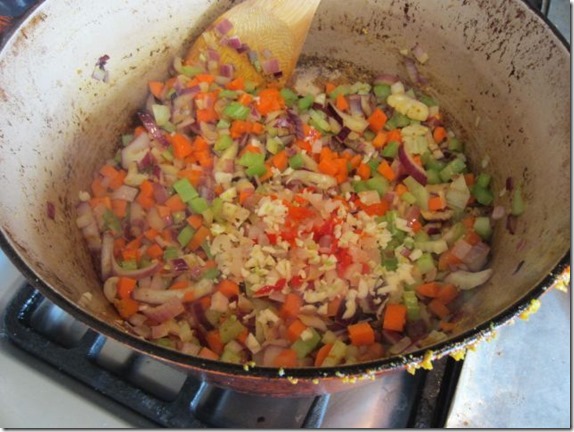 Continue to toss the vegetables until fully cooked but not overly softened, another three minutes or so. Now would be a good time to add a teaspoon of cayenne pepper if you don't happen to have spicy carrots already in your recipe.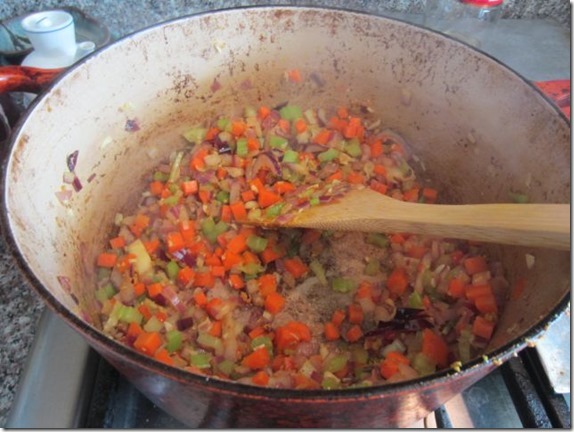 Add the tofu back.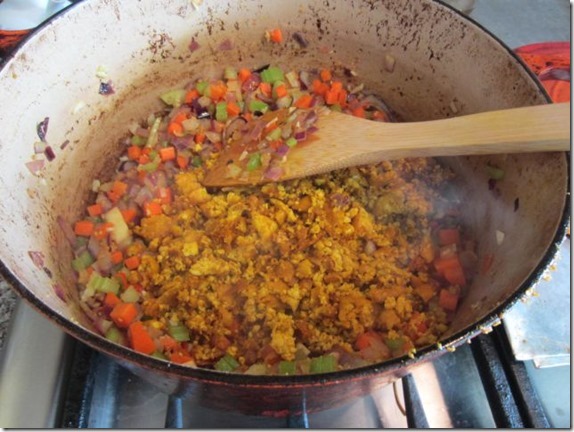 Then cover with water and bring to a boil.
While the soup is coming to a boil, dice your potatoes.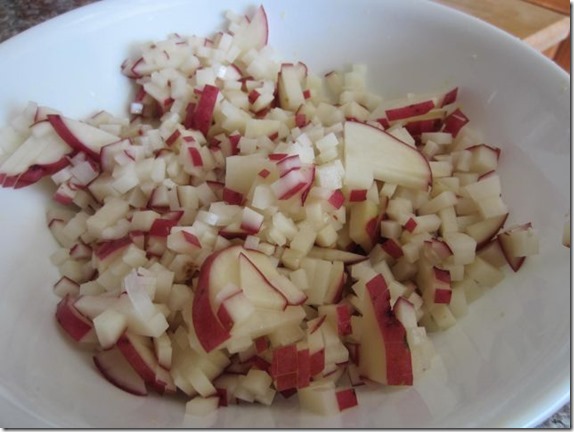 Once the soup has come to a boil, add potatoes and lower temperature to a simmer.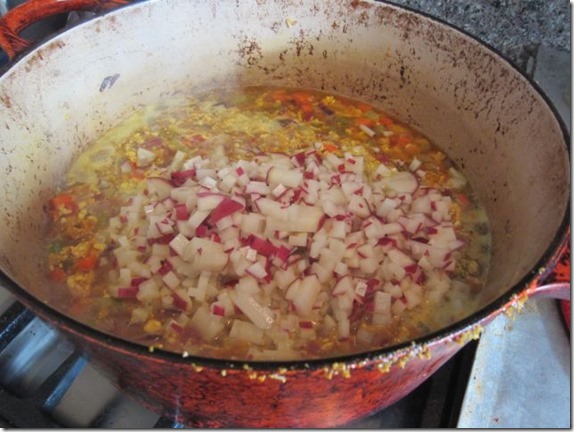 Continue to simmer until the potatoes have softened to a pleasantly texture to bite into or even falling apart if the case you're using a russet.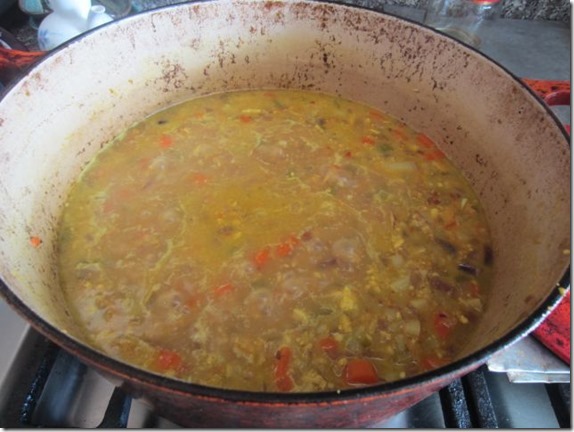 Once the potatoes have softened, it is time to use the miso.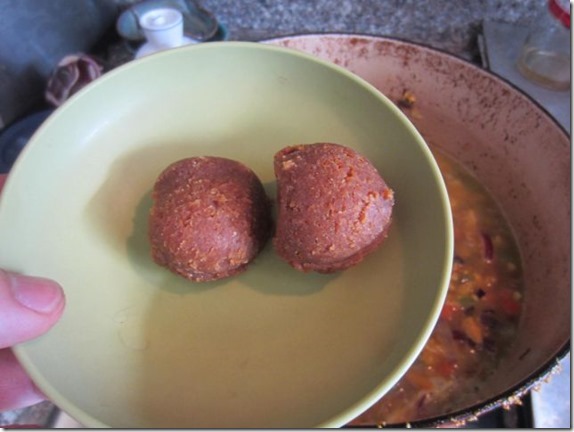 Turn the knob to low, and add the miso into a large wide mouthed cup. A measuring cup works well.
Spoon some of the hot liquid of the soup into the cup and using spoon or some chopsticks, mash and stir until the miso becomes a slurry, and pour back into the soup. This may take a few repetitions.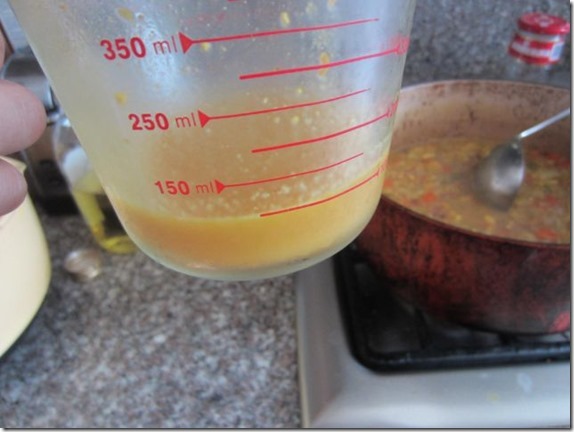 And that's it, turn off the heat, let cool.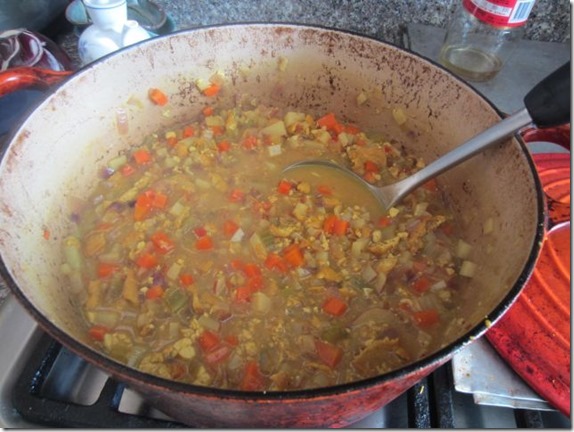 Then serve while warm, the way a caring grandmother would.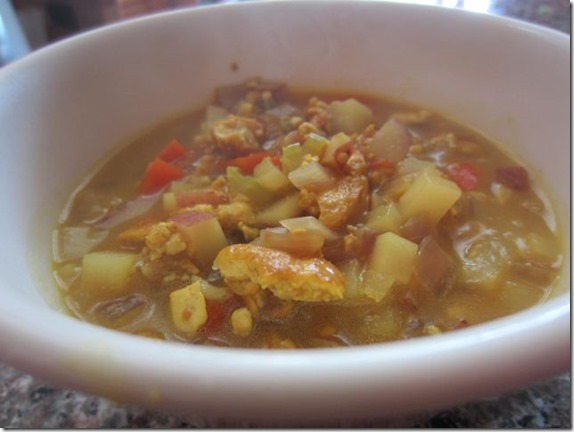 Enjoy, and don't let the vampires bite. Or do like Nana, and fight back!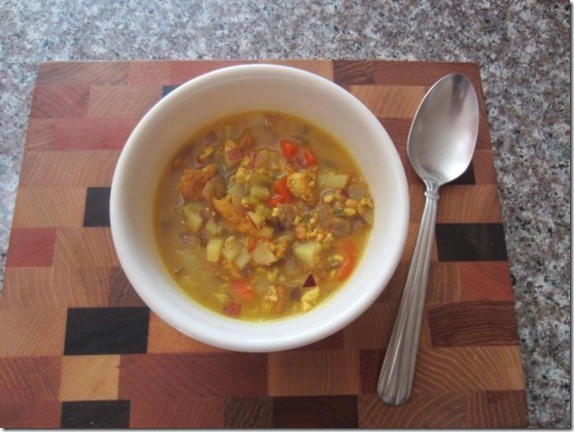 While I'm supplying the recipe below already, I have to give a plug to Jacques' Kickstarter for Not So Super Comics. Not only is he trying to kickstart the printing of some excellent comics, he's trying to Kickstart some excellent comics which take leaps and bounds in increasing the inclusiveness and diversity of the medium. And he's even paid the artists already. So if you wanted to add a bit of something special to your bookshelf, I can't recommend backing his Kickstarter highly enough.
And if you don't want to do it for me, do it for Nana. You'll even be able to get a special recipe card featuring the work of David De Grand.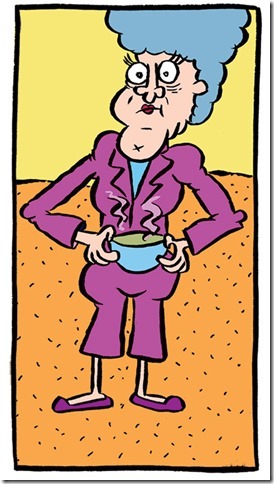 Nana's Tofu Stew
One huge onion, or two medium onions
Two large stalks of celery (or three short ones)
Two medium carrots*
Three small red potatoes or one regular russet potato, finely diced
Three to five cloves of garlic
Two packages of firm tofu, drained, pressed, and cut into cubes. Shallow fry at least one package's worth of cubes until golden brown and drain on paper towels.
Two tablespoons of Maggi Seasoning (or soy sauce or some other alternative if you need to be gluten free)
One teaspoon turmeric
Vegetable oil for frying
One teaspoon cayenne pepper*
Two tablespoons of red miso paste.
*If you happen to pickle your own spicy carrots, you can use those and omit the cayenne pepper
Dice your onion, celery and carrots and set aside.
Throw both types of tofu, shallow fried and the unfried tofu into a food processor and pulse until broken up, or coarsely chop with a knife, and set aside.
Set a large heavy pot over high heat, and add in two tablespoons of vegetable oil to coat the bottom of the pot. Once oil starts to shimmer, toss in a small piece of tofu. If it starts to crackle, add the rest of the tofu.
Add turmeric and Maggi Seasoning, and cook for a few minutes, tossing gently in the oil. Remove to a large bowl and set aside.
Add a tablespoon of oil to the now empty pot. Once oil shimmers, add in the diced onion, celery and carrot and cook for a minute or two.
Add garlic and any other pickled vegetables.
Continue to cook for a few more minutes until the vegetables are fully cooked (but not fully softened.
Add the processed tofu (reserved from step 2) to the pot and enough water to cover everything. Bring to a boil again.
Add potatoes and lower heat to a simmer.
Simmer until the potatoes can be bitten into easily.
Turn heat to low.
Add miso to a large cup and ladle some of the cooking liquid into it. Whisk the miso liquid mixture into a slurry, then add back to the soup.
Cool and serve immediately, or store until ready to eat.