Making use of Bishop's Crown peppers and getting a spicy surprise!
Sometimes, first impressions can deceive you. Here is such a story for your reading pleasure.
My aunt gave my family an interesting plant I had never seen before, a Bishop's crown pepper, a truly fun and unique looking pepper, of a rather mild heat with a pleasant fruity flavor, I ranked them as basically mini bell peppers with extremely thin flesh in terms of usefulness, so perhaps for stuffing. I did read some accounts of how they were quite hot and I dismissed them immediately from my first hand knowledge.
Not wanting to stuff several little peppers I decided to take a page out of Michael Ruhlman's book, as I tend to, and make a pickled pepper, and take advantage of it to use up some of the massive amount of carrots I had laying around the house due to an ill advised grocery shopping decision.
To make a long story short, after going through the whole process of prepping, brining and pickling the pepper carrot mixture and giving a piece an experimental bite to see how much the mildness had improved, my eyes immediately started watering and I started looking for some milk.
I'm not going to say they were magically heated up by the salt, they were probably hot to begin with, but it was quite a shock.
But while the results turned out differently than expected, they were not unwelcome in the slightest. The heat infused carrots were a special revelation, and diced up and used in a mirepoix, they add a delicious kick to soups.
For those of you who probably don't have a Bishop's Crown Pepper plant available, I bet red jalapenos would work in a pinch. If using legitimately hot peppers like Serranos, you might have to cut back on the amount of peppers, or add some filler peppers like poblanos or bell peppers. Anyway, I'll try those out later.
In the meantime, here's how to make it.
The proper combination of vegetables for picking is more art than science honestly, the science comes with the brine. In this case I used nearly two carrots, 15 bishop's crown peppers, a medium red onion and a head of garlic.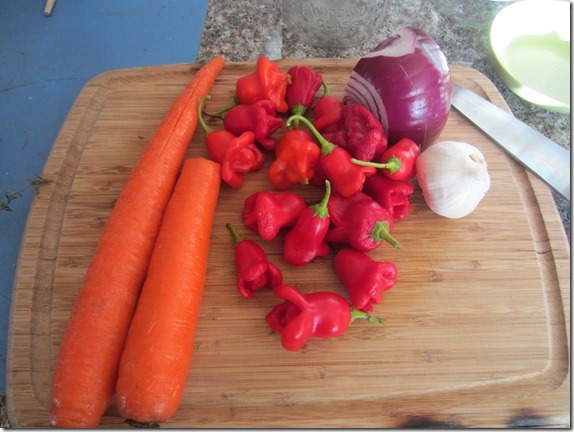 And a few stems of thyme from the garden.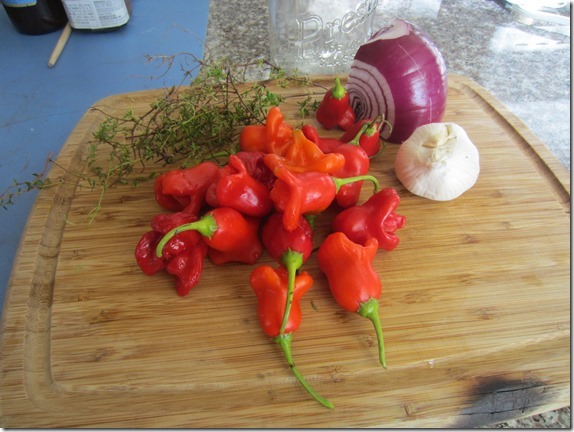 After washing the vegetables and prepping them into desired pieces I placed them into two jars, since I didn't have one large enough. Then I filled up both jars with water.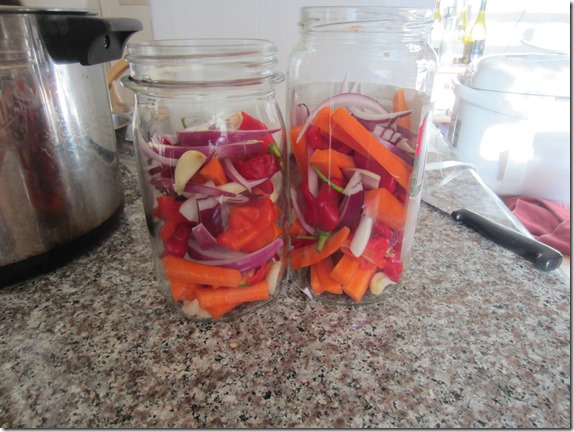 Then I placed a pot on a scale, zeroed it out, and poured that water in.
1772 grams in this case.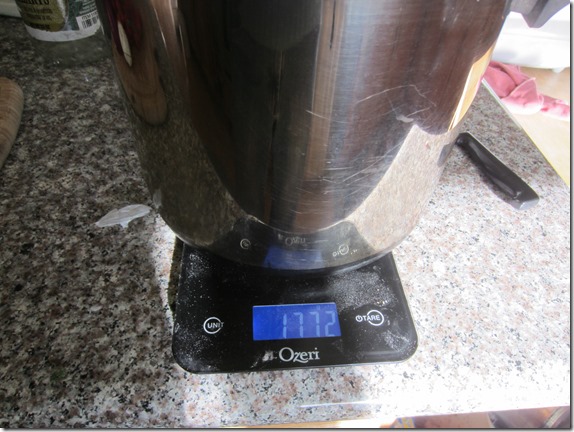 Wanting a somewhat less salty pickle than usual, I opted for a 3.5% solution, so about 62 grams.
Here's 62 grams. No banana for scale, sorry.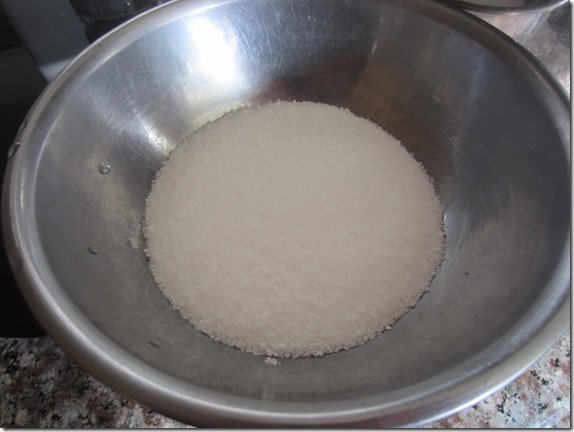 I mixed this in with the water and added a few more aromatics. The thyme stems, some dried chopped onion…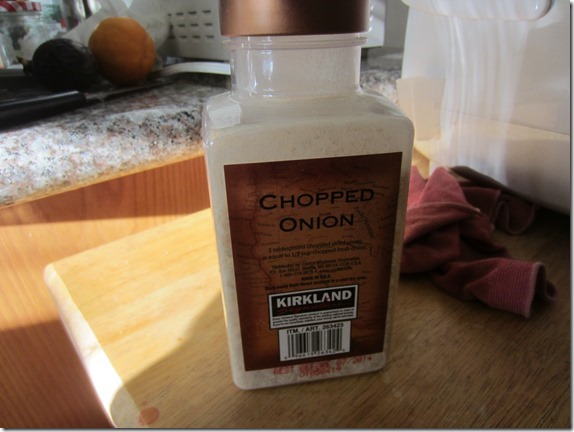 And some mustard seed and white peppercorns, lightly toasted over medium heat until browned and maybe popping.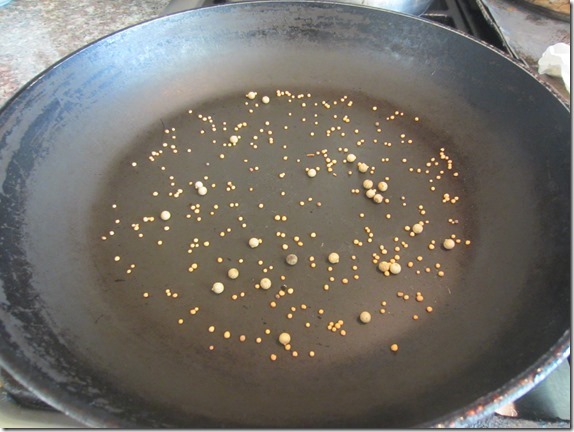 And then slightly cracked.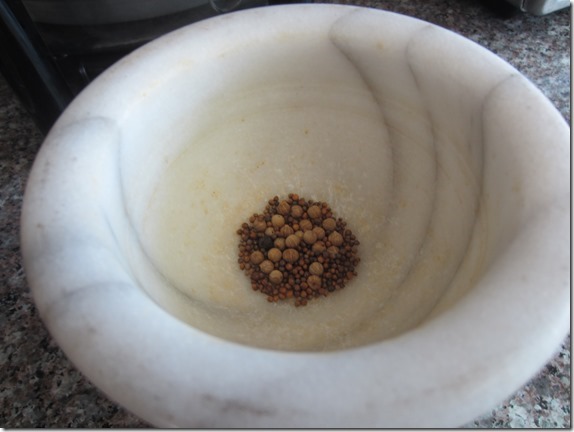 And finally a few small coins of ginger root.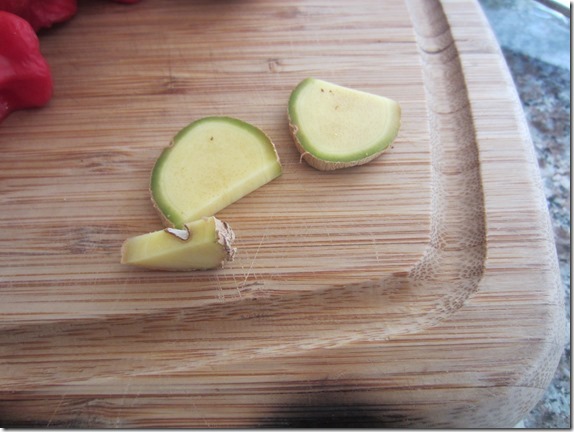 This is all brought to a boil.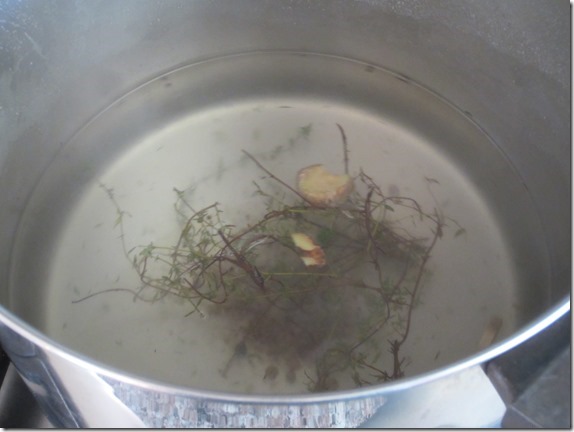 Then allowed to cool. This will be a while so go game or something for a few hours.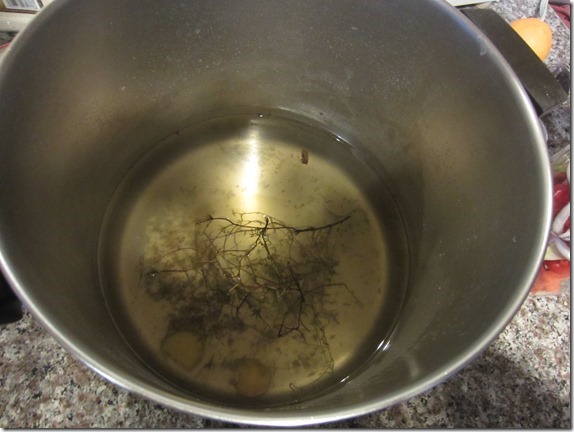 Cover your vegetables with the brine, and fill some plastic bags with brine and use those to keep the veggies weighted down.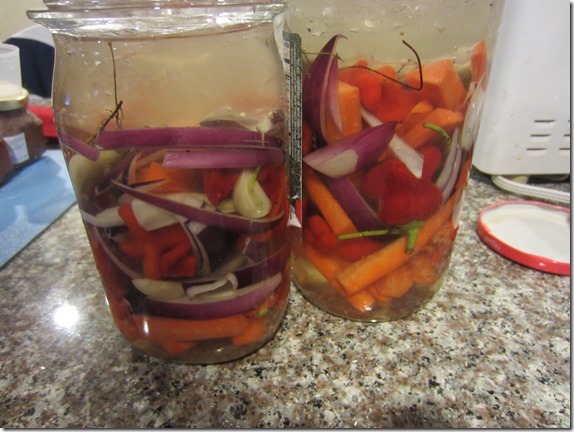 After 5 days check, but they will probably be ready in a week. Then chill and save for using later!
Results and heat may vary. I'll have a great recipe coming up soon that uses these surprisingly spicy pickles!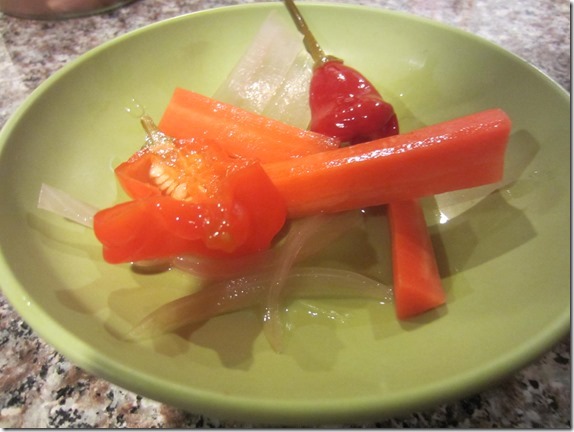 Pickled Bishop's Crown Peppers and Carrots recipe:
Special Equipment:
One or two containers large enough to hold the vegetable pieces with a few inches of clearance for water.
Kitchen scale
Ingredients:
Two tow four medium carrots, peeled and cut into three inch spears
10-15 Bishop's crown peppers, washed and halved
One medium onion, cut into half rings
4-6 cloves of garlic, halved
Water to cover
Salt (see step 3 and 4)
5-10 whole peppercorns, lightly toasted and slightly cracked with a heavy pan or cleaver.
(optional) A half inch of ginger, sliced)
(optional)half teaspoon of lightly toasted mustard seeds
(optional) Small bunch of herbs, such as thyme or half a teaspoon dried
Place prepped vegetables (not the herbs) into container or containers.
Cover vegetables with at least two inches of water.
Place a large pot onto the kitchen scale, then carefully pour the water into the pot, and take note of the weight. Grams might be the most effective measurement for step 4. Take pot off the scale and tare/zero it out.
Calculate 3-5% (3% if you prefer a slightly less salty pickle, and more of course if you prefer it more intense) of the weight, and weigh out that much salt.
Add the measured salt, along with ginger, peppercorns, mustard seeds and any other herbs you are using to the pot. Stir well, then place on high heat and bring the brine to a boil.
As soon as the water comes to a boil, take the pot off the heat and let cool to lukewarm temperature.
Pour just enough of the cooled brine over the vegetables to cover, then use the rest of the brine to fill up a plastic zip lock bag, or two if necessary. Use these to weigh down the vegetables to prevent them from molding up top due to air exposure.
Keep the pickles somewhere dark and not over 75 degrees Fahrenheit, 50s to 60s preferable. Check after five days for desired sourness, leave it be if not sour enough yet. Once ready, stash in fridge until ready to use.