Hi, and thanks for checking out the new post. I know it's been a while, and I'll do one of those "sorry I've been gone, here's what I've been up to" posts later, but I don't want to cheat you guys, so for now, here's an actual recipe. Today, I made Parisienne Gnocchi for the first time.
Prior to this experience, my experience in both making and eating gnocchi has been with potato gnocchi, which seems to be a bit more common.
Parisienne gnocchi on the other hand has no potato at all, and instead is made from pâte à choux. It's somewhere between a dough and a batter to be honest, not quite fitting neatly into either category. I've used it before to make gougeres, so I was curious to see how this different this application would be.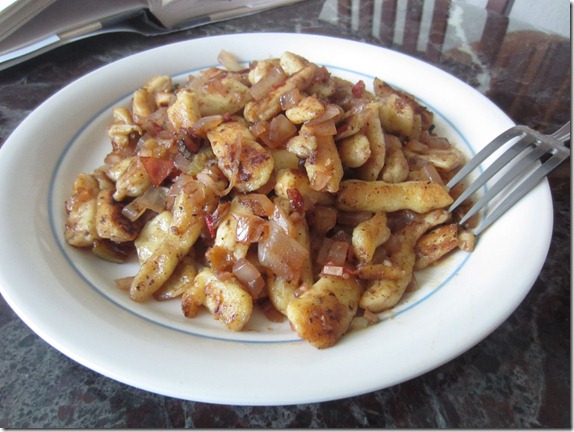 Pillowy, savory, with just enough of a bite to be substantial with a nice hit of cheese to let you feel positively spoiled when digging in, this is one hell of a recipe that I'll definitely be using in the future.
It's a very versatile dish, and in Michael Ruhlman's Ratio (where I adapted this recipe from) all sorts of delicious suggestions are made, from clam sauces, bacon and corn, or even butternut squash are suggested.
Today I kept it simple with some tomato based approaches, detailed herein.
For the pâte à choux, you'll need eggs, water, butter, and salt. Optionally (and highly recommended) you'll want some some Parmigiano-Reggiano too.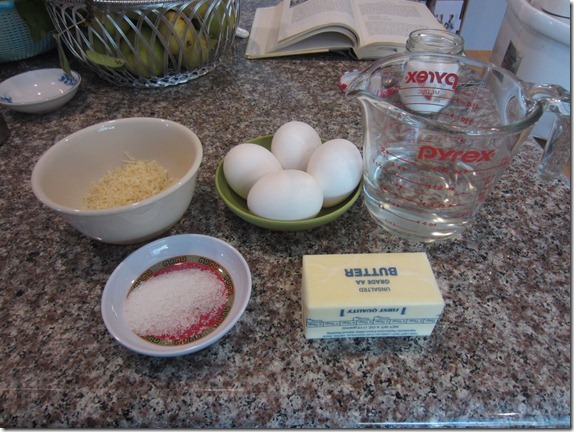 Oh, and flour of course. The usual pâte à choux ratio is 1 part flour, 2 parts liquid, 2 parts eggs, and 1 part fat, but for this purpose the liquid is brought down to 1.5 parts liquid.
Ingredients are:
6 oz. water.
1 tsp. salt
1 stick butter (4 oz.)
4 eggs (conveniently about 8 oz.)
4 oz. flour
1/4 cup of Parmigiano-Reggiano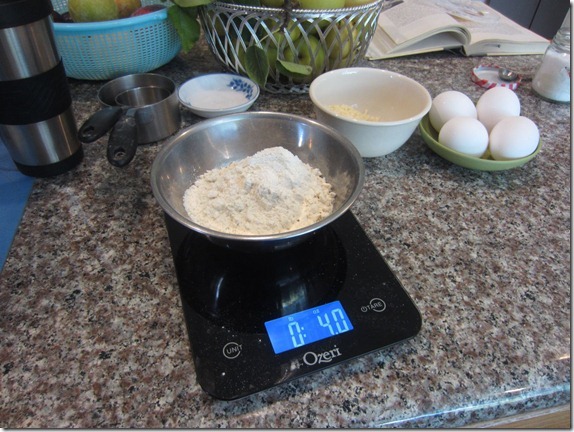 Bring water, butter and salt to a simmer.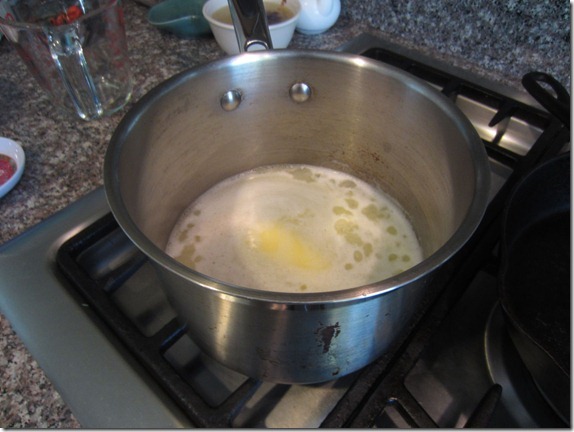 Gradually add flour and stir powerfully until all the liquid is absorbed.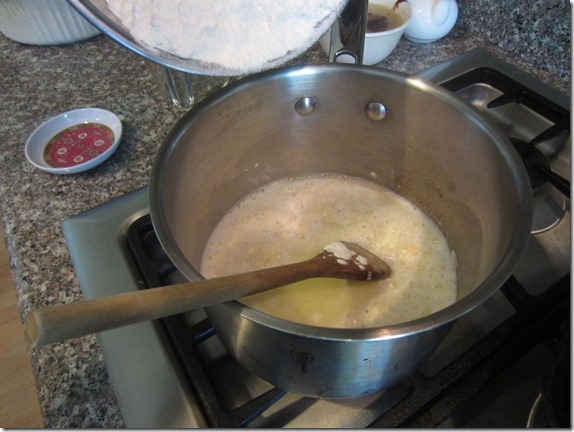 It'll look like this.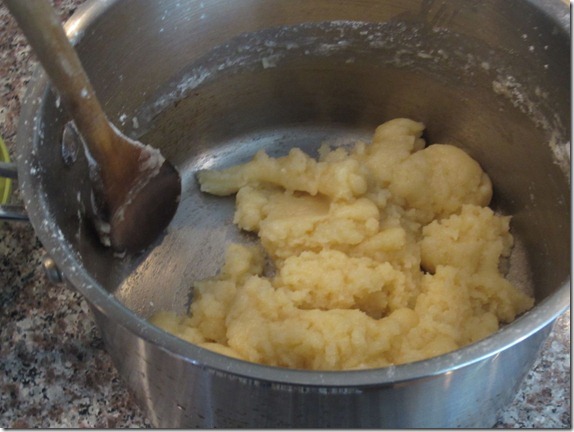 Add eggs one at a time.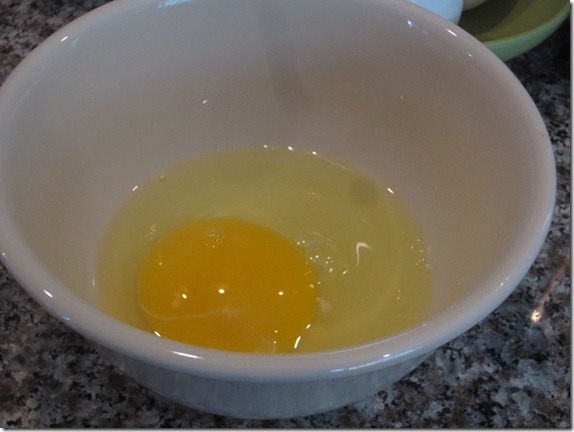 It will look pretty odd at first.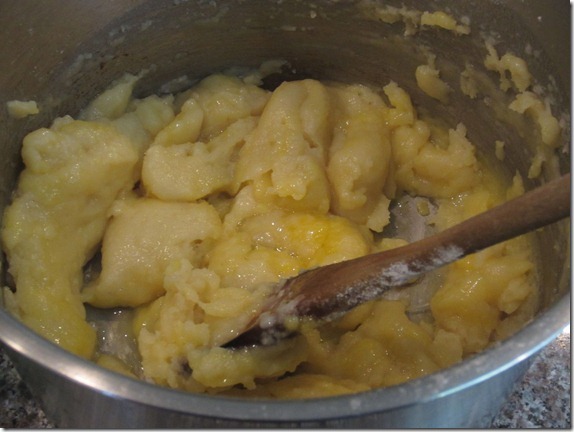 But will eventually come together. Keep adding eggs.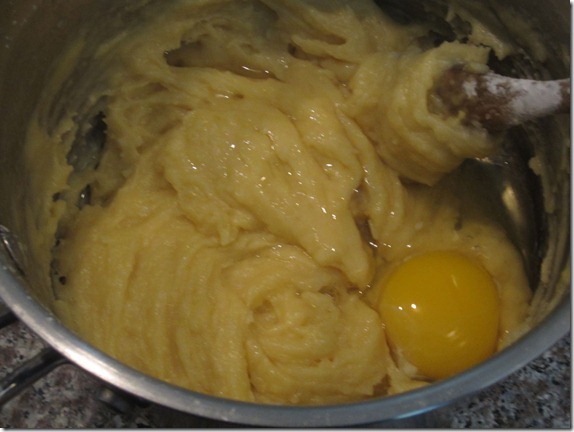 And finally you'll have a smooth dough/batter.
Add cheese.
Now for some more equipment. Zip lock bag, scissors. Or a pastry bag and knife.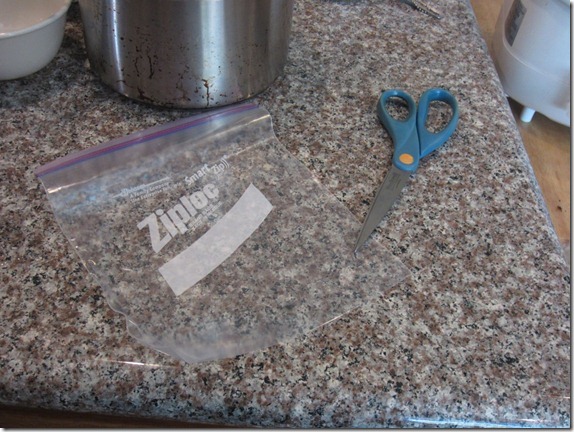 Pot, water, and a sheet with a towel (or repurposed shirt, CLEAN).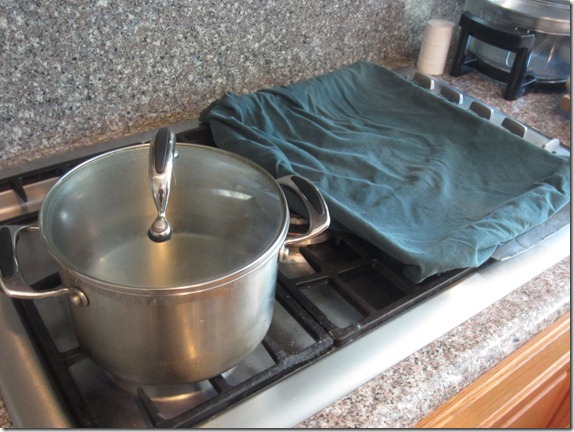 Spoon the pâte à choux into the zip lock bag.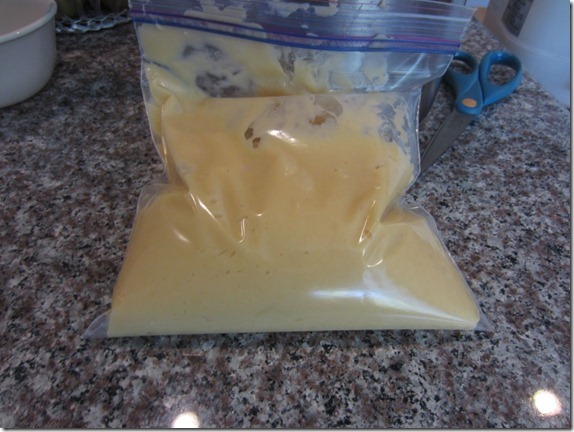 Then squeeze a corner empty and snip off a half inch or so. Or less if you prefer thinner gnocchi, like I was going for today.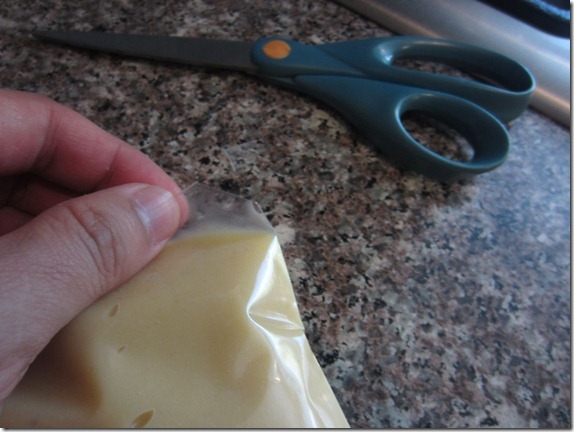 Bring the water to a simmer, then pipe and cut the pâte à choux into bite sized pieces, roughly an inch or so. A minute or two after they float to the top, take one and taste it to see if it is done.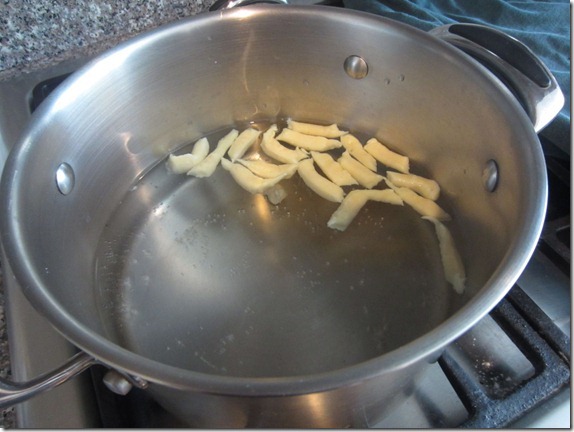 I've seen much prettier pieces online, but regardless of the shape, these are delicious.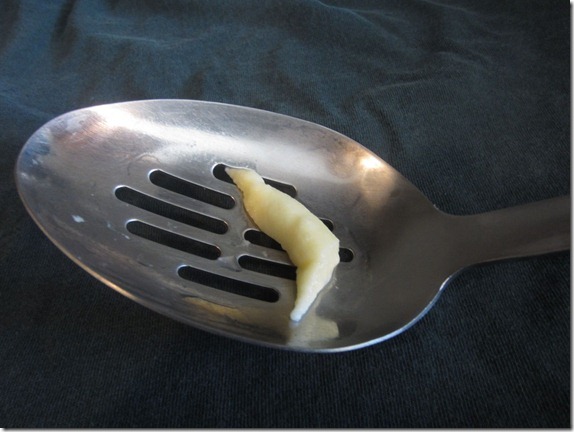 If you're particularly lazy, I've found you don't even need scissors. Just pipe out a bit and let gravity do the work. It will lead to a very rustic presentation. Or that's what I say anyway.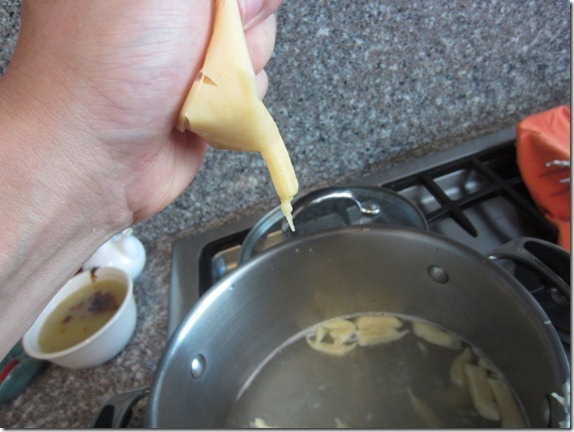 Keeping simmering, maintaining temperature, and draining until you've used it all.
Now it's time to use it up! Or you could actually chill or freeze it until you're good to go. Not a bad idea if you have lots of time to make a huge batch.
These are great sautéed with any number of ingredients.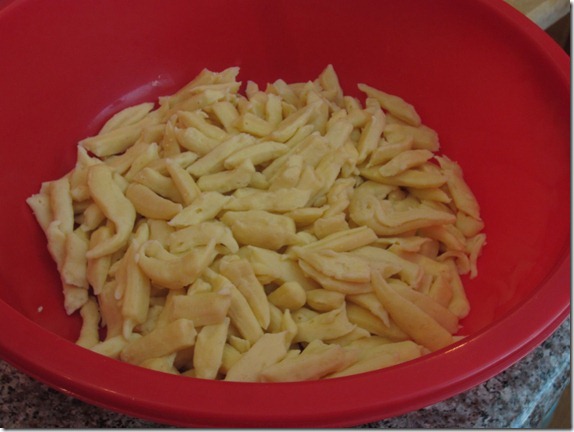 For my first attempt at using the Parisienne gnocchi, I went with a slight modification on a suggested recipe, I opted for heirloom tomatoes from the garden, thyme, and garlic. The standards call for fresh basil, but I did not have any on hand, and rather than using the dry stuff, I wanted to see if this combination would work.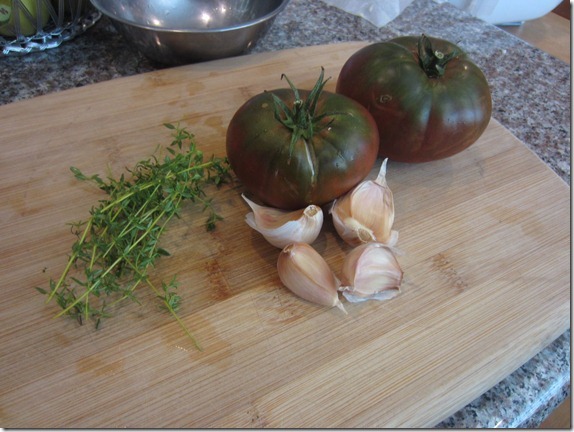 Mince or crush a few cloves of garlic.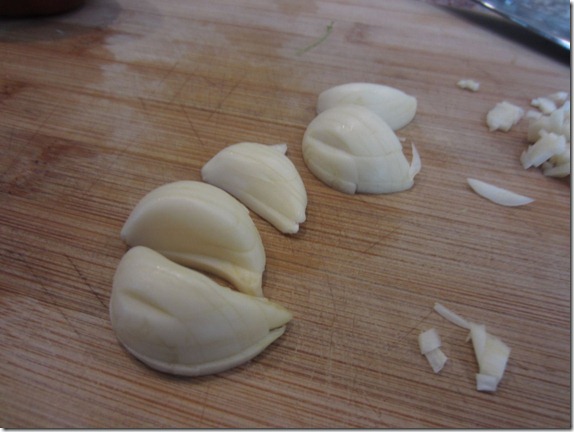 And dice up the tomato. A slightly overripe heirloom for your consideration. Thankfully I had a knife as sharp as a thousand curses or it would have gotten really messy.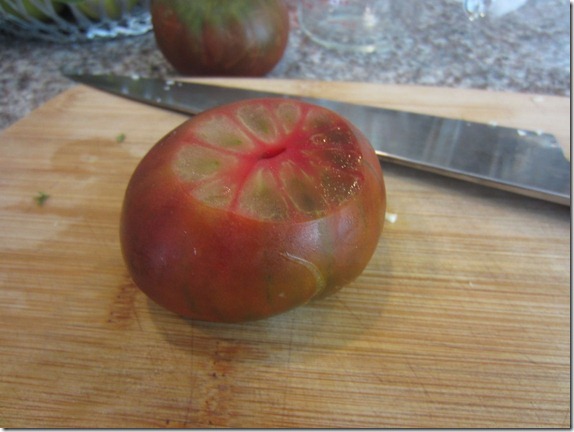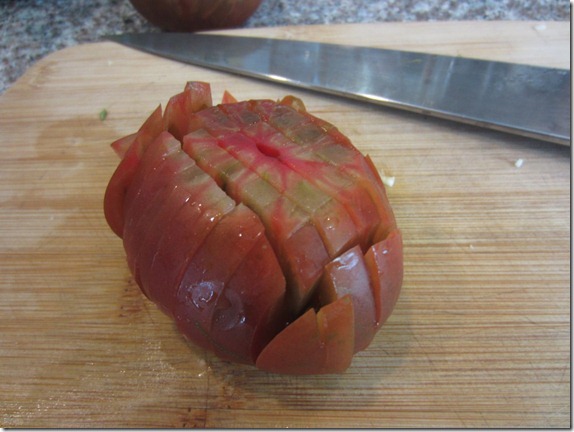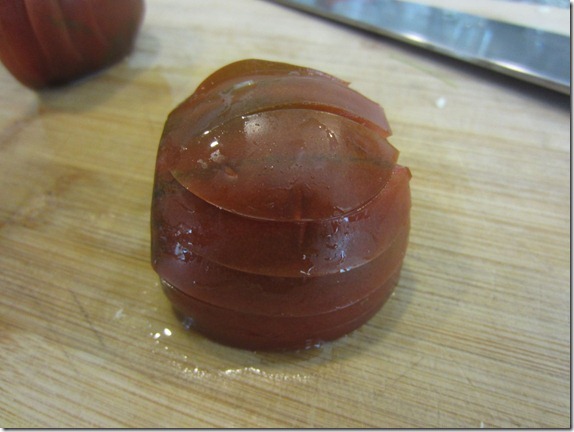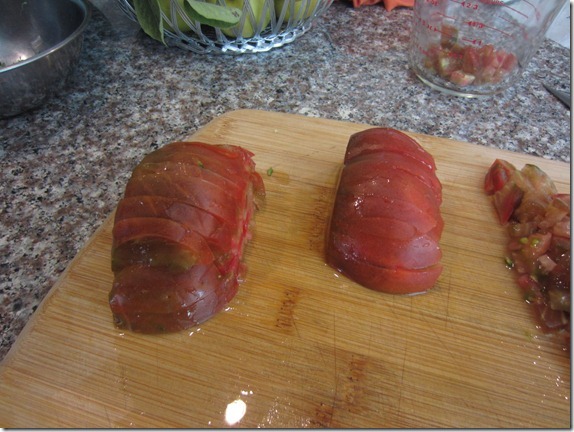 Pretty good for what I was working with I think. I'm sure some naysayers will disagree.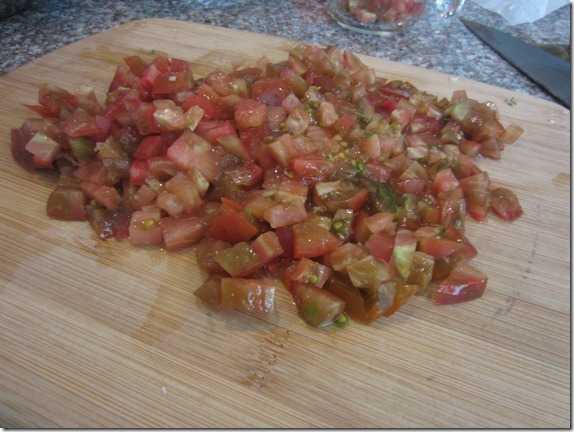 Quite a bit more than a cup.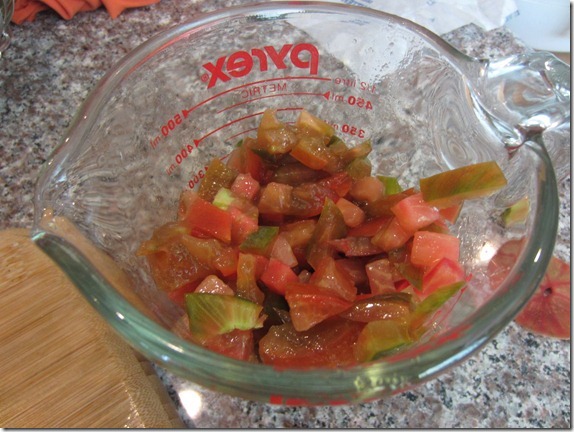 Let's get cooking. A pat of butter and a glug of olive oil over medium heat.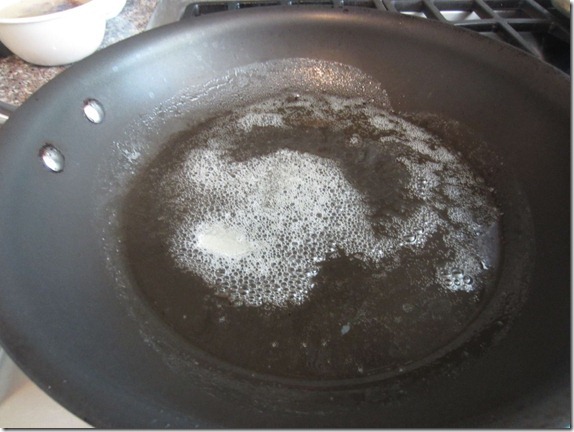 A bit more than a third of the gnocchi.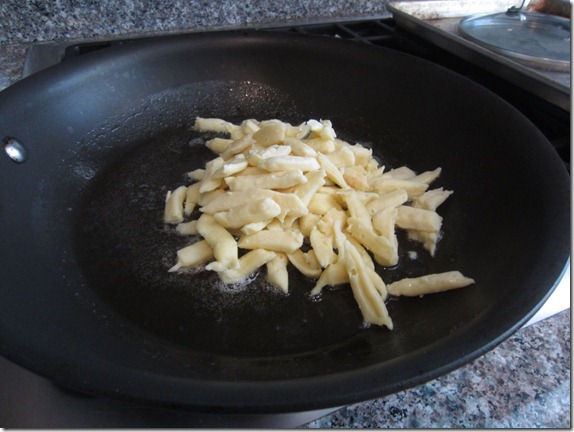 And four cloves of garlic, minced.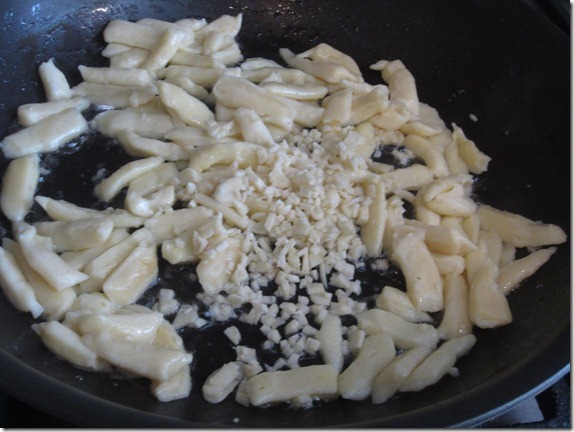 I sautéed until it was lightly browned.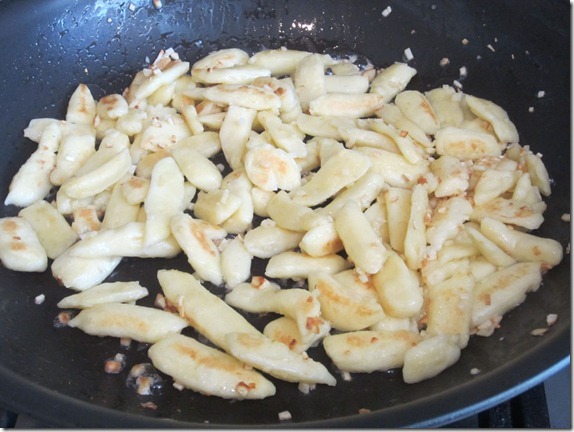 Then added the stripped thyme leaves…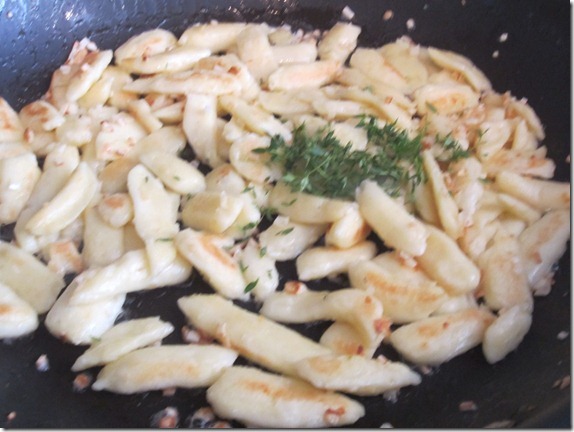 And half a cup of the tomatoes. Stirred it until it was a bit more than warmed through, sprinkled with a bit more salt and ground pepper.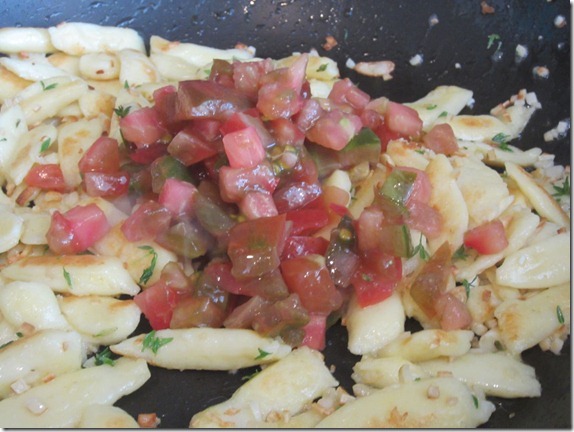 And it was pretty tasty, but I felt I hadn't made quite as much use of the gnocchi as I could have. Thankfully, there was more to use!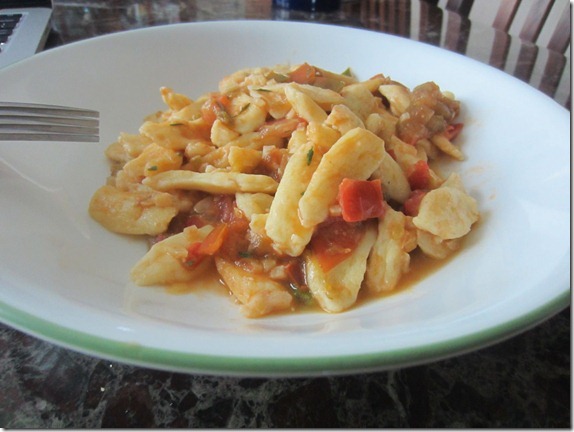 I wanted to do something that would be much more of an accent and let the gnocchi stand on its own.
For something quick and simple, some diced onions were sweated in a good amount of olive oil and some kosher salt over considerably hotter heat. Once they cooked down, I added a the rest of the diced tomato, a healthy pour of red wine, and cooked it until most of the red wine is gone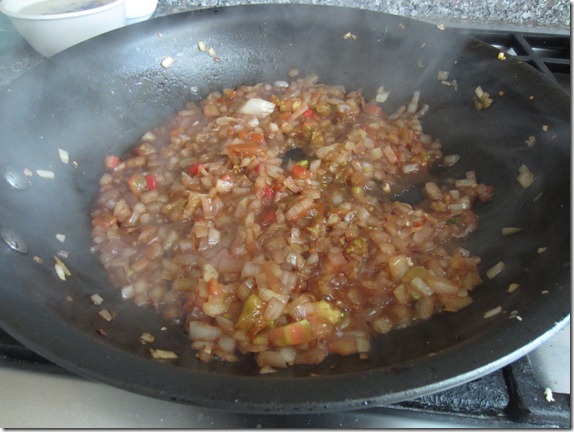 Pour into a bowl, trying to get the pan significantly empty, but not worries if there's some bits here and there.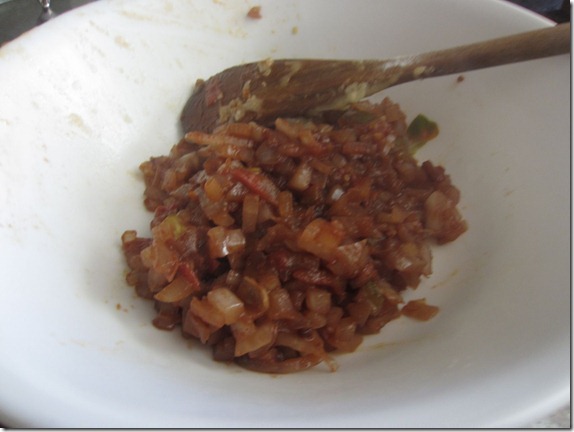 I then placed the pan back on and brought it to a high temperature. Once it was uncomfortable to hold my hand over it from about 8 inches I added a splash of olive oil. One sizzling piece of gnocchi told me it was good to go, so I threw in another third of the stuff.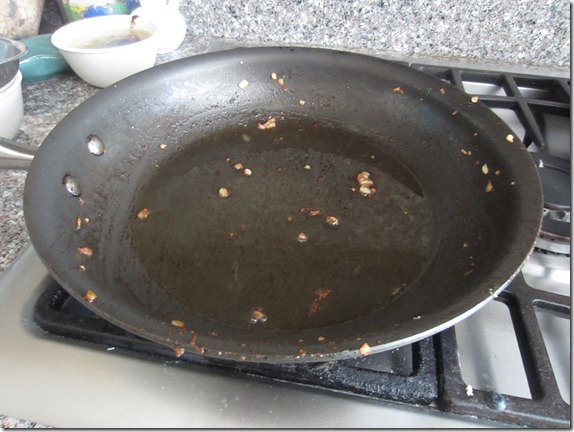 I browned it considerably more than the first time, to give it more of a bite and more of a nutty flavor.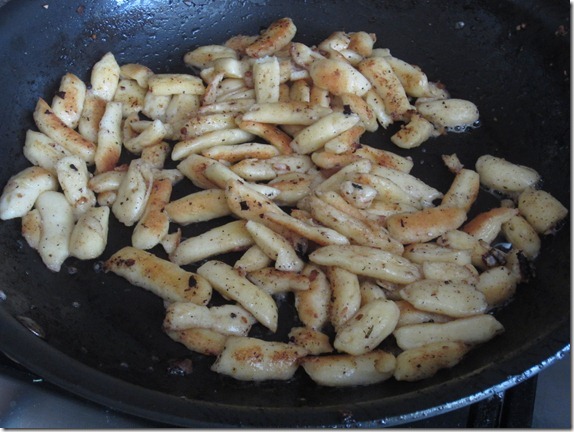 Then I spooned in just enough of the onion tomato wine mixture to coat the gnocchi.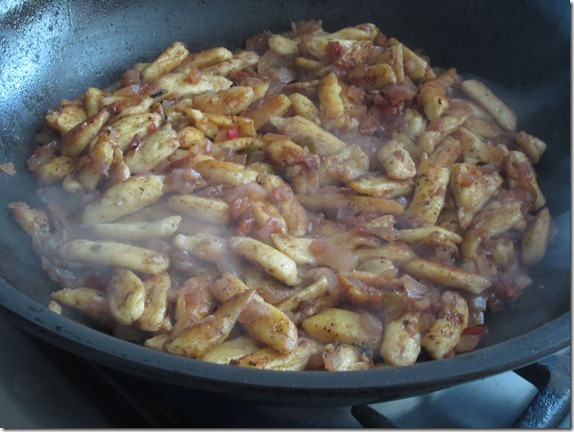 This, this is more like it.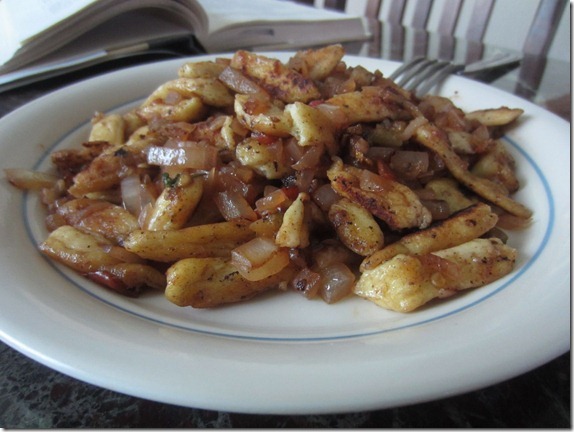 Parisienne Gnocchi, Adapted from Ratio.
6 oz. water.
1 tsp. salt
1 stick butter (4 oz.)
4 oz. flour
4 eggs (conveniently about 8 oz.)
1/4 cup of Parmigiano-Reggiano
In a small saucepan, bring water, salt and butter to a simmer.
Gradually add flour, stirring until it all comes together into a thick batter.
Remove from heat and let cool for 3-4 minutes.
Add eggs one at a time, stirring until completely incorporated before adding the next one. (can be chilled after this step before further usage)
Set up a saucepan with water, a sheet with a clean towel for draining. Bring water to a simmer.
Fill a pastry bag with a half inch tip or thick sealable plastic bag with the batter, cutting a hole in the corner.
Pipe and cut a number of bite sized pieces of batter into the simmering water.
Continue to cook pieces for a minute or two after they float to the top, then drain on the sheet.
Use immediately, chill, or freeze.
To serve, sauté in oil and/or butter, such as as a tomato sauce, squash, clams, mushrooms, or the onion sauce below, seasoning to taste.
Quick Onion "Sauce"
1 tablespoon of olive oil
half a large onion, diced
one small tomato, diced
salt and pepper to taste
Place a large frying pan over medium heat, and add olive oil.
Sweat onions until translucent.
Add the tomato and a healthy pour of red wine. Cook down until the mixture is just slightly wet looking.
Season with salt and pepper to taste and set aside until ready to serve.