First of all, happy new years to all of you, and thanks for sticking with me.
Secondly, here's an indoor s'more. Golden grahams done up in a Rice Krispies treat style, with chocolate.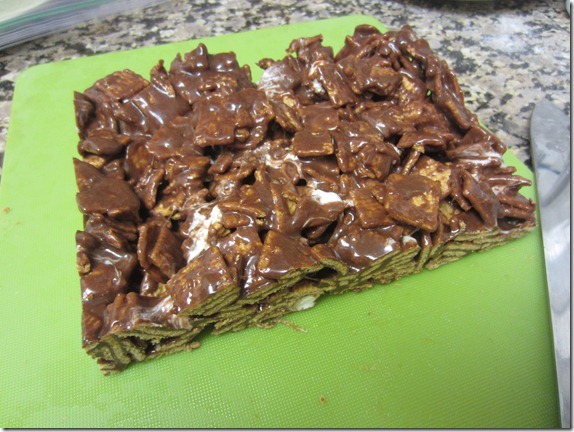 With the food portion of the post done, thanks for coming again. I'm sure you all have noticed I have not been posting as much, so I thought I'd come and let you all know what's going on.
It's been a really busy 2013 for me, and the franticness actually began before Christmas in 2012. My grandmother passed away and that was a really hectic time. It got the family together in a hurry though, and I think we're stronger for it, if a bit sad.
After the funeral there hasn't been much time for rest. I thought I'd add a factoid that is directly relevant, in that my family is trying to eat more vegetarian, and so far we've been able to eat vegetarian every Sunday since then. Unfortunately with my time constraints and lack of practice, I have been unable to do this for the rest of the days of the week due to the following.
I've started the new year swinging with a long term sub position and two night classes plus a little bit extra. Sleep has been precious, and cooking up anything is quite a stretch to say the least.
Hopefully as I get into the swing of things, they will be getting easier, but for now, I just wanted all of you to know why things have been quiet here.
Hope you guys have more time to breathe than I do!
-Brian