Before getting to the food business, I wanted to plug the JP DasBrew Kickstarter. It's met it's goal, but getting some more help is always welcome! Now back to business.
I visited good friend Jeremy (of Mighty Nightgaunt fame) last weekend, and made a variety of tasty treats to celebrate hanging out with him. I've been in the mood for something vegetarian lately because of my watching of Hugh Fearnley Whittingstall's River Cottage Veg Every Day series, so it seemed like a great day to make some curry.
That and Essen23, my reddit Secret Santa, requested that I would make something Indian for the lunch week of 52 Weeks of Cooking. Well, better late than never. Unfortunately, the recipes from the book he bought me, while wonderful, involved lots of spices which I happened to have left at home, and I wasn't going to buy duplicates, at least not from the supermarket. That gets expensive quick.
So I trolled my memory for a curry I've made a few times before, after learning the recipe from Addicted to Curry.
Yes, a manga about curry. It's actually pretty good.
I omitted a number of ingredients such as fresh cilantro, and replaced the green chili peppers with some dried red ones I scooped up at the farmer's market. The result was still quite delicious.
I served it up with some fresh naan, and everyone was happy.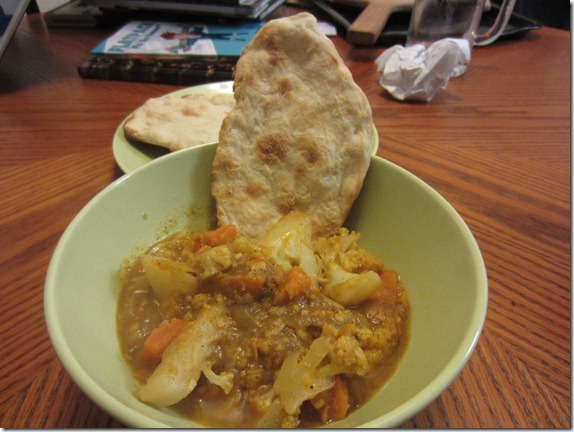 The naan is pretty simple, two parts flour to one part yogurt by volume, seasoned with some salt, stirred then kneaded together before baking on a hot baking stone. If you want more instructions, check out my post on it here.
You'll also learn about another of my manga choices too. Go figure. Something about Japanese media and Indian food.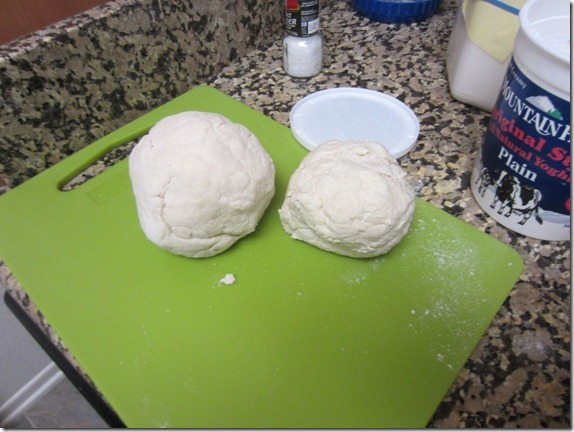 While the naan was resting, it was a good time to get to the curry. One big old sweet potato, half of a head of cauliflower is a good lunch for two. Some ginger, curry powder and other spices are a good start.
Wash all the vegetables of course, peel the yam, cut off a bit of ginger and peel it, and cut the cauliflower into florets.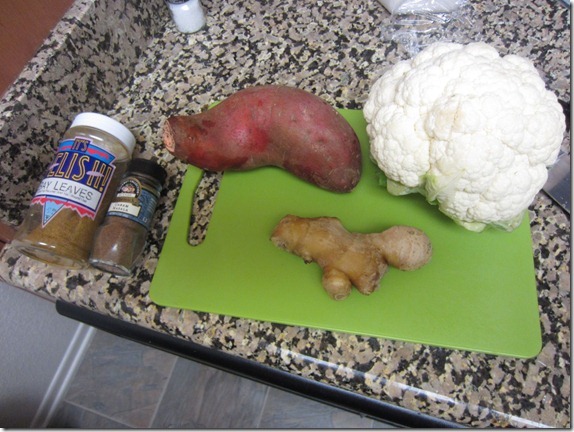 An onion is also very important.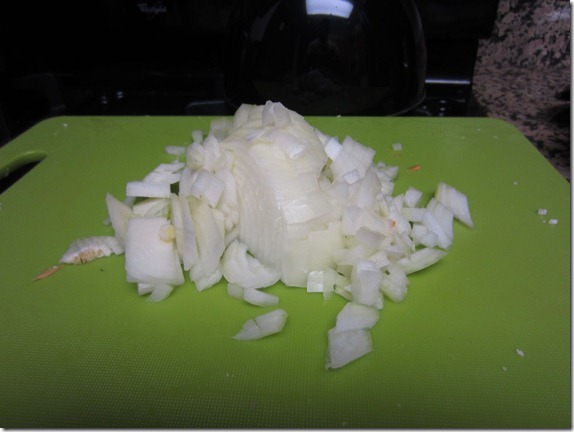 Into a medium saucepan over medium heat, pour in a dollop of olive oil and add in a knob of butter. When the butter is all melted, add the onion to sweat it, then add the minced garlic and maybe some garlic if you've got it, and several good shakes of curry powder, and maybe some garam masala. Two teaspoons in total would do quite well.
Cook until fragrant. I hope your range hood is powerful.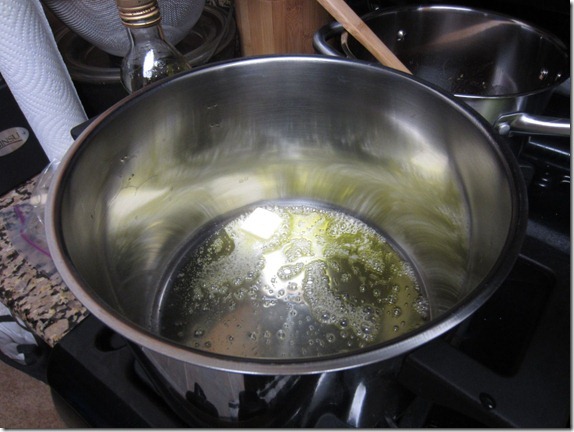 Then add your veg and chili peppers, and pour in enough water to boil and steam the vegetables. You want to cook down the sweet potato and cauliflower until they soften and mash together slightly.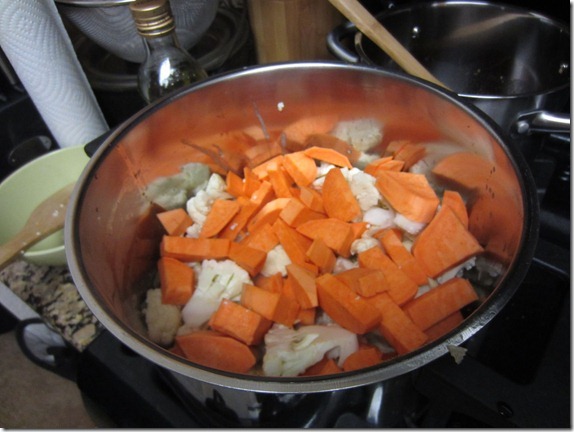 Bring to a boil, season with salt, pepper, and more curry powder if necessary, stirring often. This will cook quite nicely in about 20-30 minutes. Check for seasoning before serving.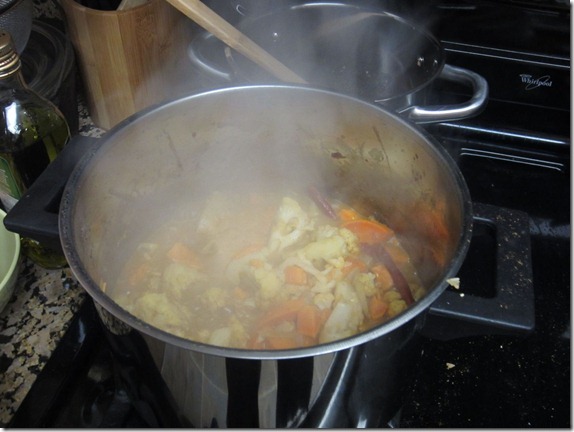 And there you have it, and Indian lunch, if perhaps not entirely authentic.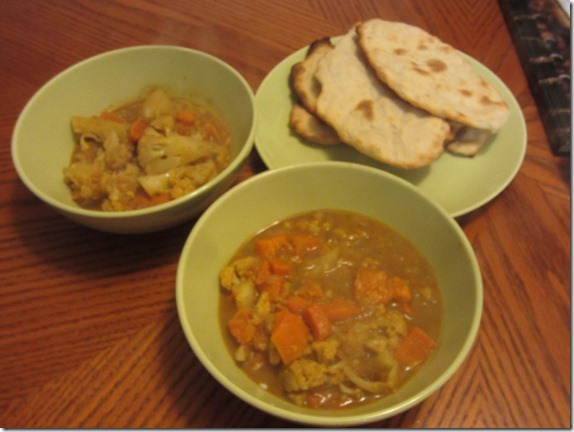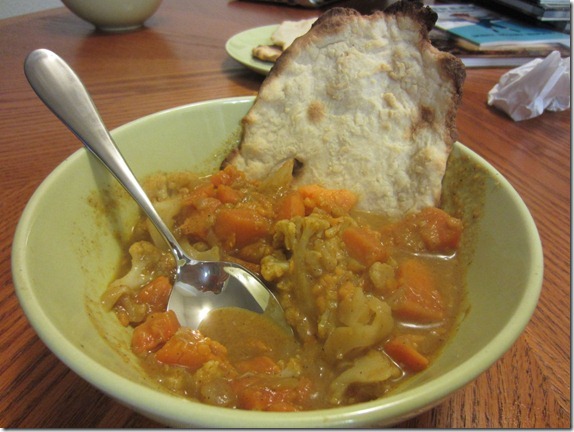 Cauliflower and yam curry (Serves just over two) adapted from Addicted to Curry
Half head of cauliflower, cut into pieces
1 Large sweet potato, peeled and cut into small pieces a quarter inch thing
Small onion, diced
Curry powder
Garam masala (optional)
chili peppers or cayenne pepper to taste
Salt and pepper to taste
1 tsp. minced ginger (optional)
garlic (optional)
Vegetable oil
Butter (optional)
Finely chopped cilantro for garnish (optional)
In a saucepan over medium heat, add your fats and bring to temperature before adding onion and curry powder, and garam masala, garlic and ginger if using.
Once spices are fragrant, add cauliflower, sweet potato, and pepper.
Fill at least halfway with water, and bring to boil over high heat. Season with a half teaspoon of salt and some grinds of pepper.
Lower heat to medium and stir occasionally until the potato and cauliflower are soft.
Season with more salt and spices if necessary.
Serve with naan, and garnish with cilantro.