Wild Rice Pancakes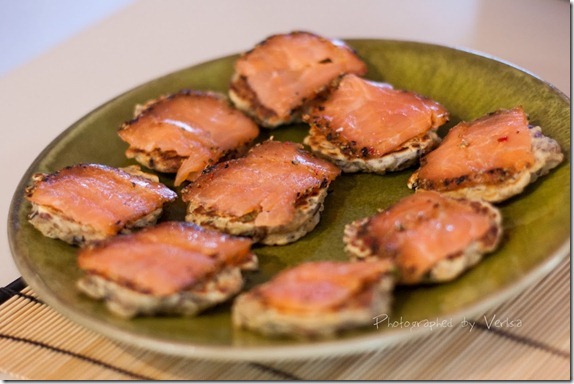 Before launching into this post's specific recipe, I want to talk about a phrase I call "sandwich gaming." These are hobbies (preferably geeky ones) that are easy to do while eating at the same time, provided that the food being eaten isn't terribly messy. Actually I'd give bonus points for an activity that allows you to eat really messy food while being entertained at the same time.
There's very few ways I enjoy relaxing more than cracking open a book or playing a more relaxed kind of game, say one that is easy to put down like Suikoden or Shining Force II, while noshing on a well made sandwich or some other easy to eat finger food. And of course I have to add other role playing games such as Dungeons and Dragons or Apocalypse World as fantastic social games for the sandwich recreation phenomena.
It is perhaps this leaning that drew me towards the +5 Food of Eating project, with its emphasis on finger foods tailored toward the tabletop gaming community, and by extension, perfect dishes for other kinds of "sandwich gaming."
This recipe for Wild Rice Pancakes that Tiffany asked me to try out is no exception either, and I personally found it marvelous. It was served at the +5 Food of Eating West Coast event I mentioned in my first post here.
There is a weakness with the dish though, and that it does not do well cold at all. While deliciously fluffy and savory right off of the pan and into my mouth, being placed into an icebox and plated did not do any favors to the guests or to the recipe at all, but some quite rewarming on a cast iron pan helped considerably. Still, if I were to serve this again for guests or at a function, I'd definitely make a point to fire these up on site!
Aside from the wild rice, the other ingredients are pretty basic.
Button mushrooms, flour, salt, butter, and milk, a bit of baking powder and a splash of vegetable oil all play complimentary roles to one another to bind into a wild rice pancake.
First you need to cook up some wild rice according to the package instructions, or perhaps use a rice cooker well before starting on the rest of everything else. You'll need two cups of the stuff, which is apparently only 2/3 a cup of the uncooked stuff.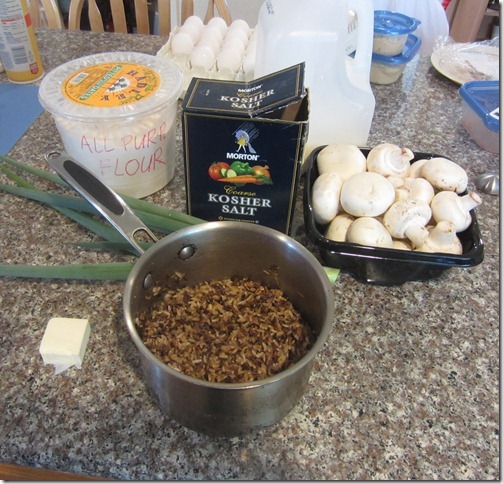 You'll need half a pound of mushrooms (a bit more is fine really.)
That's about six large button mushrooms. Freshly bought mushrooms are just divine to cut with a heavy chefs knife by the way.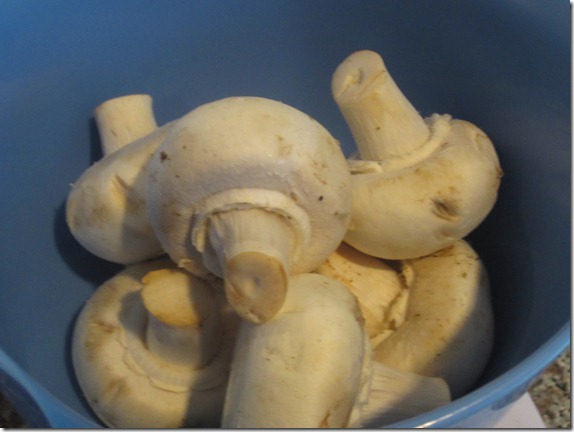 You'll also need three eggs and a half a cup of green onions, which was not quite one of the monstrous green onions I have growing in my backyard.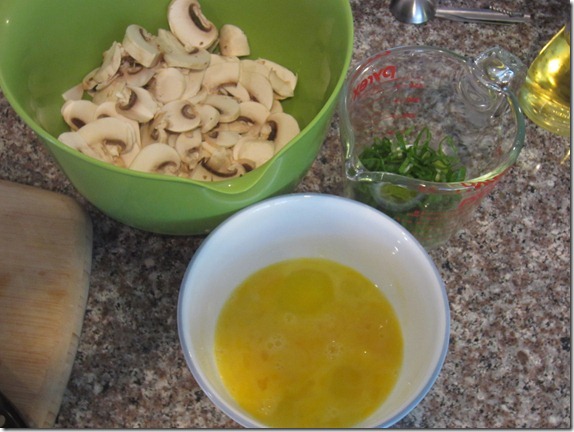 Now lets get cooking. Melt some butter in a big heavy skillet. Or just a big one.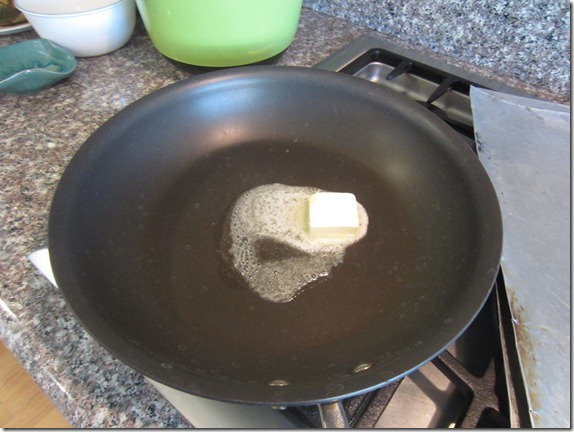 Then toss in the mushrooms and green onions in.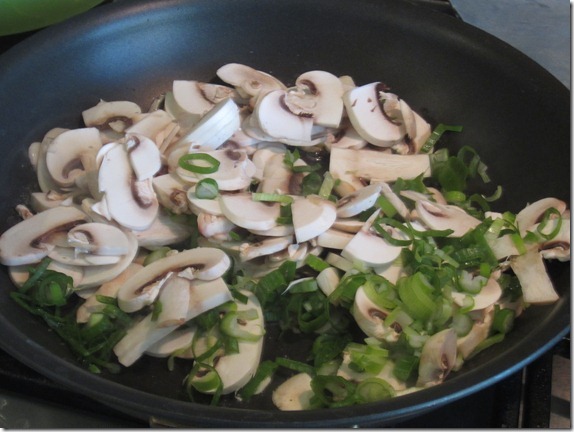 Cook until softened and slightly glossy.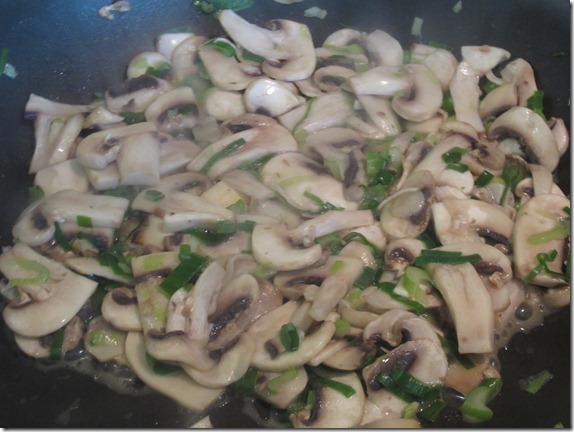 Then pour into a heat safe bowl and let cool.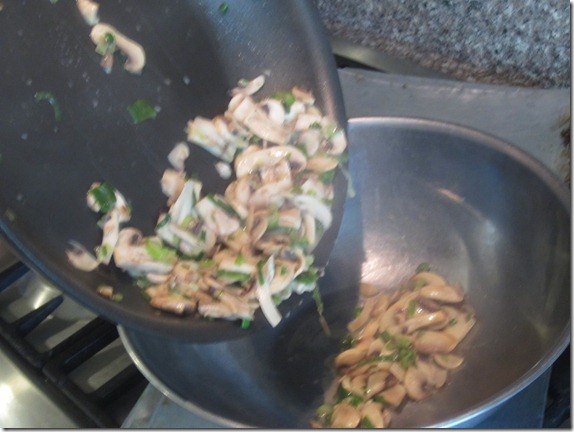 Then add the wild rice, milk, and eggs, then mix it all up.
Chopsticks not necessary.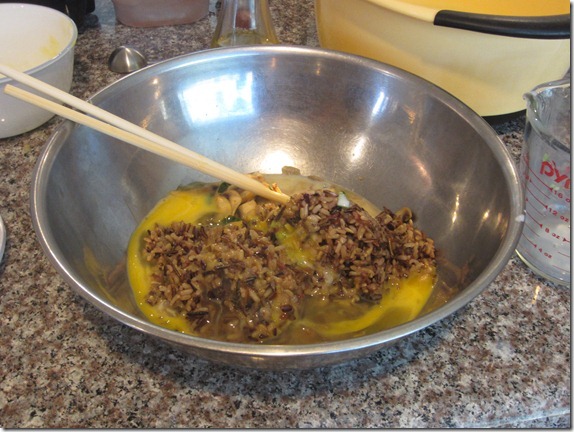 The eggs should be generously binding, but it should be still rather thick.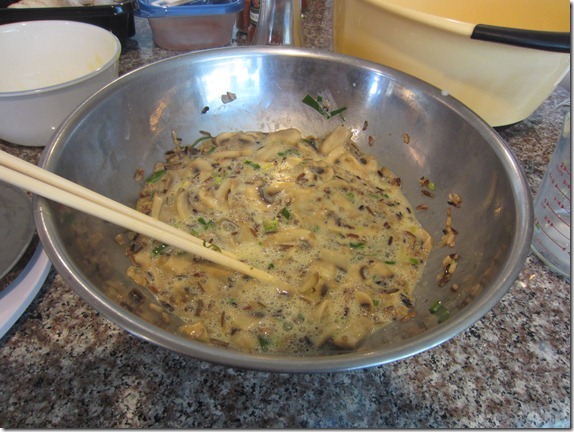 Then, in another bowl, combine the flour, salt, and baking powder.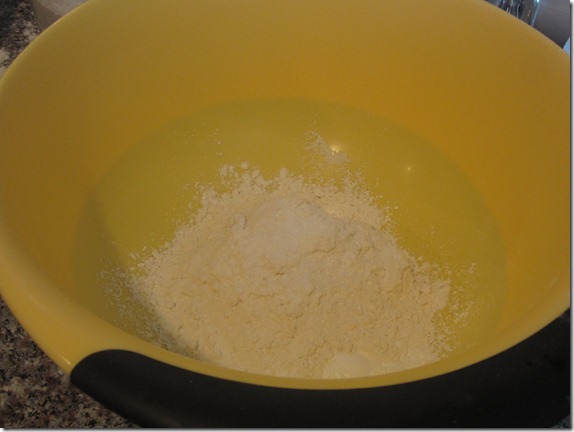 Gradually add the dry ingredients to the wet, maybe a quarter cup at a time, mixing after each addition.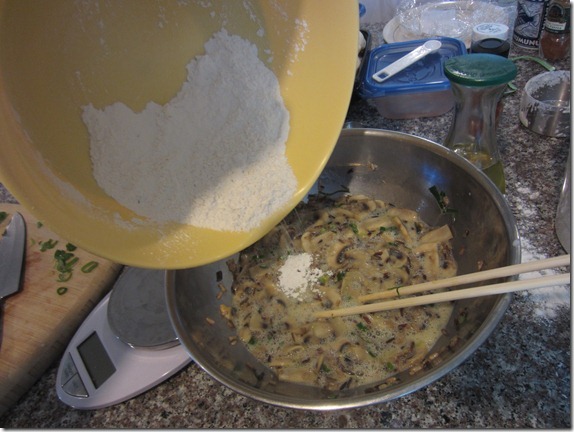 Into that same skillet, pour some vegetable oil in to coat, and place over medium high heat. Add heaping tablespoons of the batter mixture in and fry a few minutes on each side until done.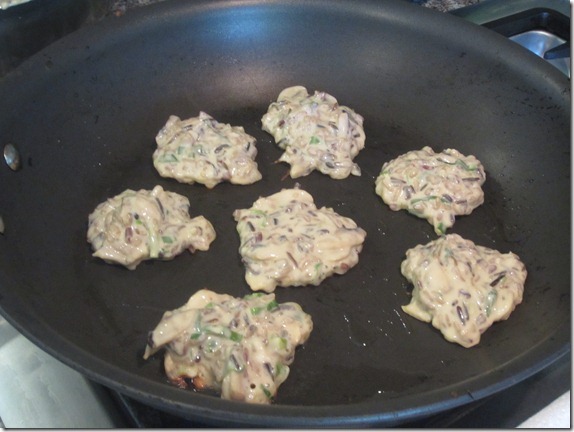 They will come off fluffy and delicious!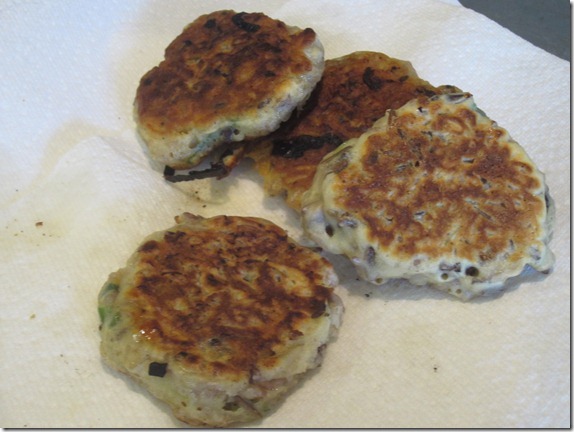 At the party they were served up with some smoked salmon, but actually most people preferred it without and I'd be inclined to agree. Actually, the next time I try this I will probably try to use a citrus zest infused butter or cream cheese, as I think that would really help bring the smoked salmon and pancake together.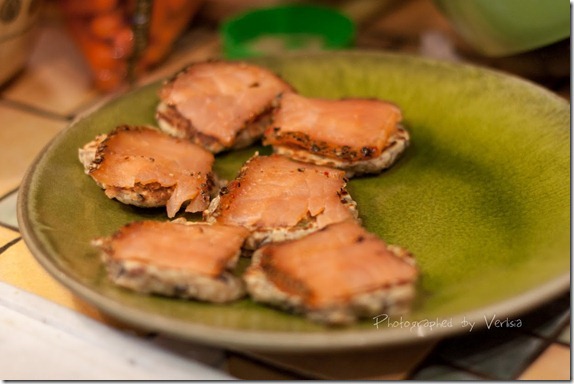 Wild Rice Pancakes (to be featured in +5 Food of Eating!)

1/2 lb. fresh mushrooms, sliced
1/2 c. chopped green onions
2 tbsp. butter
2 c. cooked wild rice or wild rice and brown rice mix (made from 2/3 of a cup wild rice, uncooked)
1/3 c. milk
3 eggs, beaten
1-1/4 c. all-purpose flour
2 tsp. baking powder
1/2 tsp. salt
Canola oil, for frying
Directions
In a large skillet over medium heat, melt butter. Add chopped green onions and mushrooms, sauteeing until tender. Pour into a large heatproof mixing bowl. Add rice, milk, and eggs, then mix lightly. Clean out skillet
In another bowl combine flour, salt, and baking powder, add to rice mixture a quarter cup at a time and mix well after each addition.
Place skillet over medium heat and coat with canola oil. Depending on preference, add batter in either in heaping tablespoon dollops or a two tablespoons at a time. Keep the pancakes well apart, and fry a few minutes to each side until golden brown on both sides. Use more oil as necessary.
Place on paper towels to drain and serve immediately.