White Pepper Strawberry Sorbet
As I mentioned in my introduction post, I've been fortunate enough to be one of those trusted foodies that Tiffany Simmons has selected to do some recipe testing for her food for gamers project, the +5 Food of Eating cookbook.
In case you're wondering why this is #3 and not #1, I've done two posts earlier on Cast Iron Therapy, one on Peanut Butter Jalapeno Hummus, and another on Olive Oil Crackers.
For A Cook and a Geek, I'll be starting off with something sweet with a hot twist on it, White Pepper Strawberry Sorbet, a definitively vegan dessert that leaves a lasting impression, melding the sweet tartness of strawberries with the unapologetic bite of freshly ground white pepper.
I didn't exactly get Tiffany's thoughts on how this could add to the immersion of a board gaming night, but it certainly provides an impact. It would perhaps effectively accent a rousing tabletop gaming session involving chilly climes, or then again it could simply be a very effective way to wake up people in the late hours with its surprising contrast of heat and cold.
Ah, for the record, I'm not a vegan, in case you think that is the purpose of this blog.
As a matter of process, if you just want the bare bones recipe, you're welcome to just skip to the bottom. But if you want pictures and the thoughts that pile into my head as I worked through the recipe, keep on reading!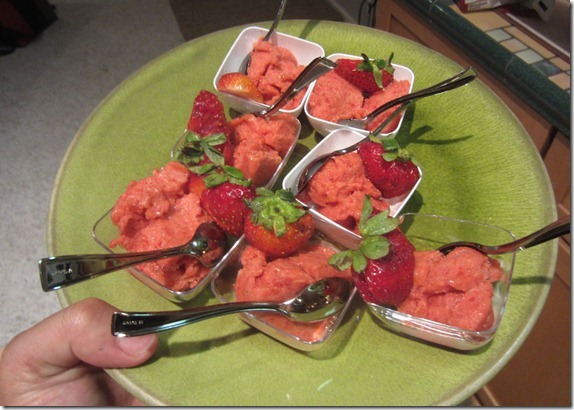 If you'll ignore everything in the background there, then you'll see that the recipe involves strawberries, the least refined sugar you can get, and white pepper (actually you'll need a lot more than that probably.) The recipe called for Turbinado sugar, but as I could not get that for sure, I went with this washed raw sugar instead. To be truly vegan you want to go organic and avoid brown sugar, which may possibly have its color enhanced with charred bone. Definitely not vegan.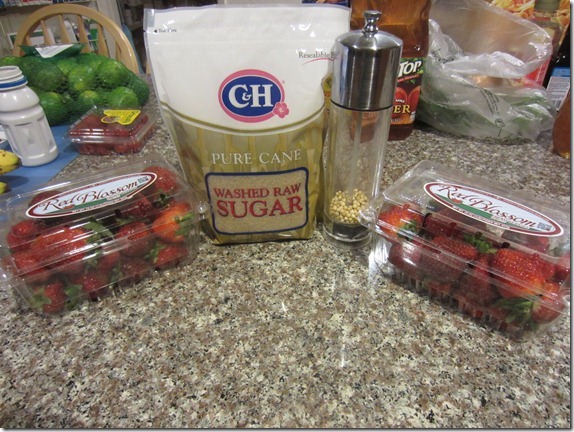 There's a bit of set up involved, as not only do you need to hull the strawberries, you'll need to freeze them solid.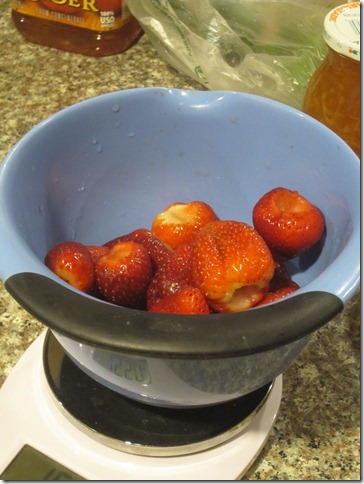 Though before that you should quarter the strawberries, so as to give your blender an easier time later. You can let this freeze for a few hours or overnight before getting to the next step, or you can get cranking on it right away.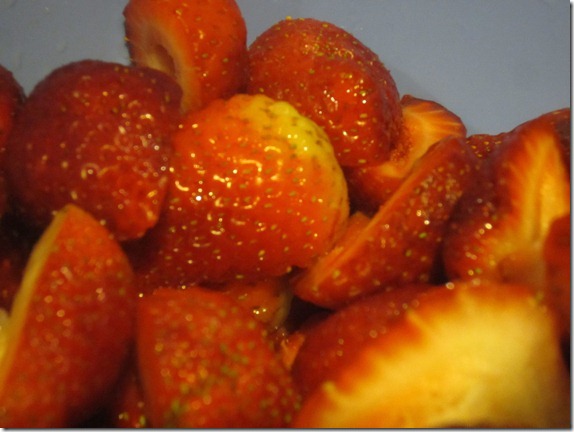 Now it is time to make a simple syrup that's infused with that potent white pepper flavor.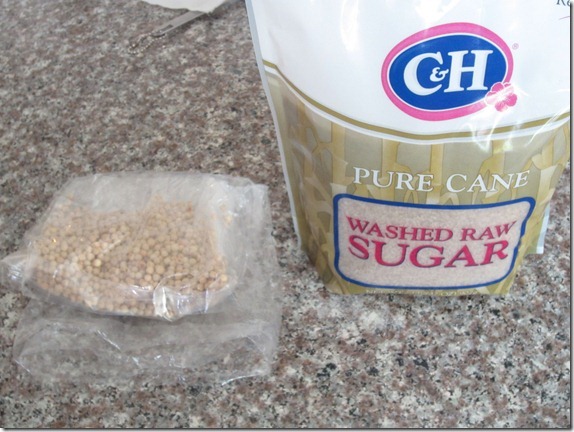 First get one and a half or two tablespoons of cracked white pepper. I just had whole white peppercorns, so I had to do it myself. Now you could use a grinder like I had earlier.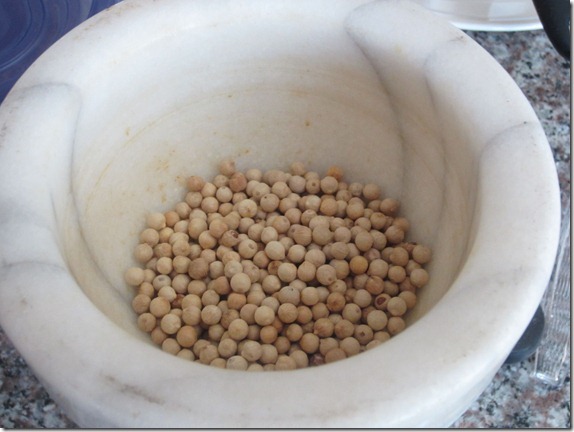 Or you could just crack them with a mortar and pestle.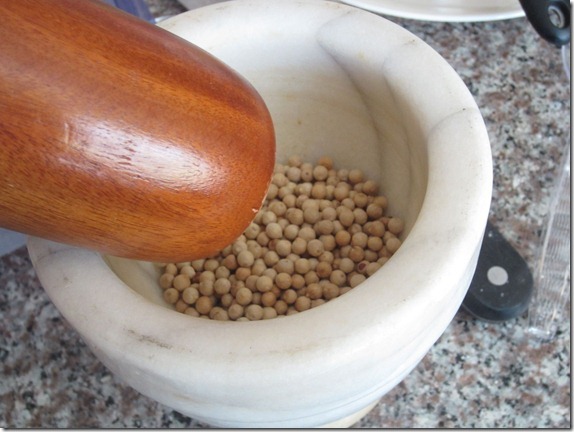 I tried both out, and they both worked out about the same. The most important thing is to not make use white pepper that it finely ground, as we will be straining it out later.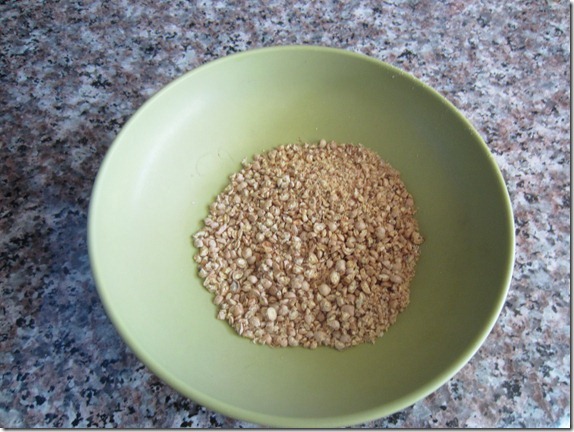 Next, add the white pepper to a saucepan with one and a half cups of water and one cup of the sugar you're using.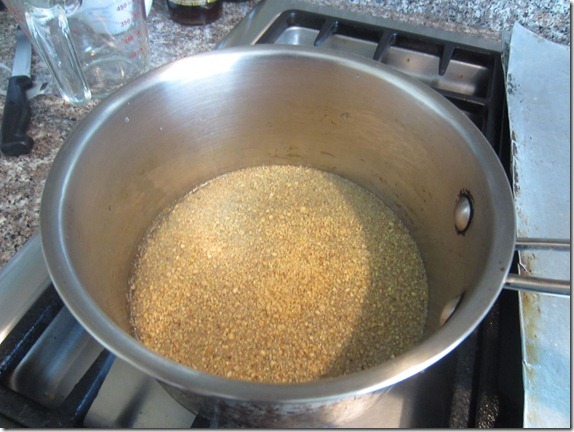 Stir and bring to a boil, then immediately lower the heat.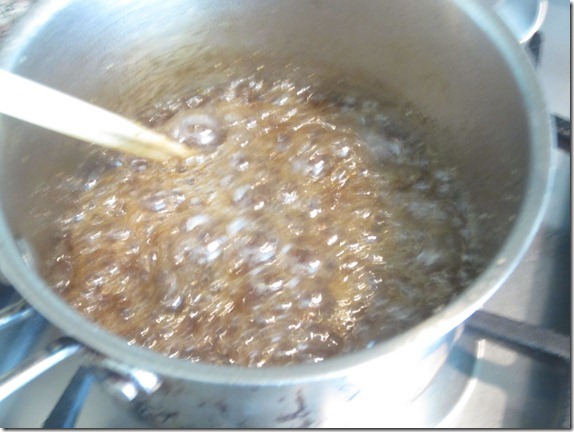 Simmer until the mixture is reduced to about a half cup, or until the mixture feels on the thick side of syrupy. Let it cool to room temperature, which will take a few hours.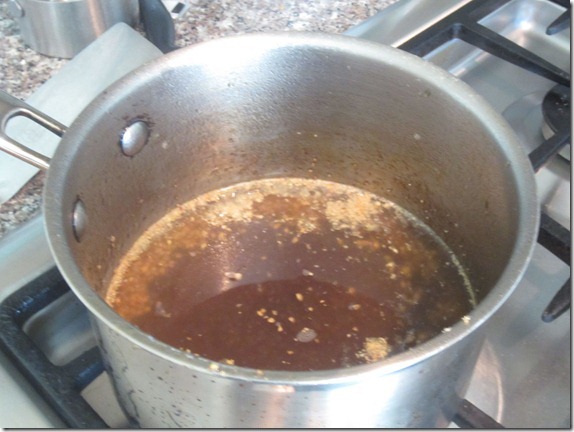 Strain through a fine meshed sieve.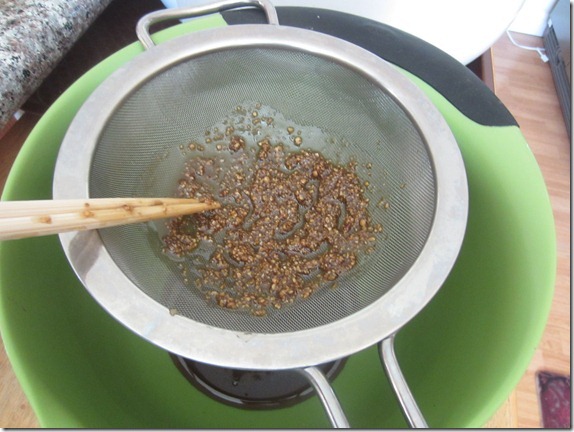 Yeah, those strawberries really should be quartered. Thankfully I have access to a Vitamix, but even that needed a break in the middle of doing two batches.  I think the strawberries can be mostly frozen through rather than completely frozen if you don't have the best blender.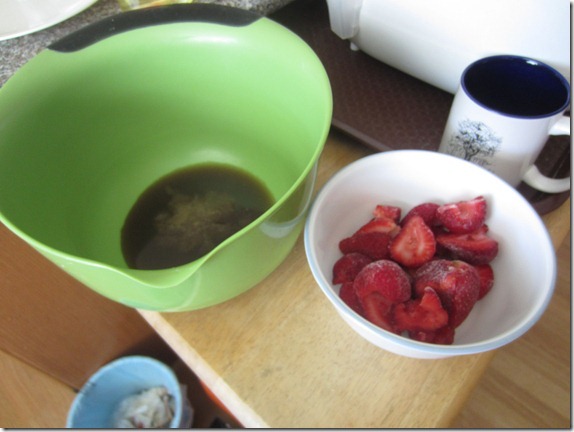 Add half of the syrup and the strawberries to a blender and blend away until smooth, tamping down as safely as possible. If you have a blender supplied tamper like the Vitamix that you can use while the machine is running, be gentle as you push down the frozen strawberries. Otherwise, turn machine off and scrape down the contents before turning the blender back on. Safety first!
In the end, you'll have a mixture that will look like this.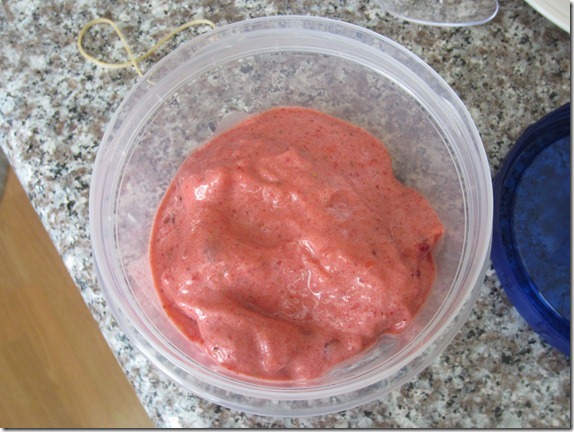 The recipe Tiffany sent to me said garnish with mint, but I forgot that. I did have plenty of strawberries which I fanned out and I think that worked out plenty good.
Keep on cooking and geeking folks!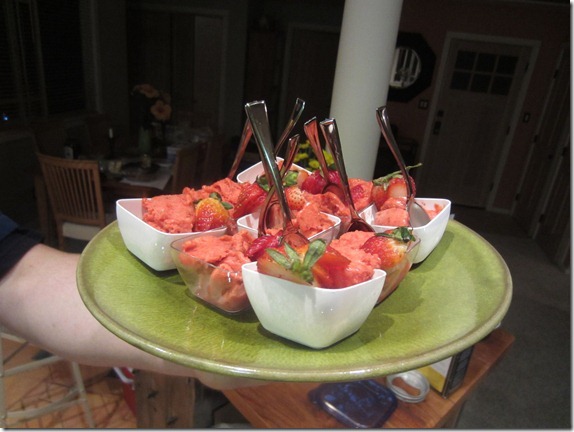 White Pepper Strawberry Sorbet
(Serves approximately six people)
1 ½ cups strawberries (washed, hulled)
1 ½ cups water
1 cup raw sugar (preferably turbinado)
1 ½ – 2 Tbsp. crushed or cracked white peppercorns
Mint sprigs or extra strawberries for garnish (optional)
Quarter strawberries and freeze in an airtight container.
Into a saucepan, add the sugar, water and peppercorns. Place over high heat and stir to dissolve and bring to a boil. Lower heat to bring the mixture to a simmer and reduce until thick, approximately half a cup.
Strain the syrup to remove solids and let syrup cool to room temperature.
Into a blender, add strawberries and a quarter cup of syrup and blend until smooth, turning the blender off and pushing down with a wooden spoon or similar implement as necessary. Be careful not to overwork your blender!
Pour the strawberry syrup mixture into an airtight container, and freeze until solidified, at least three hours.
When the mixture has reached that creamy sorbet like consistency, it is ready. Garnish with strawberry slices or mint sprigs and serve!
Other recipes you may like: